Jailed Pussy Riot Band Member on Hunger Strike to Protest "Slave-Like" Conditions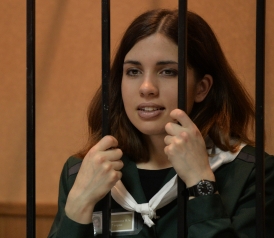 A jailed member of the Russian punk band Pussy Riot said she was going on hunger strike starting Monday to protest prisoner treatment in her Russian penal colony. In a letter, posted by the Guardian, Nadezhda Tolokonnikova writes: "I will not remain silent, resigned to watch as my fellow prisoners collapse under the strain of slavery-like conditions."
The band Pussy Riot shot to global notoriety in 2011 for staging "punk protests" in brightly colored balaclavas in a Moscow cathedral, protesting the rule of Russian President Vladimir Putin. In August 2012, Tolokonnikova was sentenced to two years in prison for the protest, along with two other members of the band.

Here's a video of the protest that landed the group in jail:
Tolokonnikova says inmates at the colony are forced to work up to 17 hours a day and get no more than four hours of sleep. Reuters describes the system used by prison officials at the colony, where senior inmates enforce order, as "reminiscent of Soviet-era Gulag forced labor camps." Tolokonnikova and fellow band member Maria Alyokhina are scheduled to be released in March and a third band member, Yekaterina Samutsevich, was freed on appeal last year, according to Rolling Stone.