Kenyan Officials: All Hostages Freed From Nairobi Mall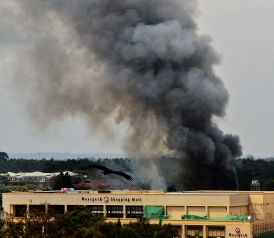 Kenyan officials say that all of the remaining hostages held at the under-attack Nairobi mall have been freed, the Wall Street Journal reports.
At least 62 people have been killed in the siege, according to the Journal. The attack started on Saturday when attackers stormed the mall from several entrances, opening fire on people inside. The rescue mission, reports the Journal, was "punctuated by gunfire and large explosions that sent bystanders scurrying from the upscale mall and turned a bustling suburb of East Africa's commercial capital into a conflict zone." 47 people were thought to be inside the complex before the government operation, according to the Red Cross' missing persons reports.
TODAY IN SLATE
Politics
Blacks Don't Have a Corporal Punishment Problem
Americans do. But when blacks exhibit the same behaviors as others, it becomes part of a greater black pathology.
Lifetime Didn't Think the Steubenville Rape Case Was Dramatic Enough
So they added a little self-immolation.