New England Patriots Owner: Russian President Vladimir Putin Stole My Super Bowl Ring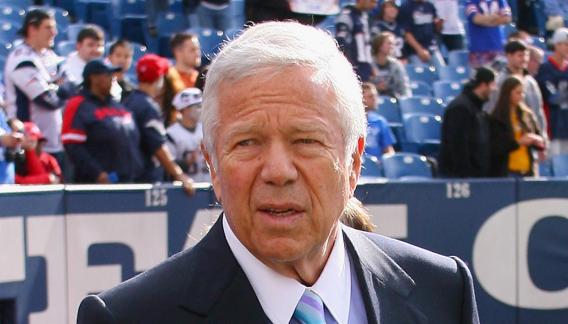 For years, New England Patriots owner Robert Kraft has told the story of how he gave Russian President Vladimir Putin one of his Super Bowl rings. Turns out, Putin actually stole it, reports the New York Post. Kraft told the story to those who attended Carnegie Hall's Medal of Excellence gala at the Waldorf-Astoria.
It all goes back to a 2005 meeting in St. Petersburg, where Kraft and other business leaders held a meeting with Putin.
"I took out the ring and showed it to [Putin], and he put it on and he goes, 'I can kill someone with this ring,'" Kraft said. "I put my hand out and he put it in his pocket, and three KGB guys got around him and walked out."
Advertisement

Kraft wanted the ring worth $25,000 back but when he returned to the United States he was told not to push the issue. "It would really be in the best interest of US-Soviet relations if you meant to give the ring as a present," the White House that was then run by George W. Bush allegedly told Kraft. The owner of the New England Patriots insisted that he "had an emotional tie to the ring, it has my name on it" and he wanted it back. "There was a pause on the other end of the line," Kraft said, "and the voice repeated, 'It would really be in the best interest if you meant to give the ring as a present.'"
At the time, Kraft released a statement saying he gave Putin the ring "as a symbol of the respect and admiration that I have for the Russian people."
TODAY IN SLATE
Politics
Smash and Grab
Will competitive Senate contests in Kansas and South Dakota lead to more late-breaking races in future elections?