Slatest PM: ACLU Sues to Bar NSA's "Dragnet"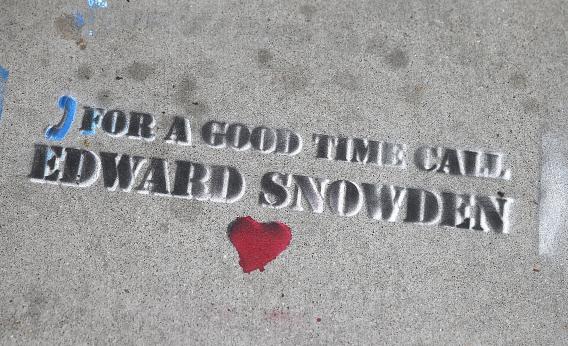 Let the Lawsuits Begin: New York Times: "The American Civil Liberties Union on Tuesday filed a lawsuit against the Obama administration over its 'dragnet' collection of logs of domestic phone calls, contending that the once-secret program — whose existence was exposed by a former National Security Agency contractor last week — is illegal and asking a judge to both stop it and order the records purged. The lawsuit, filed in New York, could set up an eventual Supreme Court test. It could also focus attention on this disclosure amid the larger heap of top secret surveillance matters that were disclosed by Edward J. Snowden, a former N.S.A. contractor who came forward on Sunday to say he was the source of a series of disclosures by The Guardian and The Washington Post."
Google Wants to Talk: Wall Street Journal: "Google Inc. on Tuesday said it had asked the U.S. government for permission to publicly report on the volume and scope of secret federal court orders that require it hand over information about its users to authorities including the National Security Agency. Google's request ... comes after the government last Saturday publicly acknowledged that Internet content companies had received secret Foreign Intelligence Surveillance Act requests about the activities of their users. In the letter, addressed to U.S. Attorney General Eric Holder and Federal Bureau of Investigation Director Robert Mueller, [chief legal officer David] Drummond said that Google wanted permission to publicize those requests, since the government had already spoken about them."
More coverage of the NSA leaks from Slate—
Happy Tuesday, and welcome to The Slatest PM. Follow your afternoon host on Twitter at @JoshVoorhees and the whole team at @slatest.
Immigration Baby Steps: Washington Post: "President Obama, his second-term agenda bogged down amid political controversies and partisan gridlock, moved to bolster support for a sweeping overhaul of immigration laws, saying Congress 'needs to act and the moment is now.' Obama's remarks, during a speech in the East Room, came shortly before the Senate voted 82-15 to send a comprehensive reform bill to the floor for a debate that is expected to last weeks. Though a majority of Republicans supported moving the bill forward for debate, the legislation is far from certain to be approved by the Senate, which is likely to vote in early July. ... The president acknowledged that the 867-page bill is a compromise in which neither Democrats nor Republicans would get everything they want. ... The path forward for the bill will not be easy. Sen. Marco Rubio (R-Fla.), a key member of the bipartisan group that developed the legislation, was preparing to offer an amendment that would require illegal immigrants to learn English before earning the legal residence permit known as a green card."
Turkey's Protests Rage On: Reuters: "Turkish riot police using tear gas and water cannons battled protesters for control of Istanbul's Taksim Square on Tuesday night, hours after Prime Minister Tayyip Erdogan demanded an immediate end to 10 days of demonstrations. The governor of Istanbul went on television to declare that police operations would continue day and night until the square, focus of demonstrations against Erdogan, was cleared. Police fired volleys of tear gas canisters into a crowd of thousands—people in office clothes as well as youths in masks who had fought skirmishes throughout the day—scattering them into side streets and nearby hotels. Water cannons swept across the square targeting stone-throwers in masks."
Mandela Watch: NBC News: "South African President Jacob Zuma described former leader Nelson Mandela's condition as 'very serious but stabilized' on Tuesday, and said that 'all are praying' for the anti-apartheid leader's recovery. Officials had called Mandela's condition 'serious but stable' after he was rushed to the hospital with a lung infection on Saturday, but this is the first time it has been called 'very serious.' Zuma also said he had met with the medical team that is treating Mandela. In a statement earlier in the day, Zuma's office said the president 'has full confidence in the medical team, and is satisfied that they are doing their best' to make Mandela better."

Bloomberg's Climate Plan: Associated Press: "Giant removable floodwalls would be erected around lower Manhattan, and levees, gates and other defenses would be built elsewhere around the city under a nearly $20 billion plan proposed Tuesday by Mayor Michael Bloomberg to protect New York from storms and the effects of global warming. It is one of the most ambitious projects ever proposed for defending a major U.S. city from the rising seas and severe weather that climate change is expected to bring. It was outlined seven months after Superstorm Sandy drove home the danger by swamping lower Manhattan and smashing homes and businesses in other shoreline neighborhoods. ... It remains to be seen how the ideas will fare in a future mayoral administration and what kind of support—financial and otherwise—they might get from the federal government and other entities, not to mention from New Yorkers themselves."

A Few More Quick Hits From Slate's Blogs—
See you back here tomorrow. Until then, tell your friends to subscribe, or simply forward the newsletter on and let them make up their own minds.