Police Chief: Ohio Women Were Bound With Ropes and Chains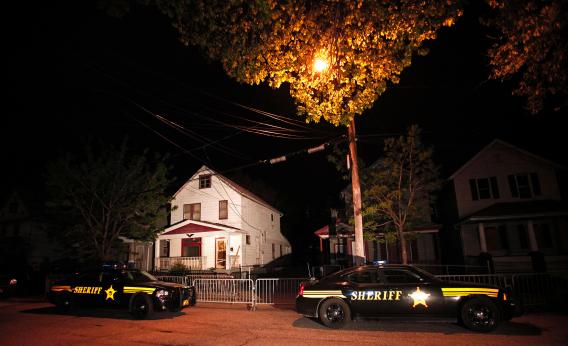 Cleveland police are still playing things pretty close to the vest, but Chief Michael McGrath this morning offered up some a few specifics of the kidnapped women's time in captivity. Via NBC News:
The three women held in a Cleveland house for a decade were bound with chains and ropes, and allowed only "once in a while" into the backyard, the police chief told NBC News on Wednesday. Chief Michael McGrath ... said the account was based on initial interviews with the women, who were freed Monday night after one of them broke through a door and was rescued by a neighbor.
He said that the women's physical well-being was "very good, considering the circumstances." They were released "out in the backyard once in a while, I believe," he said.
Beyond that, however, McGrath wouldn't go into any more detail about what horrors Amanda Berry, Gina DeJesus, and Michelle Knight may have faced while they were held captive for all those years.
He said that investigators were still interviewing the women as of this morning, and that he expected charges to be filed in the case sometime later today. Three brothers—Ariel, Pedro, and Onil Castro—were arrested Monday. The chief suspect appears to be Ariel, a 52-year-old former school bus driver who owned the house from which the women were rescued. McGrath said that the men have spoken with police interviewers but would not say whether any had confessed during their initial interrogations. He also would not say whether all three men will be charged.

The police chief also refuted suggestions that his officers missed signs that could have given them a chance to free the women earlier, saying that he was "absolutely confident" that his department did everything it could. Neighbors have said that police were called to Castro's house at least twice in recent years for reports of suspicious activity—including a naked woman seen crawling on her hands and knees in the backyard, and loud pounding on one of the doors from the inside—but McGrath said police have no record of such calls.

This post has been updated with additional information.