Israel Launches Air Strikes in Syria Again, Raising Fears of a Regional Escalation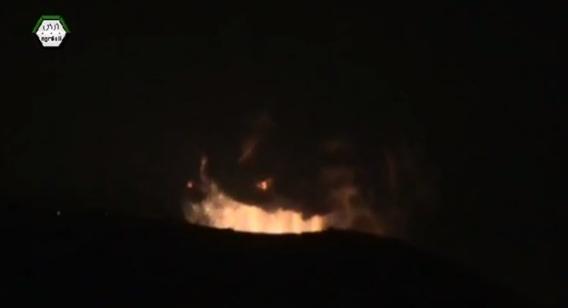 Israel has struck again. And this time, subtlety has gone out the window. Hours after U.S. and Israeli officials said Israeli warplanes had struck a weapons shipments destined for Lebanon, Israeli jets launched a much more fierce bombing campaign on areas in and around the Syrian capital of Damascus Sunday. It marked the third attack on Syrian territory this year. The "fiery mushroom-shaped clouds towering over the landmark Mount Qasioun" amounted to what several Damascus residents described as "by far the most fearsome near the capital in more than two years of fighting," notes the New York Times. As was the case with Friday's strike, the target allegedly was Fateh-110 missiles destined for Lebanese militant group Hezbollah.
The attack marked a sharp escalation of Israel's involvement in Syria's civil war and once again raised fears of a regional escalation. Syria's Deputy Foreign Minister Faisal al Mekdad told CNN that the attack, which he claimed struck a military research facility, amounted to a "declaration of war." Syrian state television said the bombing led to "many civilian casualties and widespread damage," reports Reuters. Videos posted on YouTube shows a huge explosion on Mount Qasioun, overlooking Damascus, as well as numerous explosions that lit up the sky, "suggesting that some form of arms storage facility may have been hit," notes the Washington Post. "Night turned into day," one Syrian tells Reuters.
A senior Israeli official confirmed the air strike to the Associated Press, and the military moved two of its Iron Dome missile-defense systems to the north of the country. But, notably, Prime Minister Benjamin Netnayahu is still going ahead with a planned four-day trip to China, a move that the Times of Israel calls "partly a demonstrative desire to play down the likelihood of escalation." Reuters points out it seems unlikely that Syria will divert attention from fighting rebels in order to attack the much stronger Israel. But the Associated Press notes that a senior Iranian official "hinted at a possible response not from Tehran, but rather its proxy, Hezbollah." Such a move would fulfill long-held fears that the Syrian war could lead to a renewal of fighting between Israel and Hezbollah.