The Tsarnaev Parents Are Still Refusing to Believe Their Sons Are Guilty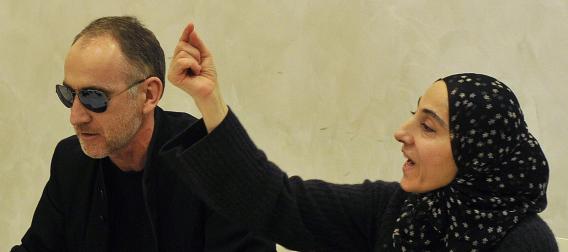 There really is nothing like a mother's love. Zubeidat Tsarnaeva, the mother of the two Boston bombing suspects, remains unconvinced that her sons were behind the twin explosions that killed three and wounded at least 260 at the Boston Marathon. "No, I don't," she said today at press conference in the Russian republic of Dagestan. "And I won't. Never."

She and the brothers' father, Anzor Tsarnaev, spent much of the hourlong press conference denying the sum total of evidence in the case by claiming a conspiracy in which the American government framed their children, even suggesting that police killed their eldest son, Tamerlan, after capturing him alive last week. Here's the New York Times (note: The naked man she is talking about was neither of the brothers, according to police):

She said that in the days after the bombing she saw what she described as video footage on the Internet that showed a man that she said was Tamerlan being put into a police car naked, apparently stripped of his clothes to check for explosives. The next day, she said, she saw gruesome images of his corpse.
"Killled, truly killed," she said, describing the images. "I wanted to scream, to scream to the whole world: 'What did you do? What have you done with my son?' He was alive. Why did they need to kill him? Why not send him to Guantánamo or whatever? Why did they kill him? Why did they have to kill him? They got him alive. He was in their hands.'" ...
"Yes, I would prefer not to live in America now. Like, why did I even go there — why?" Ms. Tsarnaeva said, breaking into tears and sobs. "I thought America was going to, like, protect us, our kids. It was going to be safe for any reason. But it happened the opposite. My kids — America took my kids away from me — only America."
The parents also suggested that the father would make a trip to the U.S. as soon as today to retrieve the body of his older son. But CNN reported on Friday that the trip has been delayed, and both parents have relocated to another part of Russia. Zubeidat faced two days of FBI questioning in Russia earlier this week. Here are a few of the high/lowlights from today's event: