South Africa's "Blade Runner" Charged With Murder of Girlfriend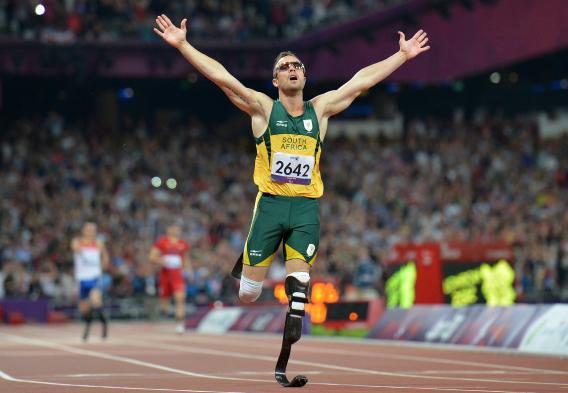 Some rather shocking news out of South Africa, where Oscar Pistorius, the Paralympic champion and feel-good-story of the 2012 Olympics, has been charged with murdering a woman believed to be his girlfriend, model Reeva Steenkamp.
Many details are still unknown but the case appears to have all the ingredients of something of a global super-story. First, there's Pistorius, the 26-year-old international sporting star who became the first double-amputee to compete in the Olympics at the London Games. There's also the victim, Steenkamp, described by local media as Pistorius's girlfriend, who was both an international model named to FHM's 100 Sexiest Women in the World list and an advocate against the abuse of women. Add to that the timing of the whole thing—police were called to Pistorius' home at 3 a.m. local time on Valentine's Day—as well as early unconfirmed reports in local media that Pistorius said he shot and killed Steenkamp after mistaking her for an intruder, and this is a story that's expected to make headlines across the globe for some time to come.

South African police have since denied that Pistorius has made such claims of mistaken identity to authorities. They also said that they had been called to the home previously to respond to complaints of a "domestic nature," but would not elaborate. According to the Associated Press, police say that Steenkamp was shot four times in the predawn hours in the sprinter's home, located in in a gated community in the nation's capital, Pretoria.
Addding some context to the story is the fact that South Africa has the second highest rate of shooting deaths in the world, behind only Colombia, and one of the world's highest murder rates, with nearly 50 people killed each day in a nation of roughly 50 million. The New York Times with more:
South Africa has one of the world's highest rates of violent crime, and break-ins by armed robbers are relatively common. Legal handgun ownership is also common, with some restrictions.
Pistorius was originally due in court later today but his hearing has been pushed back until tomorrow to allow investigators more time to collect evidence. Speaking to the South African Broadcasting Corporation, Pistorius's father, Henke Pistorius, said this: "I don't know nothing. It will be extremely obnoxious and rude to speculate. I don't know the facts. If anyone makes a statement, it will be Oscar. He's sad at the moment."