Ex-GOP Congressman Was Apparently Pressured by Kids Not To Smoke Pot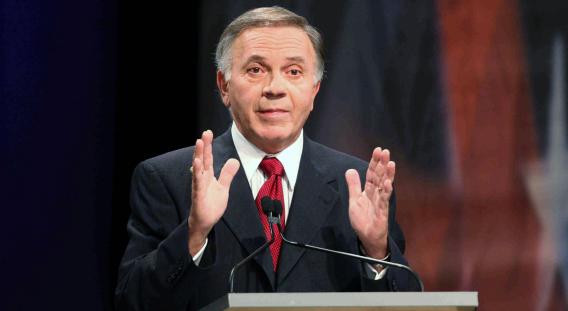 Former GOP congressman Tom Tancredo won't be smoking pot after all.
The 67-year-old former White House hopeful tells ABC News that he'll renege on a pledge he made last year to do so if Colorado voters approved a state referendum making recreational pot use legal (something they did by 55-45 margin in November). The reason he's backing out now, only days after he confirmed he'd go through with it? Dirty looks from his grandkids, apparently:

Tancredo cracked under pressure from his grandchildren. They were "very upset with grandpa," Tancredo told ABC News, and for him, that was it. "Will have to welch. Political heat is one thing. Am use to that," Tancredo wrote in an email. "Heat from my family is quite another."
The outspoken conservative—who is best known for his hard-line stance on immigration—was a vocal backer of his home state's pro-pot push in 2012. "I am endorsing Amendment 64 not despite my conservative beliefs, but because of them," he wrote in an op-ed for a local paper back in September. "Throughout my career in public policy and in public office, I have fought to reform or eliminate wasteful and ineffective government programs. There is no government program or policy I can think of that has failed in such a unique way as marijuana prohibition."

Tancredo's pot-smoking pledge first came to light last week in a promotional trailer for a crowdfunded documentary about the passage of the amendment. Near the end of the 10-minute video, which you can see below, comedian/filmmaker Adam Hartle asks Tancredo, "True or false: When Amendment 64 passes and marijuana is legal, the next time I'm out in Colorado, we're going to smoke a joint together?" To which Tancredo quickly responded: "Deal." (Exchange comes at about the 9:23 mark):

Last Wednesday, the day after the trailer went live online, Tancredo said he'd make good on his bet. "Hey, it's better than having to do a stupid dance as (Denver) Mayor (Michael) Hancock must perform as a result of losing a bet on the Broncos beating the Ravens," he said, referring to Hancock's friendly wager on an NFL football game.