Oprah Speaks About Lance Speaking About Doping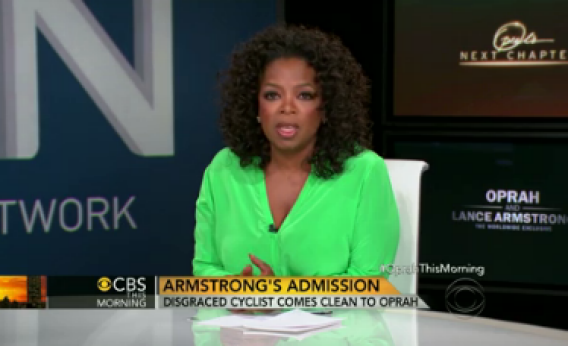 Here's Oprah Winfrey on CBS This Morning talking about Lance Armstrong's doping confession. The talk show host says she and Armstrong had hoped to keep the details of yesterday's interview under wraps until it aired later this week (now spread out over Thursday and Friday) but that plan went out the window after someone in the room leaked the confession to other media outlets by the time she landed back in Chicago last night.

"He did not come clean in the manner I expected," Oprah said, teasing the interview a little more for good measure. "It was surprising to me. I would say that for myself, my team, all of us in the room, we were mesmerized by some of his answers."

During the morning segment, Oprah stopped short several times of offering any details of exactly what Armstrong had told her while her cameras were rolling. "I choose not to characterize, I'd rather people make their own decisions," she said at one point early in the CBS interview after being asked whether Armstrong appeared contrite during their conversation. "He certainly prepared himself for this moment," she said later in the segment. "I would say he met the moment."