Your News Companion
FBI Director's Washington Post Columnn Leads to Diplomatic Spat With Poland
Poland summoned the U.S. ambassador in Warsaw on Sunday to protest an article written by FBI director James Comey in the Washington Post that mentioned Poland's alleged responsibility for the Holocaust, Reuters reports. The article was an adaptation from a speech Comey gave at the Holocaust Memorial Museum in Washington, D.C.
"In their minds, the murderers and accomplices of Germany, and Poland, and Hungary, and so many, many other places didn't do something evil," Comey writes in the article, in which he explains why he requires all new FBI special agents and intelligence analysts to visit the Holocaust Museum. "They convinced themselves it was the right thing to do, the thing they had to do. That's what people do. And that should truly frighten us."
Advertisement

Comey's comments caused a big outcry in Poland, a country that was occupied by the Nazis for six years. A senior aide to Poland's president called Comey "a fool" in a radio show on Sunday, according to the Wall Street Journal. Poland's ambassador to the United States sent a letter "protesting against the falsification of history, especially for accusing Poles of perpetrating crimes which not only did they not commit, but which they themselves were victims of."
Ambassador Stephen Mull in Warsaw tried to play down the incident, which marked a rare fight for the two strong allies, saying Comey did not intend to offend anyone. "Suggestions that Poland is responsible for the Holocaust are wrong, damaging and slanderous," he said, speaking in Polish. "Director Comey for sure didn't want to suggest that Poland holds responsibility for those criminals."
Obama Voices Support for Medical Marijuana in Cable News Interview
President Obama offered support for decriminalizing medical marijuana, as well as an overall change in the way the country deals with drug offenders, during an interview scheduled to air on Sunday night as part of a CNN special on marijuana. Obama talked to Dr. Sanjay Gupta, the network's chief medical correspondent, for his documentary Weed 3: The Marijuana Revolution, which will air Sunday night.
In the interview, Gupta asks Obama whether he supports a Senate bill that would change the classification of marijuana and prohibit the federal government from targeting state-approved medical marijuana programs. According to a Huffington Post preview of the program, Obama replied:
"You know, I think I'd have to take a look at the details, but I'm on record as saying that not only do I think carefully prescribed medical use of marijuana may in fact be appropriate and we should follow the science as opposed to ideology on this issue, but I'm also on record as saying that the more we treat some of these issues related to drug abuse from a public health model and not just from an incarceration model, the better off we're going to be."
Advertisement

He also said the way in which the country has been able to reduce tobacco use should be seen as a model.
"One of the great victories of this country has been our ability to reduce incidences of smoking, increase the incidences of seat belt use," Obama told Gupta. "You know, we save tens of thousands, hundreds of thousands of lives every single year. We didn't throw anybody in jail; we just made sure that they were well-informed and if somebody has an addiction, we made sure that we made it easy for them to get help."
Gupta has acknowledged he was wrong to be skeptical about medical marijuana in the past and has now turned into an advocate of legalization. "On its own merits, this is a substance out there that could address significant problems in this country," Gupta told the Wrap.
"I think he does," Gupta said when asked if Obama wanted to legalize medical marijuana across the country.
Tom Angell, chairman of the Marijuana Majority, told the Daily Caller that if Obama really does believe that, he needs to go further.
"If the president means what he says about following science, then there's no question he should support legislation to move marijuana out of Schedule I, a category that's supposed to be reserved for substances with no medical value," Angell said. "And, since it's so hard to get anything through Congress these days, he should even do more than that. He should exercise his power under the Controlled Substances Act to administratively reschedule marijuana right away."
Ben Affleck Asked PBS to Ignore Slave-Owning Family Past in TV Show
Ben Affleck really didn't want the public to know his ancestors owned slaves. The actor and director asked PBS to conveniently ignore that part of his family tree for the program Finding Your Roots, according to the hacked Sony emails that were recently made public via WikiLeaks. The information never aired, but PBS and the show's host, Harvard scholar Henry Louis Gates Jr., deny any wrongdoing, insisting Affleck had more interesting ancestors that they chose to highlight instead.
Here's my dilemma: confidentially, for the first time, one of our guests has asked us to edit out something about one of his ancestors—the fact that he owned slaves. Now, four or five of our guests this season descend from slave owners, including Ken Burns. We've never had anyone ever try to censor or edit what we found. He's a megastar. What do we do?
Advertisement

Gates even pointed out that Affleck's slave-owning ancestor "wasn't even a bad guy" whereas "Anderson Cooper's ancestor was a real s.o.b.; one of his slaves actually murdered him. Of course, the slave was promptly hanged. And Anderson didn't miss a beat about that."
Lynton encouraged Gates to leave the information out, but only if it wasn't very well-known to begin with:
On the doc the big question is who knows that the material is in the doc and is being taken out. I would take it out if no one knows, but if it gets out that you are editing the material based on this kind of sensitivity then it gets tricky.
Gates then goes on to note that "to do this would be a violation of PBS rules, actually, even for Batman." And later notes that if the information gets out, "It would embarrass him and compromise our integrity." The emails never actually mention Affleck's name, only mentioning him as a "megastar" and "Batman," notes the Associated Press. Affleck was filming Batman v. Superman: Dawn of Justice at the time.
Gates and PBS both published statements defending their actions. "We focused on what we felt were the most interesting aspects of his ancestry—including a Revolutionary War ancestor, a 3rd great–grandfather who was an occult enthusiast, and his mother who marched for Civil Rights during the Freedom Summer of 1964," Gates said. For its part, PBS says it did not know about the email exchange but they make it clear how much Gates values "editorial integrity." Gates "told us that after reviewing approximately ten hours of footage for the episode, he and his producers made an independent editorial judgment to choose the most compelling narrative," PBS said.
Up to 700 Feared Dead in Migrant Shipwreck Off Libya
As many as 700 people are feared dead after a fishing boat capsized in waters off Libya Saturday night in what could be the deadliest tragedy involving migrants being smuggled to Europe. Italy's Coast Guard has rescued 49 survivors and about 20 bodies; as many as 700 are believed to still be in the water, the U.N.'s refugee agency—UNHCR—tells the Guardian. In a statement, the Coast Guard said it believed the 66-foot vessel overturned when migrants rushed to one side of the boat as they saw another vessel approach, reports the Associated Press. "They wanted to be rescued. They saw another ship. They were trying to make themselves known to it," Barbara Moline, a UNHCR spokeswoman said.
The deaths from this tragedy will have to be added to at least 900 other migrants who are thought to have died since the beginning of the year trying to cross the Mediterranean Sea, notes the BBC. In an illustration of how large the problem has become, Italy's Coast Guard rescued 10,000 migrants this past week alone. And it comes amid increasing global outcry over the rising death toll of desperate migrants trying to make it to Europe. Malta Prime Minister Joseph Muscat tells Bloomberg that he and Italian Prime Minister Matteo Renzi have agreed to call for an urgent European Union summit on the issue.
Advertisement

"What is happening now is of epic proportions. If Europe, if the global community continues to turn a blind eye ... we will all be judged in the same way that history has judged Europe when it turned a blind eye to the genocide of this century and last century," Muscat tells the BBC.
Pope Francis also spoke up on the issue for the second straight day on Sunday, calling on the international community to take stronger action to prevent more tragedies involving migrants. "They are men and women like us, our brothers seeking a better life, starving, persecuted, wounded, exploited, victims of war. They were looking for a better life, they were looking for happiness," Francis told thousands of people gathered in St. Peter's Square.
The first four months of the year have seen deaths of migrants soar almost ninefold, reports Reuters. And if this latest death toll is confirmed, the number of deaths this year would be at least 30 times higher than it was the first four months of 2014, points out the Guardian. The increase comes months after the Italian-run maritime rescue operation known as Mare Nostrum ended amid complaints from the European Union that it was costing too much money and may have been encouraging smugglers.

ISIS Appears to Carry Out First Major Attack in Afghanistan, Kills 35
ISIS, or militants with ties to the group, appears to have carried out a suicide bomb near a bank in the eastern Afghan city of Jalalabad that killed at least 35 people and injured more than 100. If ISIS involvement is confirmed it would mark a terrifying milestone: the first time militants loyal to the Islamic State in Afghanistan have carried out such a major operation, reports the Washington Post. President Ashraf Ghani directly blamed ISIS militants for the attack, which took place outside a bank where government workers collect their wages.
"Today the deadly attack in Nangarhar Province — who claimed responsibility?" said Ghani, speaking on national television, according to the New York Times. "Taliban did not claim responsibility, but Daesh claimed responsibility." Daesh is the Arabic acronym for ISIS. A pro-Islamic State Group that goes by the name Province of Khurasan released a photo of the alleged suicide bomber, reports the Wall Street Journal. "Many congratulations to all on the first fedayeen attack by the Wilayah Khurasan," noted a statement on Twitter using fedayeen to refer to suicide attackers.
Advertisement

Taliban insurgents denied responsibility for the group and even said they were opposed to the carnage. "It was an evil act. We strongly condemn it," the Taliban spokesman Zabihullah Mujahid told Reuters. Although the Taliban is still seen as the major threat to safety in the country, the ability of the ISIS Afghan affiliate "to strike at will would mark a new threat for the country to contend with as U.S. and NATO forces ended their combat mission at the start of the year," notes the Associated Press.
Tampa Police Target Black Bicyclists
Tampa police seem to have an obsession with cyclists, writing 2,504 bike tickets over the past three years. And looking at the data it would seem blacks are particularly bad bicyclists, receiving eight out of every 10 tickets, according to an investigation by the Tampa Bay Times, even though they make up about a quarter of the city's population. Analyzing the tickets awarded to bicyclists, the newspaper concludes that "Tampa police are targeting poor, black neighborhoods with obscure subsections of a Florida statute that outlaws things most people have tried on a bike, like riding with no light or carrying a friend on the handlebars."
These violations are used as an excuse to stop and question bicyclists, with a particular focus on high-crime neighbourhoods. Although the police say bike stops are part of a crime prevention strategy, the vast majority of tickets did not include arrests. And when they did, it was usually for a small amount of drugs or a misdemeanor, according to the Tampa Bay Times. The paper notes the actions are hardly a coincidence:
Internal police department records show a sustained effort to encourage bike stops as a means to reduce more serious crimes.
Officers get yearly "productivity reports," calculating, in part, how many tickets they give. One personnel file detailed a "red grid patrol" in which officers are encouraged to "engage and identify offenders through street checks, bike stops and traffic stops."
In another file, a supervisor told a new officer he should learn rarely used traffic statutes. The fact that he wasn't familiar with them was noted as a "significant weakness" in his 2012 performance review. The next year, the new officer impressed his bosses with his "dramatic increase" in "self-initiated activity."
Advertisement

Even if the stop doesn't lead to a ticket it is often still a humiliating experience.
"It's always the light, or to run your VIN number," 31-year-old Anthony Gilbert said. "'Let's have your ID. Just stand in front of my cruiser.' Now, you're being humiliated. Your friend's riding by. Your reverend might be riding by. Now, you've got to go to church. The pastor's going to be like, 'What happened, son?'"
Watch: Surgeon General Tells Elmo to Get Vaccinated
Newly appointed Surgeon General Vivek Murthy teamed up with Elmo to promote vaccines amid concern from the Department of Health and Human Services that declining vaccination rates across the country could lead to the resurgence of preventable diseases. HHS released a 30-second video in which Murthy tells Elmo to get vaccinated. "It's my job to help everyone stay health," Murthy tells Elmo, who then wonders: "Can Elmo help too?" At which point Murthy tells him that the way to help is to "get all your vaccinations on time" and get all his Sesame Street buddies to get vaccinated as well.
The more entertaining video though is a longer one produced by the Daily Dot that appears to be more directly targeted at anti-vaccination advocates "I was worried about getting a shot," Elmo says and wonders why he even needs vaccines anyway. "Let me ask you this: do you carry an umbrella when it rains?" Murthy answers. "Of course—Elmo likes to stay dry." Murthy then compares getting vaccinated to wearing a helmet before suggesting to Elmo that he sing a little song while he's getting the shot. "Why doesn't everybody get a vaccination?" Elmo wondered when he realized it wasn't that big of a deal. "That's a good question, Elmo," Murthy answered. "That's a good question."
Advertisement

In a blog post introducing the videos, Murthy explains the importance of vaccines:
Vaccines are among the most successful and cost-effective public health tools we have for preventing disease and death. They not only help protect vaccinated individuals, but they also help protect entire communities by preventing and reducing the spread of infectious diseases. Among children in the U.S. born between 1994 and 2013, routine vaccinations will prevent an estimated 322 million illnesses, 21 million hospitalizations, and 732,000 deaths over the course of their lifetimes.
Dr. Oz Defends Himself: I'm Just Helping People "Be Their Best Selves"
Dr. Mehmet Oz is firing back at the group of doctors who wrote a strongly worded letter to Columbia University saying the heart surgeon and TV personality should not be part of the university's medical faculty. "I bring the public information that will help them on their path to be their best selves," Oz said in a statement published on Twitter and Facebook. "We provide multiple points of view, including mine, which is offered without conflict of interest. That doesn't sit well with certain agendas which distort the facts."
In the letter, published in full by Slate on Friday, the doctors say one of the reasons they are opposed to Oz's affiliation with the university is his "baseless and relentless opposition to the genetic engineering of food crops." That characterization, however, is exaggerated, insists Oz. "I do not claim that GMO foods are dangerous, but believe that they should be labeled like they are in most countries around the world," he said.
Advertisement

The university has made clear it plans no action against Oz. "The university does not regulate faculty engagement in public discourse," a Columbia spokesman told USA Today. The author of the letter to Columbia, Dr. Henry I. Miller of Stanford University, responded to the university by saying that "freedoms end where patient safety begins, and Oz's promotion of worthless products that might have side effects and that delay patients' seeking safe and effective therapies threatens public safety." Miller called Oz "a quack and a fake and a charlatan," according to the New York Daily News.
The Week in Photos
An aerial view of flower fields is seen near the Keukenhof park, also known as the Garden of Europe, in Lisse, Netherlands, on April 15, 2015. Keukenhof, which employs some 30 gardeners, is considered to be the world's largest flower garden, displaying millions of flowers every year.
An Indian farmer dries maize following unseasonal overnight rains in Toopran Mandal in Medak District, near Hyderabad, India, on April 13, 2015. Three people were killed as heavy rains caused widespread damage to standing crops in several parts of the southern Indian state of Telangana.
Advertisement

A woman jumps on a table and throws papers and confetti as she disrupts a press conference by European Central Bank President Mario Draghi (center) following a meeting of the Governing Council in Frankfurt, Germany, on April 15, 2015. The woman who charged at Draghi calling for an "end to the ECB dictatorship" was quickly escorted out of the premises by security officers before the news conference resumed.
The grounds crew prepares the infield before a game between the Boston Red Sox and the Washington Nationals at Fenway Park on April 13, 2015, in Boston.
Yemeni refugees play on April 12, 2015, at a boarding facility run by the U.N. High Commissioner for Refugees in Obock, a small port in Djibouti on the northern shore of the Gulf of Tadjoura, where it opens out into the Gulf of Aden. The U.N. said at least 900 people had arrived in the Horn of Africa in the past 10 days, including 344 Yemenis who sought refuge in Djibouti even as fresh Saudi-led airstrikes pounded rebel positions across south Yemen on Monday.
An Iraqi man kisses a body bag lying amidst others containing the remains of people believed to have been slain by ISIS jihadists lying on the ground at the Speicher camp in Tikrit, Iraq, on April 12, 2015. ISIS executed hundreds of mostly Shiite recruits last June in what is known as the Speicher massacre, named for the military base near which they were captured.
A couple wearing masks kiss along a street during a sandstorm in Beijing on April 15, 2015.
Hindu devotees take a break from performing rituals during a religious rally to celebrate the Gajan festival in Kolkata, India, on April 13, 2015. The Gajan festival falls on the last day of the Bengali calendar, which also coincides with the birth of Lord Shiva, according to Hindu mythology.
Squatters wait to move out from inside an occupied apartment building the day of their eviction in the Flamengo neighborhood of Rio de Janeiro on April 14, 2015. More than 100 squatters who had been evicted from the city's port area last month invaded the building that was once owned by Brazilian businessman Eike Batista, once Brazil's richest man, a week ago.
Several hundreds of people gathered on April 12, 2015, on the beach in Les Aigrettes on the western coast of the French Indian Ocean island of La Réunion to pay tribute to a 13-year-old boy who was attacked and killed by a shark Sunday. The shark tore off the boy's limbs and part of his stomach as he was swimming in an off-limits section of the ocean off the west coast of the island. It was the 16th shark attack on the island since 2011 and the seventh loss of life.
A relative of a victim of the Sewol ferry disaster sits on the deck of a boat during a visit to the site of the sunken ferry, off the coast of South Korea's southern island of Jindo on April 15, 2015.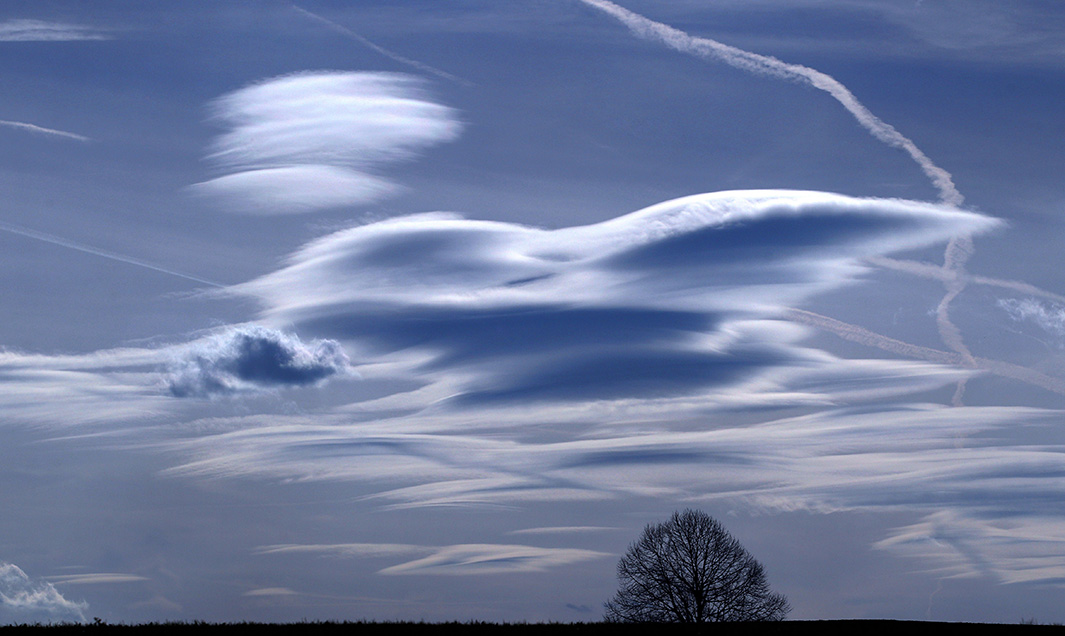 Clouds hover in the sky over Ebersbach in southern Germany, on April 14, 2015.
Oklahoma Legalizes "Nitrogen Asphyxiation" as Execution Method
With the Supreme Court set to review the constitutionality of Oklahoma's preferred exeuction method (lethal injection), the state has enacted a law authorizing "nitrogen asphyxiation" as an alternate means of carrying out death sentences. From NewsOK:

Nitrogen gas could be administered through a mask or the condemned convict could be placed in a tent. The nitrogen would displace oxygen. Loss of consciousness would occur within 10 seconds and death would occur within a few minutes, said Rep. Mike Christian, R-Oklahoma City, author of the bill.
Christian said it would be "a humane, quick and painless death" and would be easy to perform.
Advertisement

Supreme Court oral arguments on the lethal-injection issue are set for April 29, and the court has ordered that, until it rules, the three plaintiffs in that case cannot be executed using a specific drug cited in the lawsuit, midazolam. The plaintiffs argue that the combination of lethal-injection drugs Oklahoma uses can cause cruel and unusual extended pain before death.
All three plaintiffs' initially scheduled dates of execution have already passed, but the nitrogen asphyxiation bill won't go into effect until November 1, by which time the Supreme Court should have already issued a ruling on midazolam. Oklahoma's current statute lists electrocution and firing squad as alternative execution methods, but the state hasn't used either technique for over four decades.