Your News Companion by Ben Mathis-Lilley
A Majority of Americans Question the Big Bang, 15 Percent Are Skeptical About Vaccines
Americans are very skeptical about scientific facts that are seen as settled by experts. Assuming they can't see it, that is. There seems to be very little debate about facts that hit close to home, like the link between smoking and cancer or that a mental illness is a medical condition that affects the brain, according to a new Associated Press-GfK poll. When things start getting away from what people can see with their own eyes, doubts start to creep in, according to the poll. There is more than a bit of skepticism about vaccines, as 15 percent of people say they are "not too confident" or "not at all confident" that "childhood vaccines are safe and effective." In a result that suggests vaccine skeptics have managed to get their views across to a large percentage of the population, an additional 30 percent expressed some doubt, saying they are "somewhat confident" that vaccines are safe.
When it comes to facts that Americans don't have to deal with in their day-to-day lives, the skepticism only increases. Americans are largely skeptical about global warming, with almost four in 10 saying they aren't confident, or simply don't believe, that the world's temperature is rising, mostly due to man-made heat-trapping gases. Yet none of the skepticism compares to what Americans feel about the Big Bang: they just don't buy it. A full 51 percent of the population said they aren't very confident that the universe began 13.8 billion years ago with a big bang. Only 21 percent say they are extremely or very confident that the Big Bang happened.
Democrats can feel smug with the poll results as the survey showed a close tie between scientific knowledge and political views. Democrats are far more likely than Republicans to be confident about scientific facts, including the age of the earth. There was also a strong inverse correlation between the answers and religious views—the more religious the respondent, the less likely he or she would have confidence in established scientific fact. The full survey results are available in this PDF.
Teen Survives Flight to Hawaii in Plane's Wheel Well, Officials Call It a "Miracle"
A 16-year-old boy from California seems to have somehow managed to survive a five-and-a-half hour flight to Hawaii in the wheel well of a Hawaiian Airlines jet. The boy was apparently running away from home after an argument with his family and decided to hop a fence at San Jose's Mineta International Airport and climb inside the wheel well of Hawaiian Airlines Flight 45 on Sunday morning. He appears to have been unharmed, which some are having trouble believing. "How he survived I don't know," said Tom Simon, an FBI spokesman based in Honolulu, according to the Los Angeles Times. "It's a miracle."
Authorities assume the teen was likely unconscious for almost the entire flight. "I imagine he must have blacked out at about 10,000 feet," the FBI spokesman said. "The air is pretty thin up there." Once the plane landed in Maui it appears to have taken the boy an additional hour to regain consciousness before he hopped onto the tarmac. That's when Hawaiian Airlines personnel noticed him and called security. He was then questioned by the FBI, reports the Associated Press. The Maui News details that the boy didn't have anything on him except for a comb.
Some experts say the story comes close to being unbelievable. "It sounds really incredible," aviation expert Jeff Wise tells CNN. "Being in a wheel well is like all of a sudden being on top of Mount Everest." Considering the poor conditions, life expectancy in those situations "is measured in minutes," he added. Airlines analyst Peter Forman tells Honolulu-based KHON that "for somebody to survive multiple hours with that lack of oxygen and that cold is just miraculous. I've never heard of anything like that before."
Despite the doubts though, security footage in both the California and Hawaii airports appear to confirm the teenager's story. And he would hardly be the first to survive such a treacherous journey. A stowaway once managed to survive a flight from Havana to Madrid, while another survived a flight from Bogota to Miami.
In a research report, the FAA explains what may have helped stowaways survive:
Despite the lack of pressurization, or personal O2 equipment, the presence of warm hydraulic lines in the wheel-well and the initially warm tires provided significant heat. The stable climb of the aircraft enabled hypoxia to lead to gradual unconsciousness. As the wheel-well environment slowly cooled, hypothermia accompanies the deep hypoxia, preserving nervous system viability. With descent, and warming, along with increasing atmospheric oxygen pressure, hypoxia and hypothermia slowly resolved.
Transcript Shows South Korea Ferry Crew Was Plagued by Panic, Confusion
Transcripts of the last communications between the South Korean ferry that sank on Wednesday and marine traffic controllers were released Sunday and appear to show a confused crew that seemed to be plagued by indecision minutes after the ship had clearly began listing. The transcripts do little to clarify why the ship began listing in the first place, but they do seem to show the crew was hesitant—either unwilling or unable—to order a full evacuation of the ship, reports the Wall Street Journal.
The transcripts show how almost 30 minutes after the ferry first issued a distress call a marine controller tells the crew to "go out and let the passengers wear life jackets and put on more clothing." But the crew member seemed obsessed with the question of whether passengers would be rescued right away if they abandoned ship. That question was posed three times and came after the crew said they couldn't broadcast instructions to all the passengers and that no one could move. The transcript could provide some answers as to why the passengers didn't get on the lifeboats, notes CNN. But the transcript also seems to show the crew wasted precious time.
An excerpt from the BBC of the transcripts of a conversation that took place 29 minutes after the ferry first called for help:
Controller: "Please go out and let the passengers wear life jackets and put on more clothing."
Crew member: "If this ferry evacuates passengers, will you be able to rescue them?''
Controller: "At least make them wear life rings and make them escape.''
Crew member: "If this ferry evacuates passengers, will they be rescued right away?''
Controller: "Don't let them go bare. At least make them wear life rings and make them escape ... We don't know the situation very well. The captain should make the final decision and decide whether you're going to evacuate passengers or not."
Crew member: "I'm not talking about that. I asked, if they evacuate now, can they be rescued right away?''
Now comes a point where it seems there may have been miscommunication from the traffic controller, who said a patrol boats were 10 minutes away when the truth is a civilian ship was nearby and said was ready to help any passengers who went overboard, notes the Associated Press.
Meanwhile, the death toll has increased to 58 as of Sunday night after rescuers managed to use axes to break into windows of the ferry and recover corpses. An additional 244 people are still missing.
Moscow, Kiev Point Fingers After Shootout in Eastern Ukraine Checkpoint Kills at Least Three
Moscow blames Kiev, Kiev blames Moscow. In what appears to be the first bloodshed since the agreement sealed in Geneva last week, at least three people were killed early Sunday in a gun battle at a checkpoint manned by pro-Russian militants in eastern Ukraine. Details on the bloodshed are far from clear. Pro-Russian separatists say they were attacked by a Ukrainian nationalist group, but the nationalist group says Russian special forces were behind the attack, reports Reuters. The deputy head of Ukraine's National Security Council told the BBC that while the attack is being investigated there are hints it involved an argument "between local criminal groups."
Russia's Foreign Ministry did not waste time, and issued a statement saying Ukrainian nationalists are to blame for the attack. But Ukraine mocked the supposed evidence presented by Moscow, including what the Associated Press describes as "a pristine business card said to have been left behind by the attackers." Kiev says Russia wants to use these types of clashes as an excuse to grab more Ukrainian territory. Indeed, on NBC's Meet the Press Ukrainian Prime Minister Arseniy Yatsenyuk said that Russian President Vladimir "Putin has a dream to restore the Soviet Union. And every day, he goes further and further."
After the shootout at the checkpoint early Sunday, the self-appointed pro-Russian mayor of nearby Slavyansk called on Putin to send peacekeeping troops to protect the Russian-speaking population. "They want to make us slaves. They don't talk to us, but simply kill us," Vyacheslav Ponomaryov said during a news conference.
The killings are hardly the first challenge for the Geneva agreement that was sealed between Russia, Ukraine, the European Union, and the United States last week. Pro-Russian separatists have also refused to give up their weapons and abandon the public buildings they have occupied in at least 10 eastern towns in recent weeks, notes the Guardian.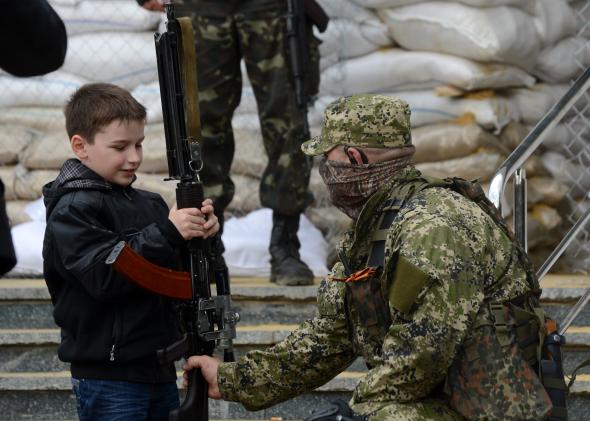 Rubin "Hurricane" Carter, Boxer Whose Plight Was Captured in Song, Dies at 76
Rubin "Hurricane" Carter, the boxer most famous for spending 19 years behind bars after he was twice wrongfully convicted for a 1966 triple murder, died on Sunday in Toronto at 76 after battling prostate cancer. John Artis, a longtime friend who was wrongfully convicted for the same 1966 crime, said Carter died in his sleep, reports the Associated Press. Artis had been caring for Carter for the past three years after his cancer worsened, according to the Globe and Mail. Carter and Artis, a hitch-hiker he had picked up on the night of the murders, were convicted of killing two men and a woman at the Lafayette Grill in Paterson, New Jersey.
Carter's arrest came a few years after he began his pro boxing career in 1961 and quickly began racking up a series of wins. "Carter's rapid-fire combinations and punching power earned him the nickname 'Hurricane' and, by 1963, The Ring Magazine had rated him number 10 in world rankings," notes the CBC. The high point came in 1964, when Carter came close to beating middleweight champion Joey Giardello, but his career was already in decline when he was arrested in 1966.
The possibility that Carter may have been wrongfully convicted began to get attention nationally in 1974, when two witnesses recanted, which led to stories by the New York Times. But his story gained worldwide notoriety after Bob Dylan wrote the song "Hurricane" in 1975. All the new information led the New Jersey Supreme Court to overturn the convictions in 1976, cementing Carter's position as a champion of civil rights, notes the New York Times. But after being free for nine months, Carter and Artis were sent back to prison "and deserted by most of the show business and civil rights figures who had flocked to their cause." He was finally released for good in 1985, in large part due to the work of a group of Canadian activists.
After his release, Carter became an advocate for the wrongfully convicted, gaining a new generation of admirers following the much-criticized 1999 film that starred Denzel Washington as Carter. In February, Carter sent a letter to the New York Daily News calling for a new hearing for David McCallum of Brooklyn, who has been behind bars since 1985. "I am now quite literally on my deathbed and am making my final wish to those with the legal authority to act," he wrote.

Ohio Couple Married for 70 Years Die 15 Hours Apart
When Helen Felumlee of Nashport died on April 12 at 92, her 91-year-old husband, Kenneth Felumlee, quickly followed, passing away a mere 15-and-a-half hours after the woman he had married 70 years earlier. This was of little surprise to their eight children, who described their parents as almost inseparable. "We knew when one went, the other was going to go," daughter Linda Cody said, according to the Associated Press. The Zanesville Times Recorder was the first to write about the love story that noted how Helen had become Kenneth's caretaker after he had his leg amputated two-and-a-half years ago because of circulation problems.
Around 2 hours after Helen died, Kennth looked up at his children who were gathered at his bedside and said, "Mom's dead." And then he "quickly began to fade," according to the AP. "He was ready," Cody said. "He just didn't want to leave her here by herself." The two first met when they were 18 and 19 and quickly fell in love. They ended up eloping and gettting married in Kentucky two days before Kenneth celebrated his 21st birthday.
Four French Journalists Freed After 10 Months of Captivity in Syria
Four French journalists who were captured in Syria 10 months ago were released on the Turkish border and are on their way home. The men are reportedly in good health but it's unclear how the release came about and if anybody paid a ransom, reports the Associated Press. French President Francois Hollande said in a statement that he felt "immense relief" at the release despite the "very trying conditions" of their abduction. "We thank the Turkish authorities because they helped us a great deal," one of the freed journalists, Didier François, a senior reporter for Europe 1, told Turkish television in a brief interview, according to the New York Times. He was held alongside his Europe 1 colleague Edouard Elias, Nicolas Hénin, a freelance writer who regularly contributed to French weekly Le Point, and Pierre Torres, a freelance photographer. The four men had been captured by the Islamic State of Iraq and al-Shams (ISIS) in two incidents in June, notes the Telegraph.
Hénin talked to France 24 and said that their release "was a real surprise" but they apparently knew something was up when their captors gave them better food than usual the night before they were set free. "Usually we were not very well fed. [On Friday evening] our jailers brought us a better meal. And then they asked us if we wanted some more, which had never happened before! That's when we thought 'something is happening.'" Reporters Without Borders has described Syria as "the world's most dangerous country for journalists." The Committee to Protect Journalists says 61 journalists were kidnapped in Syria last year.
All four of the men had bears when they were released, which they quickly shaved off as can be seen in this picture posted on Twitter by France24 Istanbul correspondent Fatma Kizilboga:
South Korea Ferry Captain Arrested as Rescuers Say There's "Almost Zero" Chance of Survivors
The captain of the South Korean ferry that sank on Wednesday was arrested Saturday along with two crew members, including the 25-year-old third mate who was actually at the helm when the ship capsized. The number of confirmed dead rose to 33 after four bodies were found, reports the Associated Press. That number will almost certainly rise. The head of a nongovernmental group working with officials on the rescue efforts said that "the changes are almost zero that we can still find a survivor in there," reports the Wall Street Journal. According to the official count, 269 people are still missing.
"I am sorry to the people of South Korea for causing a disturbance and I bow my head in apology to the families of the victims," 68-year-old Lee Joon-seok, the ferry captain, told reporters after his arrest. He also went on to defend his decision not to call for an immediate evacuation. "At the time, the current was very strong, the temperature of the ocean water was cold, and I thought that if people left the ferry without (proper) judgment, if they were not wearing a life jacket, and even if they were, they would drift away and face many other difficulties," Lee said, according to the AP.
Prosecutors said on Saturday that Park Han-gyeol, the 25-year-old third mate (some say she is 26) who was steering the ferry when it sank. It was her first time navigating the treacherous Maenggol Waterway, which "has a reputation for having one of the most rapid and unpredictable currents around the peninsula," according to the New York Times. Although having the third mate steer the ferry was not a violation of protocol, the Wall Street Journal points out that another crew member said she was in charge during the most dangerous part of the route that is difficult "even for the most experienced officer." Meanwhile, records show that the ferry operator—Chonghaejin Marine Co.—"has been in marine accidents involving engine trouble and collisions every two to three years in the recent past," reports the Korea Times.
The South Korean ferry accident marked the second time in a little more than two years that a captain has fled a sinking ship, putting a dent on the popular idea that a captain always goes down with the ship, notes the New York Times. Experts say the attitude is shocking and violates all accepted norms and regulations. "That guy's an embarrassment to anybody who's ever had command at sea," said John B. Padgett III, a retired United States Navy rear admiral and former submarine captain.
Watch How a TV Anchor in Mexico Keeps Calm as Earthquake Shakes Studio
Eduardo "Lalo" Salazar of Mexican television network Televisa quickly became an Internet celebrity when he remained calm and composed as a 7.2-magnitude earthquake hit the capital Friday morning. With the earthquake-siren blaring, Salazar kept his cool as he slowly and meticulously described what he was feeling and seeing. The video above begins with Salazar describing how the earthquake-alarm has been blaring but he can't feel anything yet. Then, at the 30-second mark: "Now we're starting to feel it." Salazar goes on to describe how the lights in the studio are shaking. "It's a strong quake," he says at the one-minute mark. "We have to stay calm. Many people start to…" Then the shaking really gets going, and Salazar grabs on to the table: "It's stronger now … It's stronger now." And the shaking in the studio becomes evident: "We have to go out. It's very strong. Everything is shaking now." While the studio is shaking, Salazar doesn't quit, going on to explain a live feed that is coming from the street before finally throwing in the towel at the 1.35-minute mark: "I'm getting out, I'm getting out." The earthquake itself caused little damage and there were no reports of casualties, notes the Wall Street Journal.
This is hardly the first time a news anchor gains Internet notoriety because of an earthquake. Just last month, KTLA anchors Megan Henderson and Chris Schauble were on the air when a 4.4-magnitude earthquake struck. They chose the old duck-and-cover routine, getting underneath their desk for a few seconds until the threat had passed:
Prosecutors Want to Arrest South Korean Ferry Captain for Abandoning Ship
Prosecutors have asked to arrest Lee Jun-seok, the captain of the sunken Sewol ferry, who is reported to have been one of the first to leave the ship during the disaster. They are also looking to arrest his third mate, who was steering the ship when it began to sink. From the Times:

On Friday, investigators said Mr. Lee, the ship's captain, who has been criticized for being among the first to leave the sinking ship, was not at the steering house when the ferry, the Sewol, tilted and began sinking on Wednesday morning.
"He temporarily left the steering command to his third shipmate," said Park Jae-uk, a senior investigator. "We are investigating where exactly he was at the time."
Lee is apparently already in custody, but has not been "formally arrested."