Your News Companion by Ben Mathis-Lilley
Why the Urgent Anger of Michael Brown's Mother Matters
Someone captured raw, emotional video of Leslie McSpadden, Michael Brown's mother, during St. Louis prosecutor Bob McCulloch's announcement on Monday night that officer Darren Wilson would not be indicted for killing her son. Standing outside with a rally of supporters and protesters near the place where her son was shot, McSpadden voiced her anger to the crowd, occasionally pausing in emotional stillness, as the voice of McCulloch's 20 minute-long statement droned on in the background. "They still don't care!" she fumed, at one point. Eventually, McSpadden broke down crying, as some rushed to comfort her and others began to move to protest.
The nearly five-minute video, taken by Facebook user Writer's Block Survival, at first feels voyeuristic and exploitative. The unrelenting persistence of the camera upon a woman grieving desperately for her dead son, along with the mob of photographers and cameramen also trying to capture the moment, is jarring. There's a disconnect between the intensity of the moment and the apparent ugliness of turning one woman's pain at the loss of her son into such a spectacle.
But upon closer consideration, this unfiltered visual is incredibly powerful, and in an odd way, refreshing. Throughout much of the coverage of the fallout from Brown's death in August, the people of Ferguson, Mo.—overwhelmingly black, in direct contrast with their law enforcement—have been warned to "protest peacefully" and voice their anger "constructively," oftentimes from concern trolls invoking, ironically, the name of Martin Luther King, Jr. As Ta-Nehisi Coates has aptly made clear, such invocations only serve to ignore how terribly the government treated King himself, without consequence. President Obama has also made these sorts of warnings time and time again, most notably last night in a speech that felt cold and surreally disconnected from what was actually taking place.
But with this video, this moment, we see something that we haven't been able to see from other families that have suffered similar recent injustices. Trayvon Martin's family, for example, publically displayed its grief, but never showed this sort of utter anguish and anger at a system that treats the lives of young black men as disposable. Brown's family has advocated for nonviolent protests as well, to be sure, but they also haven't felt the need to conceal their personal sadness and anger, either. "Everybody wants me to be calm," McSpadden cries in the video. "Do they know how them bullets hit my son? What they did to his body as they entered his body?"
This is not the first time his family has expressed such brutally visceral emotions in the public eye. The same day that Brown was killed, a shocked McSpadden told a reporter, "You know how many black men graduate? Not many! Because you bring them down to this type of level, where they feel like, shit, I don't got nothing to live for anyway." Even more painfully vivid, a photo of Michael Brown, Sr. crying in anguish at his son's funeral went viral—echoing an image of Mamie Till mourning beside the casket of her son, Emmett Till.
It's ironic that Mamie Till was able to openly express anger and defiance when her son was murdered by white supremacists precisely because state-sponsored white supremacy was the defining aspect of American life in much of the country in 1955. But now, in a post-racial society, when instances like the killing of Michael Brown occur, the families of the victims and the people in the communities being repressed are supposed to remain "calm." They are not allowed to voice their anger, even peacefully, lest they be considered a threat to the rest of America, which is how the first Ferguson protests erupted into a militarized craze on the part of law enforcement.
Perhaps Brown's death was the tipping point after so many years of déjà vu, and that's why the protests have become a source for the voicing of discontentment the likes of which we haven't seen in decades. Or perhaps McSpadden and Brown, Sr., who rightfully feel no need to pretend to be "calm and collected" at every public appearance and are unabashed in their raw emotionality, are finally forcing us to face the fact that things won't change unless voices like theirs finally start to be heard.
Ferguson Burns Overnight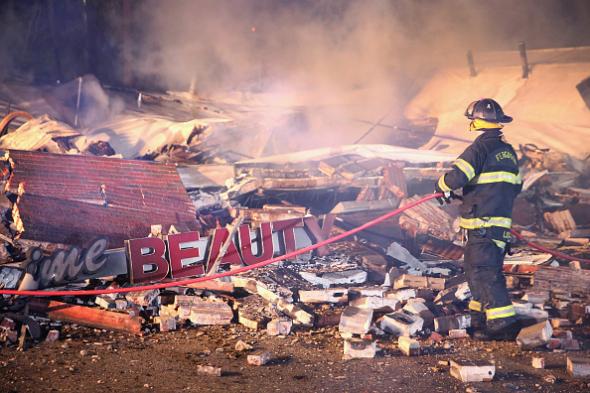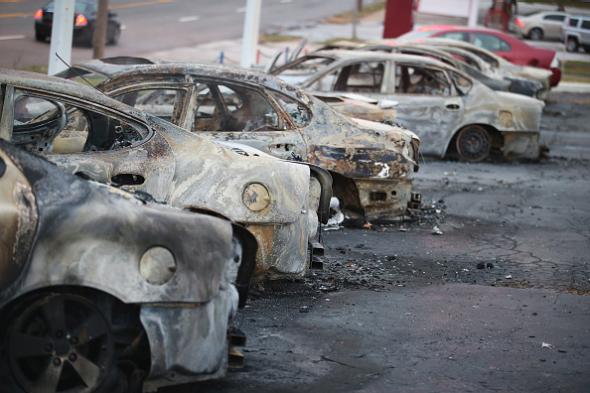 Sixty-one people were arrested.
At one point a CNN correspondent was hit with a rock.

Michael Brown's family will be speaking at an event at noon ET today.
CNN Reporters in Ferguson Provide Wall-to-Wall Coverage of CNN Reporters in Ferguson
Shortly after St. Louis County Prosecutor Bob McCulloch's announced that the grand jury had decided against indicting Darren Wilson, CNN's Jeffrey Toobin provided what would prove to be the best insight from the network all night.* "Let's see what the evidence says," Toobin said, a reference to CNN's promise to dive into the massive trove of testimony and other evidence that McCulloch was making public.
It would take roughly two hours before CNN would talk about that evidence in any detail—and then they did so only in passing. In the meantime, the network would provide wall-to-wall coverage of the reactions on the ground in Ferguson. (During President Obama's late-night statement to the nation, CNN even ran a split-screen with images of the unrest.) In the process, their cameras captured the first clashes between sometimes-violent protesters and a police force that appeared quick to use tear gas to crack down on many peaceful demonstrators.
The images were powerful and important. Unfortunately, though, they were not all that informative, because the live shots were accompanied with on-air reporting from the ground that was occasionally contradictory, often confusing, and, whenever possible, self-referential. It's true that, as has been the case since the protests over Michael Brown's killing started, reporters did become part of the story at certain points. Early on Tuesday, CNN reporter Sara Sidner appeared to be hit with a rock live on the air. But aside from that one incident, there was little that justified CNN's egocentric coverage.
On-camera interviews with protesters or community leaders were scarce at best, as was confirmation of many of the rumors that were mentioned on air, ranging from anecdotes about gunshots to one about a protester reportedly having a heart attack.
In their stead were a half-dozen CNN reporters wandering the streets, recounting what was personally happening to them and their colleagues. Among the many exchanges between the CNN contributors was Van Jones and Don Lemon talking about the latter's gas mask not being on tight enough, and reporters warning other reporters to stay safe. Jake Tapper, clad in a CNN jacket, narrated as he walked toward a flaming trashcan to confirm that it was, in fact, a flaming trashcan. Earlier in the night, Lemon delivered this gem to the audience at home: "Obviously there is the smell of marijuana in the air as well."
Wolf Blitzer set the tone even before the grand jury's announcement was official. The CNN anchor went to great lengths Monday evening to point out that his network had reported that a decision had been reached before officials had alerted Michael Brown's family. The reason for Blitzer's boasting? He was interviewing the family's lawyer.
The network would show more than an hour's worth of on-the-ground coverage from their team before Anderson Cooper would finally alert viewers that it was not all of Ferguson that was burning, but only a small section of it. "I do think it's important to put this into some context," Cooper told viewers who had gone without it until then. "What we're talking about—what you're seeing, the images—are from a relatively isolated and limited location. We're talking about a several block area."
"Elsewhere things are calm, people are at their homes," Cooper would go on to conclude. "Many people are just watching this on television." Given that's the case both in Ferguson and outside of it, let's hope CNN has better luck in the coming days finding a way to talk about what's happening on the ground without talking about themselves.
*Correction, Nov. 25, 2014: This post originally misspelled the name of St. Louis County Prosecutor Bob McCulloch.
Here's What Darren Wilson Looked Like After Shooting Michael Brown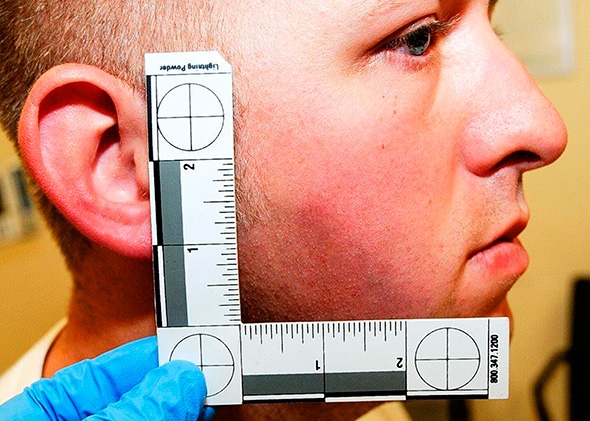 Surreal Images of Obama Speaking Calmly While Ferguson Erupts
At 10 p.m. Monday, President Obama addressed the nation, urging calm and peace in Ferguson in the wake of a St. Louis County grand jury's decision not to indict police officer Darren Wilson in the fatal shooting of an unarmed teenager, Michael Brown. Obama was quiet and composed as he called for the protests to remain peaceful.
"There will inevitably be some negative reaction," he said, "and it will make for good TV."
Even as he was uttering those words, smoke was rising from the Ferguson streets as police tried to disperse the outraged crowd. Rather than choose between his speech and the chaotic scene unfolding in Missouri, many news channels went to a split screen, showing one alongside the other. The result was, as many on Twitter pointed out, a surreal juxtaposition.

Here is what the nation saw as Obama delivered his remarks.
Ferguson's Tank Man
Ferguson, Missouri, 2014:
Tiananmen Square, Beijing, 1989:
Darren Wilson Will Not Be Indicted for Killing Michael Brown
Ferguson police officer Darren Wilson will not be indicted for the fatal shooting of unarmed teenager Michael Brown, St. Louis County prosecutor Bob McCulloch said in a statement on Monday night. After months of deliberation, on Monday a grand jury returned its decision that Wilson will not face charges, as the St. Louis suburb braced for potential unrest as a result of the decision.
"We are profoundly disappointed that the killer of our child will not face the consequence of his actions," the Brown family said in a statement after the announcement. "While we understand that many others share our pain, we ask that you channel your frustration in ways that will make a positive change… We respectfully ask that you please keep your protests peaceful."
The grand jury—made up of nine white and three black jurors—first took up the case on Aug. 20, in order to decide if there was probable cause Wilson committed a crime on Aug. 9 when he shot Michael Brown while on duty. Over the last three months, all twelve jurors were present at each of the 25 grand jury meetings, which amounted to more than 70 hours of testimony, according to St. Louis County prosecutor McCulloch. "Officer Wilson took the unusual step of testifying before the grand jury, appearing for more than four hours on an afternoon in September to defend his actions, and he said he was convinced that his life was in danger," according to the New York Times. Here's more on what the jurors had to consider from the Times:
At 12:01 p.m., Officer Wilson appeared on the scene, driving alone in his police vehicle. Through the driver's side window of his Chevrolet Tahoe, he issued an order: Leave the street and walk on the sidewalk. At this point, accounts differ widely. Mr. Johnson has said that Officer Wilson reached through the open window and grabbed Mr. Brown by the neck, choking and pulling him. According to an account that Officer Wilson gave to various authorities, Mr. Brown was the aggressor, punching him in the face and scratching him on the neck. Pinned in his vehicle, Officer Wilson, according to his statements to the authorities, feared for his life and, with his right hand, drew his gun from the holster. As the two continued to struggle, Officer Wilson fired the gun twice, forensic evidence revealed. One shot hit Mr. Brown in the hand, a county autopsy found… Officer Wilson left the car, pursued Mr. Brown on foot and continued to fire. Two construction workers who were on Canfield Drive at the time said in interviews with the news media that they had seen Mr. Brown with his hands up when he was shot. One of the workers said "the officer was chasing him." Other witnesses said Mr. Brown had turned around and was moving toward Officer Wilson.
The shooting became a flash point triggering weeks of protests in Ferguson that occasionally turned violent. The Brown shooting, as well as the police's military-like response to protests, reignited a national debate on race and the police. In the lead up to the grand jury's decision, local and and national leaders appealed for calm. President Obama weighed in over the weekend saying in an interview: "Using any event as an excuse for violence is contrary to the rule of law and contrary to who we are." Ahead of the announcement, the New York Times reported, "[a]round this St. Louis suburb, law enforcement authorities were on alert and the Missouri National Guard stood by; political leaders, including Gov. Jay Nixon, were holding last-minute meetings with community members; and residents, including parents of schoolchildren, were bracing for what might come next."
*This post has been updated.