Your News Companion
Trump Doubles Down on Feud With Media at Florida Campaign Rally
After a chaotic week in the White House, President Donald Trump went back to familiar, comfortable territory: a campaign rally. The coordinator of the event told Fox News it was the president's "first re-election rally," and it certainly had that feel as thousands of people packed the hangar for the event. Trump didn't go to present any new policy initiatives, and didn't really reveal anything new in detail beyond broad outlines of things that he and senior members of his administration have talked about before. But he started out with one clear message that continued throughout the speech: the "dishonest media" are lying about him and his presidency. That came shortly after he wrote on Twitter that the media are the "enemy of the American people."
"I want to speak to you without the filter of the fake news," Trump told the cheering crowd. "The dishonest media, which has published one false story after another with no sources— even though they pretend they have them they make them up in many cases. They just don't want to report the truth."
In his characteristically humble self, Trump went on to compare himself to "many of our greatest presidents" who also "fought with the media and called them out," specifically mentioning Thomas Jefferson, Andrew Jackson, and Abraham Lincoln. "When the media lies to people, I will never, ever, let them get away with it. I will do whatever I can that they don't get away with it," Trump said. "They have their own agenda and their agenda is not your agenda."
Despite what the media are reporting, "the White House is running so smoothly, so smoothly," Trump said. And if it isn't running smoothly it isn't his fault: "I, and we, inherited one big mess—that I can tell you."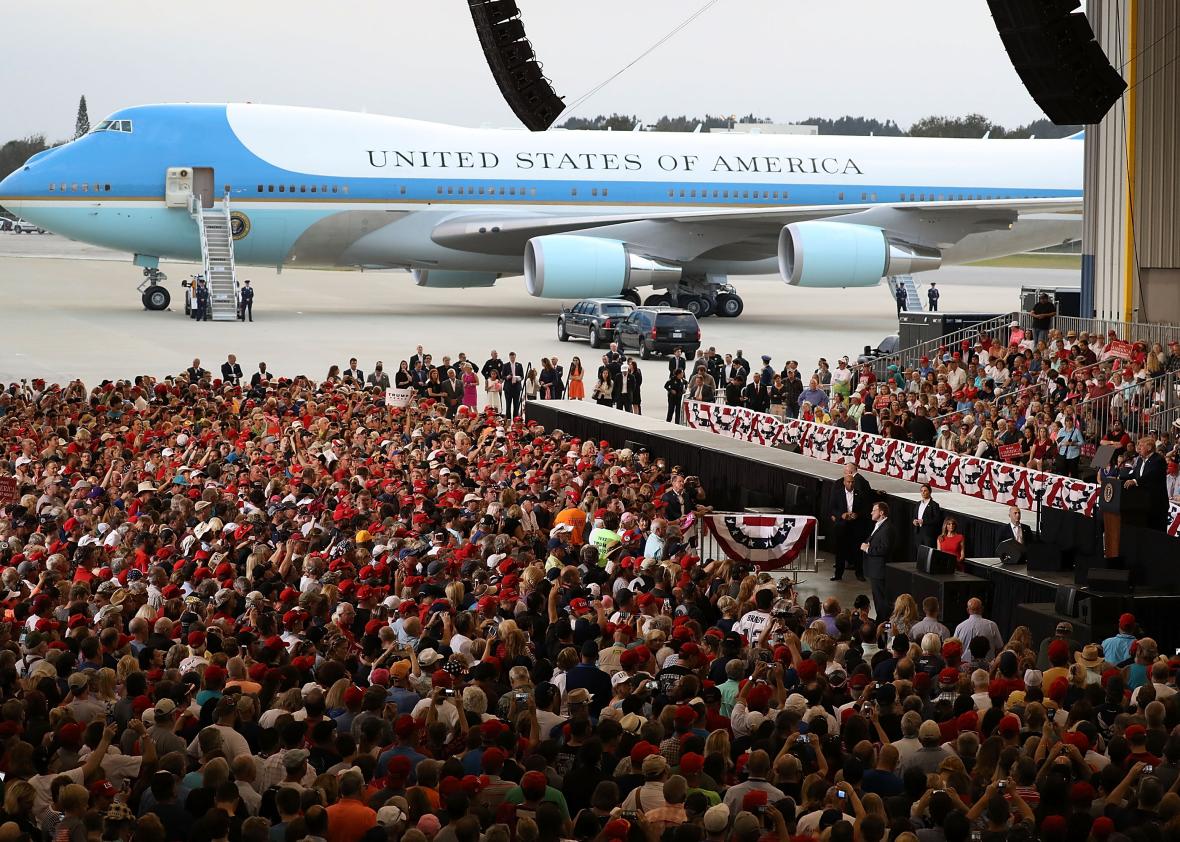 Throughout the speech, Trump celebrated his November victory and said he wanted to be around supporters. "I am here because I want to be among my friends and among the people," Trump said to open his rally. "This was a great movement, a movement like has never been seen before in our country or before anywhere else, this was a truly great movement and I want to be here with you and I will always be with you."
The commander in chief also made clear that even as he hates the media he sure watches a lot of it. He recognized a supporter who had been interviewed on TV and invited Gene Huber up to the stage, even giving him a shot at saying a few words to the crowd. "I wouldn't say Secret Service was thrilled with that ... but we know our people," Trump said.
The rally was also notable due to the presence of First Lady Melania Trump, who has been pretty far from the spotlight in the first month of her husband's presidency. In Floriday today, she kicked off the rally with a prayer and later a short speech in which she vowed to work on initiatives for "women and children around the world."
Before the rally, reporters asked Trump whether it wasn't a tad bit early to be holding another campaign rally. His response? "Life is a campaign."