Fun and Beautiful Maps of the World Made From Signature Regional Foods
"Exploring new places through the food you eat is often a portal to the cultural complexities of that place," Hargreaves wrote in an email. "In this series we have taken many of the iconic foods of countries and continents and turned them into physical maps ... that show how food has traveled the globe—transforming and becoming a part of the cultural identity of that place."

A map of France is made with cheese and bread:
Advertisement

South America rendered in citrus: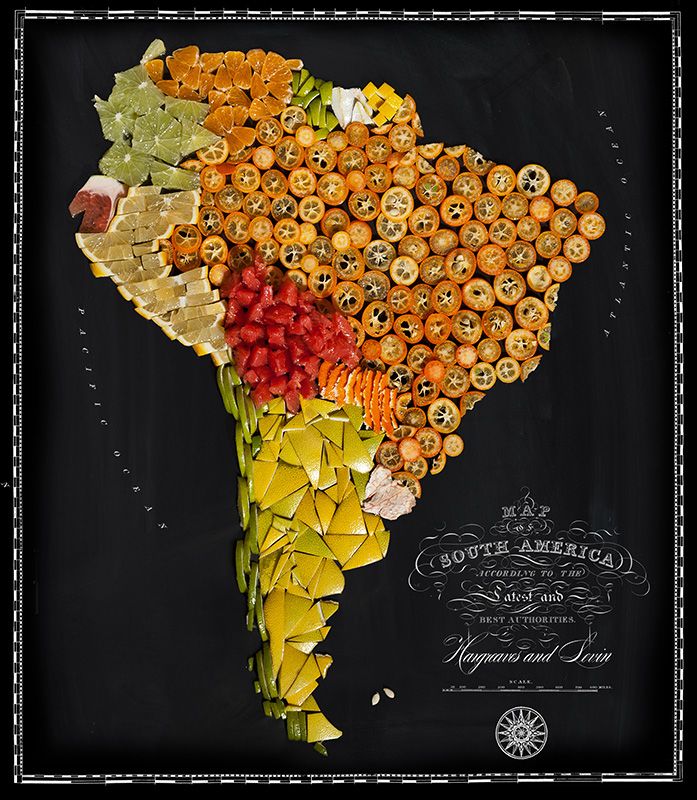 Hargreaves said that while tomatoes might have originated in the Andes in South America, Italy has become "the tomato king," as seen below:

Shrimp on the barbie? Must be Australia:
In this map, Japan is an island made of seaweed:
Hargreaves' home country of New Zealand is a map made entirely from kiwi fruit:
The U.K. and Ireland are mapped out in biscuits:
The continent of Africa is fashioned from bananas and plantains:
Here's a map of China rendered in noodles:
Below, a map of India is filled in with spices:
Hargreaves pointed out that the maps were "painstakingly created with real unadulterated food." To see how, here's a brief making-of video:
TODAY IN SLATE
Technocracy
Forget Oculus Rift
This $25 cardboard box turns your phone into an incredibly fun virtual reality experience.