Check Out Finland's New Graphic Gay Bondage Stamps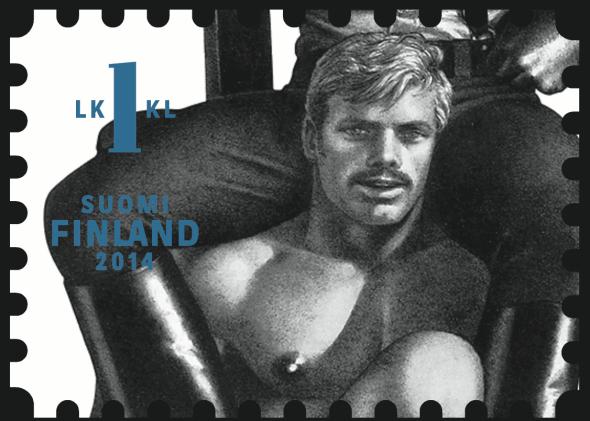 The United States has some pretty cool stamps and, once the Harvey Milk stamp is released next month, at least one commemorating an openly LGBTQ American. But it's difficult to imagine a future where America's stamps are as amazingly, graphically gay as Finland's. This fall, the country will begin selling stamps that feature the "confident and proud homoeroticism" of Tom of Finland, an artist renowned as "beyond question the most influential creator of gay pornographic illustration."
Itella Posti Oy, the Finnish equivalent of U.S.P.S., boasts that Tom of Finland—also known as Touko Laaksonen—is "considered one of the most well-known Finnish artists around the world":
His emphatically masculine homoerotic drawings have attained iconic status in their genre and had an influence on, for instance, pop culture and fashion. In his works, Tom of Finland utilized the self-irony and humor typical of subcultures. … The drawings on the stamp sheet represent strong and confident male figures typical of their designer.
The release of the stamps will coincide with an exhibition of Laaksonen's work at Finland's Postal Museum. To select which of Laaksonen's more than 3,500 drawings would appear on the stamps, Posti consulted graphic artist Timo Berry as well as Susanna Luoto, the Finnish representative of the Tom of Finland Foundation, which is "dedicat[ed] to protecting, preserving and promoting erotic art."
To commemorate the centenary of beloved bisexual writer and artist Tove Jansson, Posti is also selling Jansson stamps—though they aren't quite as exuberantly queer as the Tom of Finland collection.
Oddly, Finland isn't notably LGBTQ-friendly; gay marriage has yet to be legalized, and citizens can only legally change their gender if they are surgically sterilized. (Before you gasp, note that 16 other European countries require the same.) Personally, I'd take marriage equality and reproductive freedom over gay bondage stamps. But if gay Finns can only get half a loaf, I guess this isn't a terrible half to have.