Expanding the LGBTQ Conversation
Campbell Claims Gay Families Eat Canned Soup in New Ad
With a cute (sigh, I guess) new ad from Campbell—makers of the weak gesture toward chicken noodle soup that's only passable when you're deathly sick—the rebranding of gay people as "wholesome" continues apace. The 30-second version of the spot features a couple of gay dads feeding their son a new Star Wars-themed broth while fighting over who gets to say Darth Vader's "I am your father" line. Part of Campbell's current "Made for Real, Real Life" campaign, the juxtaposition of mass-produced canned soup and safely apolitical pop cultural references with a gay family successfully incorporates the latter into the context of "real" America. Or something like that.
An interesting note about the actors: Out observed that the real, real life couple, David Monahan and Larry Sullivan, are making something of a career out of affording corporations the gay-friendly cred they crave—the pair recently did a similar turn in a commercial for Sabra hummus. You could look at this as yet another example of a cynical market coopting gay life for financial gain, but I think there's actually a little joke going on. We all know that no real, real life gay man would ever allow canned condensed soup or prepared hummus anywhere near his home.
Why Did British Embassies Stop Flying the Rainbow Flag? An Interview With Baroness Anelay.
Last Monday, Zimbabwean President Robert Mugabe, who has a long history of homophobic statements, made a strange declaration while addressing the United Nations General Assembly: "We … reject attempts to prescribe 'new rights,' that are contrary to our values, norms, traditions, and beliefs. We are not gays!" he declared, apparently ad-libbing the second sentence. According to Vox's Max Fisher, Mugabe's remarks elicited "audible laughter" from attendees.
At another U.N. event the next day, Mugabe's utterance was vociferously denounced. At an animated meeting of the Core LGBT Group, the speakers—who included U.N. Secretary-General Ban Ki-Moon, former prime minister of Botswana Festus Mogae, and Pakistani human rights activist Hina Jilani—made impassioned pleas for the rights of LGBTI—lesbian, gay, bisexual, transsexual, and intersex—people to be recognized by all U.N. members.
Ban spoke of his pride in receiving the Harvey Milk Award for fighting homophobia and transphobia. "Looking at me, you would think I didn't have much in common with Harvey Milk. I would never claim to be as courageous as he was," he said. The secretary-general said that thanks to Milk and other activists, he had learned that speaking out about injustices was "a matter of life and death." He also revealed that a private appeal to the president of Malawi had led to the release of a gay couple who had been imprisoned and sentenced to hard labor.
After the meeting I spoke with attendee Baroness Joyce Anelay, Britain's minister of state for Foreign and Commonwealth Affairs, about how the United Nations can be more effective in fighting for the rights of LGBTI individuals around the world, why British embassies stopped flying the rainbow flag, and the evolution of Britain's Conservative Party on gay rights.
Larry Kramer Talks Gay History, PrEP, and more at the New Yorker Festival
Larry Kramer, the noted gay advocate and writer, is infamous for his indignant, often furious style of activism, especially on issues related to HIV/AIDS. So the rather subdued Kramer who joined Calvin Trillin in a discussion as part of this past weekend's New Yorker Festival offered an uncharacteristic change in tone. Indeed, much of the hour-and-a-half-long conversation was relatively boring—an outcome likely encouraged by Kramer's long friendship with Trillin and the latter's seeming contentment in facilitating something of a "Kramer's greatest hits" survey rather than truly pushing the icon on any of his more controversial positions or claims. (According to Kramer, the U.S. government has never done much of anything to fight HIV/AIDS, and the NIH is willfully stalling a cure.) In any case, the "American gadfly"—dressed in his signature overalls and jade jewelry—did offer a few observations of note, particularly on the subjects of gay history and PrEP/Truvada, the pill-a-day HIV prevention treatment.
Kramer is currently at work on the second volume of his epic gay take on American history, The American People, in which he sweeps up a slew of figures from Alexander Hamilton to Abraham Lincoln in a sort of alluring but ultimately ahistorical identity net. (Even if Hamilton liked to get it on with other dudes, calling him "gay" many decades before the concept of "the homosexual" was even invented is a clear category error.) Though the book, the first volume of which was released to cool reviews back in April, is classified as a novel, Kramer revealed that he thinks of almost everything in it as being accurate, particularly the ascriptions of gay identity to historical celebrities. The "novel" thing was due to publisher pressure, he claimed.
Of course, Kramer is not alone in wanting modern gayness to be a transhistorical phenomenon—not least because a "gays since the beginning" interpretation of history has the potential to enhance our sense of community lineage. But that desire seems in conflict with Kramer's contention, early in the program, that there "really isn't a gay community … we should be called the gay population." One wonders how gays can have as precise and rich a history as Kramer imagines without being a community in the present—or, perhaps better, to whom that history should matter if there's no real community to claim it? But then, Kramer didn't seem overly concerned with conceptual rigor. "How do you know [Hamilton and George Washington] were in love?" Trillin gently probed at one point. "How do you know they weren't?" Kramer replied with a self-satisfied sigh.
Regarding gay life today, Kramer was his dissatisfied self. Asked to comment on the rapidly growing embrace of Truvada-as-PrEP—an HIV prevention strategy he has decried on moral grounds in the past—he initially seemed to conflate it with Post-Exposure Prophylaxis (PEP), an often physically stressful emergency treatment generally reserved for medical professionals or those with known accidental exposures. While Kramer did not dismiss Truvada out-of-hand, and rightly pointed out that it does not protect against other STIs, he did note that it "seems most used by people who are still partying … and don't want to use condoms." Of course, since the 1978 publication of Faggots, his scathing critique of gay sexual culture in the 1970s, Kramer has been on record as being judgmental of those who "party"—often to the sober nods of sexually conservative (straight) people. If the room at Saturday's event was any indication, he's still reaching that audience loud and clear. The gay community (or "population") he says he loves so much? That's another question.
Bernie Sanders Claims He's a Longtime Champion of Marriage Equality. It's Just Not True.
Vermont Sen. Bernie Sanders likes to describe himself as a longtime supporter of marriage equality—in sharp contrast to his Democratic rival Hillary Clinton, who's still striving to convince her base that she's on board with LGBT rights. In May, Sanders famously told New York Times columnist Gail Collins that "I'm not evolving when it comes to gay rights. I was there!" Liberal outlets consistently describe Sanders as a pioneer for marriage equality. As proof of his pro-LGBT credentials, Sanders frequently touts his opposition in 1996 to the Defense of Marriage Act, which barred the federal government from recognizing same-sex marriages.
But Sanders is not quite the gay rights visionary his defenders would like us to believe. Sanders did oppose DOMA—but purely on states' rights grounds. And as recently as 2006, Sanders opposed marriage equality for his adopted home state of Vermont. The senator may have evolved earlier than his primary opponents. But the fact remains that, in the critical early days of the modern marriage equality movement, Sanders was neutral at best and hostile at worst.
In Freeheld, Ellen Page and Julianne Moore Bring Amazing Realness to a Sad, True Story
When the documentary Freeheld won the Oscar for best documentary short in 2008, the powerful story of Laurel Hester and Stacie Andree—a lesbian couple from New Jersey who were forced to fight the state over control of Hester's pension as she was dying from cancer—got the cinematic treatment and acclaim it deserved. At least that's what I thought as I went to see Freeheld, the new Julianne Moore/Ellen Page feature version, which sets out to tell the story again. One hundred and three minutes later, I understood why director Peter Sollett had made the attempt: Freeheld is one of the most powerful pieces of agit-prop art I've ever seen, precisely because of its astonishing fidelity to the true story of Hester and Andree.
We first meet Julianne Moore's Laurel Hester on a New Jersey boardwalk. She appears to be admiring her sweet Farrah Fawcett hairdo in a hand mirror while simultaneously tolerating the inane attentions of a couple of annoying dudes. In fact, she's a police detective, using the compact to keep an eye on an undercover cop who's scoring heroin across the street. The guys are cops, too—they're just pretending to be loitering, though they're genuinely annoying—and when their shenanigans make her take her eye off the drug deal, the undercover cop is in danger. Without thinking of her own safety, Hester gives chase and bravely saves her colleague while the other detectives are bumbling around. Once the bad guys are in cuffs, she lights a cigarette.
One Last Lesson From the Pope's Disastrous Meeting With Kim Davis
It now seems fair to conclude that Pope Francis' meeting with Kentucky county clerk Kim Davis was a mistake. Vatican officials engaged in damage control of the highest order today, with Reuters reporting one official describing "a sense of regret" over the meeting, which has subsequently cast a shadow over the pontiff's entire visit. Not-quite-coincidentally, today has also seen new accounts of a second papal meeting being injected into the media bloodstream, this one with Yayo Grassi, an openly gay Argentine man in a committed partnership, who has been described as a longtime friend of Pope Francis'.
You don't have to fully accept the Vatican account of the meeting, which has suggested that the pope was not well-informed about Davis or her situation, to believe that the Vatican is unhappy about the reaction it has engendered in the press and social media. From their actions, it's obvious they would prefer to stress the relative openness of the pope toward the LGBTQ community, rather than the church's official teachings on gender and sexuality. Apparently, the pope would rather be seen as a nice fellow who hugs his gay friends than as a right-wing Davis supporter. For those of us living in America, a meeting with Davis held an obvious and predictable symbolism. Perhaps, it was less clear to the pope and his people how much Davis has become a stand-in for everything that divides us.
A 750-Page Journey Through Gay American History
There are a few books every year I wish I had written. The Gay Revolution: The Story of the Struggle, by Lillian Faderman just leapt to the top of that list. It is, unquestionably, a landmark book and will likely be the template by which subsequent scholarship on our collective lesbian and gay history will be judged.
Faderman has long been, with Martin Duberman, Jonathan Ned Katz, John D'Emilio, Bonnie Zimmerman, Esther Newton, and a handful of others, one of the premiere historians of lesbian and gay America.
We are fortunate to have her (as we are them). The Gay Revolution proves why.
Hillary Clinton's Email About Gay Parents Should Seriously Trouble Her LGBT Supporters
In late 2010, the State Department made an exceedingly innocuous change to U.S. passport application forms. Instead of listing "Mother" and "Father," these forms would now list "Parent 1" and "Parent 2." The change, the department declared, was "in recognition of different types of families"—namely, families with same-sex parents.
Then-Secretary of State Hillary Clinton was furious. In a recently released email, Clinton proclaimed that she would not defend the decision, "which I disagree w and knew nothing about, in front of this Congress." She then wrote that she "could live w letting people in nontraditional families choose another descriptor so long as we retained the presumption of mother and father." Failure to act immediately, she fretted, would lead to "a huge Fox-generated media storm led by Palin et al." (The department quickly reversed the decision, apparently appeasing the secretary.)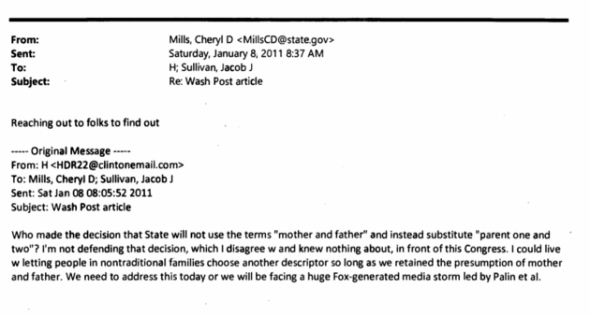 It's easy to sympathize with Clinton's concern about a conservative media maelstrom and insist that, at most, Clinton displayed cowardice, not animus. Four years ago, defending LGBT rights was still a somewhat risky proposition; even President Barack Obama was still too timorous to say that gay Americans should be afforded their constitutional right to marry. But if Clinton was only nervous about political blowback, her choice of words is curious. Why note that she "disagree[d]" with the decision? Why say—hesitantly, almost begrudgingly—that she "could live" with letting gay parents use a gender-neutral form?
Clinton's decidedly non-inclusive language might be forgivable if she had a sterling track record on LGBT rights. She doesn't. Clinton only came out for marriage equality in 2013, in what the Economist dubbed a "farcically late conversion." Even then, she seemed to endorse the Dick Cheney position that states should be allowed to decide whether or not to deprive gay people of their fundamental right to wed. A painful interview with NPR's Terry Gross only aggravated matters, as Clinton tried to claim that a federal gay marriage ban somehow granted states the right to recognize same-sex unions. (The act, signed into law by her husband, actually impeded states' efforts to legalize gay marriage, which the Supreme Court recognized when striking it down.)
Since then, Clinton has polished her LGBT message—but not to everyone's satisfaction. Many of her gay donors are frustrated with her perceived lack of enthusiasm about LGBT rights. She supported the Supreme Court's marriage equality ruling—but declined to explain why she suddenly believes marriage is a constitutional right and not an issue for the states. In July, Clinton endorsed the federal Equality Act, a sweeping LGBT nondiscrimination law. But then, in September, the Washington Free Beacon published a damning story alleging that, in 2000, then-President Bill Clinton questioned his wife's commitment to gay rights. (Hillary, Bill reportedly told the historian Taylor Branch, found gay rights "harder to swallow" and experienced "discomfort" around "gay people who were kind of acting out.")
What's bizarre about Clinton's checkered history with LGBT rights is that, as I've written before, she really should be a gay rights icon. Clinton is the frontrunner in a Democratic primary in which the vast majority of voters will passionately favor LGBT rights. She's not responsible for her husband's gay marriage missteps—and even if she were, she could simply express regret about them and move on. The same goes for her ostensible discomfort around gay people in 2000: Clinton could easily apologize for her erstwhile narrow-mindedness. Over the last few years, in fact, most of her Democratic colleagues have done exactly that. Why is Clinton still unwilling to confess past error and get in front of the issue?
The conventional wisdom is that, when it comes to gay rights, there are two Hillary Clintons: Clinton the politician, a cautious moderate, and Clinton the person, who of course supports civil rights for gays. I'm not quite sure that dichotomy holds up to scrutiny. It was, after all, Clinton the person who wrote that she "disagree[d]" with a tiny paperwork revision to accommodate same-sex parents. And it was Clinton the politician who told the United Nations that "gay rights are human rights" in 2011—shortly before the passport kerfuffle.
I don't doubt that Clinton now earnestly believes in the LGBT cause. But I do suspect that hers was a more recent conversion than she'd like to admit. That's fine: Plenty of good people, including politicians, were blind to the urgency of the issue until this decade. But Clinton should acknowledge her previous misgivings and fervently affirm her allegiances going forward. Her donors and supporters have been quietly pushing for a more honest and vehement stance all summer. Clinton—both the person and the politician—would do well to listen.
Transparent's Zackary Drucker and Hari Nef on the Current Trans Moment
It's strange to eavesdrop on a conversation between someone of 32 and someone of 22 and realize that they're speaking as if a vast generational chasm exists between them. Are the experiences of someone born in 1992 really all that different from someone born in 1982? When the parties in the dialogue are trans women, the answer is, apparently, yes: Attitudes to trans people have changed so much in the last few years that the decade between 22-year-old Hari Nef, a writer and model who will appear as an actress in Season 2 of Transparent, and 32-year-old Zackary Drucker, an artist who is also a co-producer and adviser on the Amazon show, means they each came of age in different worlds.
My opportunity to listen in on Drucker and Nef's conversation came in the Fall 2015 GOOD, which is the magazine's first fashion issue. The piece is accompanied by gauzy photos of the two women, who acknowledge the current fetishization of a certain kind of photogenic trans person. "As trans women with white privilege, we may be given more opportunities, and we have this dire responsibility to pass the mic," Nef says. "We need to advocate for trans women of color, and we need to do more than talk about it. The danger is so disproportionate right now to how much shine we're getting, and I'm more scared than I am triumphant."
Why Pope Francis' Meeting With Kim Davis Is Such a Disaster
I woke up this morning to reports that during his recent U.S. visit, Pope Francis met with Kim Davis, a Kentucky county clerk best known for refusing to issue lawful marriage licenses, interfering with the ability of her deputies to issue lawful marriage licenses, and making unauthorized changes to the lawful marriage license forms for her county. When I saw this news, my heart sank. In one 15-minute meeting, the pope undermined the unifying, healing message that many queer people and our supporters were so eager to have him bring.
This blow hit me particularly hard because I had written so hopefully about the pope's address to Congress. Although I've directly benefitted from the Supreme Court's ruling on same-sex marriage even more than most other Americans in the queer community, LGBTQ issues have never been my first priority. I believe that America's ability to grapple with and seek solutions for our toughest problems has been weakened by the constant activity of culture war activists, people on both sides who draw attention to flavor-of-the-month scandals, outrages, and personalities. These minor matters have been capturing national attention month after month, year after year, for as long as I've been politically sentient. In that time I've seen the climate degrade, inequality increase, prison populations bloat, the labor market change permanently for the worse, and unwinnable wars be embarked upon (and lost). If the pope was against same-sex civil marriage but was also willing to address those other issues, I was 100-percent on board.