Trump Reportedly Wants to Stop Germans From Selling So Many Cars Here, Where They're Made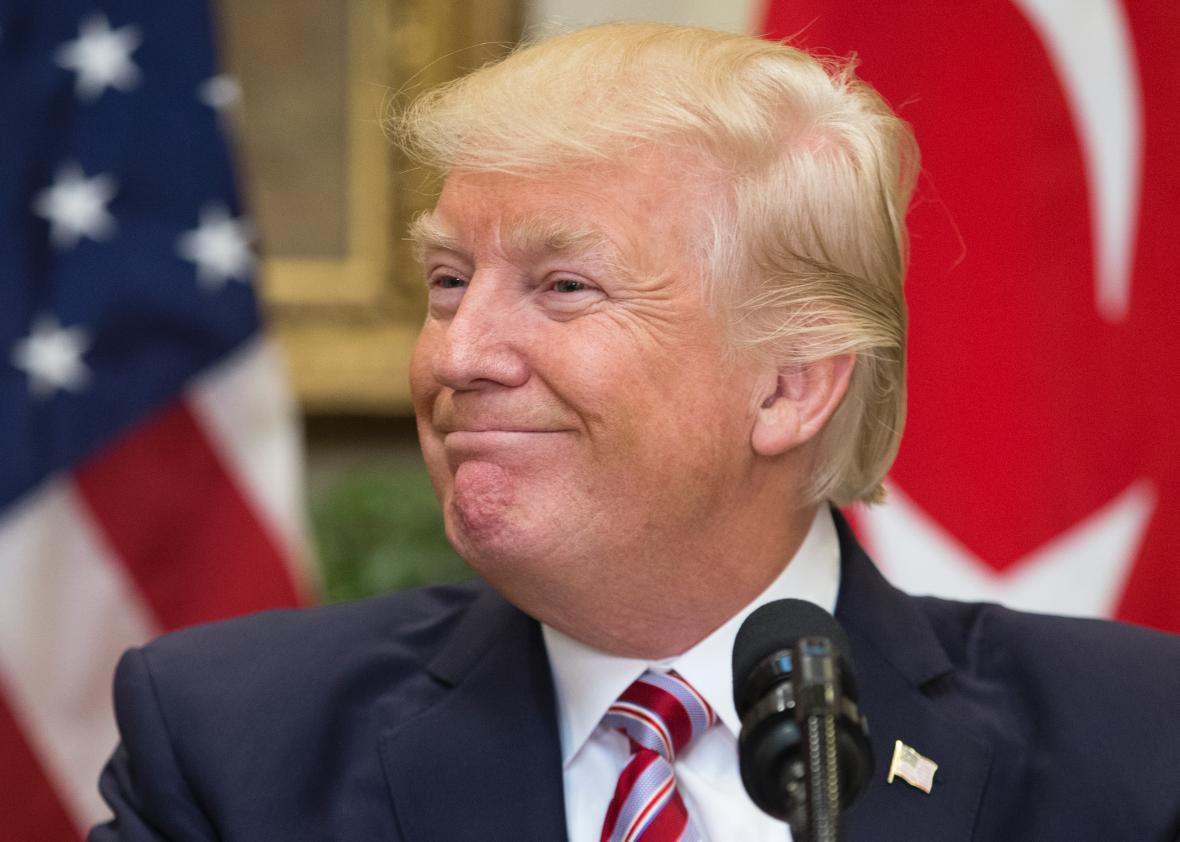 Donald Trump had some tough words for the Germans at the NATO summit in Belgium on Thursday. "The Germans are bad, very bad," he reportedly told Jean-Claude Juncker, the president of the European Union. "Look at the millions of cars that they're selling in the USA. Horrible. We're gonna stop that."
It is certainly true that Germany runs a big trade surplus with the world and with the United States. (Last year, the U.S. trade deficit with Germany was nearly $65 billion.) But Trump can't stop the German cars from coming in to the U.S. because, to a large degree, they're already here. See, it turns out that many "foreign" cars are actually made in the U.S. while many "American" cars are made in Canada and Mexico. That's how globalization works today.
Over the past few decades, in an often-overlooked dynamic, Japanese, German, and Korean automakers have sought to combat protectionist sentiment and insulate themselves from currency gyrations by opening large production facilities in the U.S.—particularly in the union-averse South. IAMA , the trade group for Asian automakers in the U.S., said its members last year produced 4.6 million cars between them, equal to 40 percent of all U.S. vehicle production, at some 300 facilities.
The German carmakers have been quite aggressive in building up their U.S. operations, too. In 1994, BMW opened a plant in Spartanburg, South Carolina. Having invested $7.8 billion in the plant, BMW now boasts that it is the company's largest single facility in the world. And it has spurred investments by a range of suppliers throughout the state. The cars made in Spartanburg there include the EX3 and X5 Sports Activity Vehicle, and the X4 and X6 Sports Activity Coupe. Last year, Spartanburg produced a record 411,171 vehicles, about 34,000 per month. According to BMW, it sells about 26,000 cars per month in the U.S. Now, not all the cars BMW sells in the U.S. are made here. Some are shipped in from overseas. And many of the vehicles made in South Carolina—287,700 last year, or 70 percent—are exported to points around the world. The upshot: By exporting more finished vehicles from the United States than it imports to the United States, BMW may be helping to lower America's trade deficit.
How about that other big German carmaker, Daimler? Well, it has a host of research and manufacturing locations in the U.S. The Mercedes-Benz plant in Tuscaloosa, Alabama, is an impressive operation. Last year, workers in Tuscaloosa produced more than 300,000 vehicles—or about 25,000 per month. As the main distribution site for GLE and GLS Class vehicles, Tuscaloosa exports to 135 countries. In April, Mercedes-Benz sold 27,000 cars in the U.S. Again, not all the Mercedes-Benz vehicles sold in the U.S. are made here, but the company produces roughly as many cars in the U.S. as it sells here.
Or take Volkswagen. Volkswagen has a big plant in Chattanooga, Tennessee, where it has been making the Passat and, lately, the seven-passenger Atlas SUV, whose rollout features this tear-jerking ad. It's hard to get details about the production volumes at Chattanooga, since activity died down in the wake of the diesel emissions scandal. Volkswagen sells about 27,000 cars per month in the U.S.
I suppose Trump could try to stop the sales of German cars in the U.S. But that would involve shutting down a bunch of factories on American soil that employ American workers and use a lot of U.S.-produced parts. Yes, that would be bad—very bad.