This For-Profit College Admitted a Student With a Third-Grade Reading Level
By now, it's old news that for-profit colleges often admit students who have little hope of graduating in order to collect their tuition checks. But David Halperin at Republic Report seems to have uncovered a particularly nauseating instance of such sleaze at a California campus of Everest College, where a librarian recently resigned in disgust because the school had admitted "a 37-year-old man who appears to read at a third grade level" and "may suffer from a developmental disability."
The student, who Halperin refers to pseudonymously as "Tom," is enrolled in Everest's two-year, $45,000 criminal justice program. After the librarian, Laurie McConnell, began trying to help Tom with his reading assignments, she contacted Everest's president about his difficulties. The administration never responded, and so she reached out to the California attorney general's office:
McConnell's first email to the AG's office noted that "Tom" took the Wonderlic Scholastic Level Exam and scored a 4. "This is supposed to be the equivalent of a fourth grade education," she wrote. "Having spent quite a bit of time with him, I feel he is well below the fourth grade level. ["Tom"] does not know how to sign his name in cursive: just block print. He is unable to spell the city he was born in. … If you wonder how he signed his enrollment agreement, it's all done electronically."
In a followup email to the AG's office on May 23, McConnell added, "After working with him extensively for the last 6 weeks, I have found that he cannot read beyond a 3rd grade level. We read some children's books together, which were fairly difficult for him. He still believes he will be able to be a police officer when he finishes the CJ program. However, the other day he asked me how long school is. He doesn't understand how the terms work."
The High Cost of Student Loans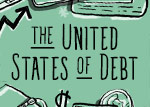 Today, Americans owe about 1.3 trillion dollars in student loans. But how does the impact of those student loans affect our economy? In episode 3 of the United States of Debt, Helaine takes on America's student loan crisis. Why are student loans such a mess in the United States, compared to other countries? What if you're already suffocating under the pressure of your student loans? Find out in this series. Join us today.
The attorney general, which is already suing Everest's parent company, Corinthian Colleges, for fraud, also never got back to McConnell. After Halperin contacted Everest for the story, however, a spokesman hinted that the school might refund Tom's money if he dropped out.
This is obviously an exceptional case. But just like the stories of NCAA athletes who are recruited despite being functionally illiterate, it seems illustrative of what can happen when you combine higher education with a pure profit motive. It's also a case study on the gaping holes in our education system and a demonstration of why we can't always assume college students are sophisticated consumers. "Tom," according to Halperin, managed to graduate high school and attend some community college classes. He signed up for Everest, and took out student loans, even though he might not have fully understood the terms. And he did all of this while barely being able to read a children's book.
(Disclosure: Slate's parent company, Graham Holdings, is the owner of Kaplan, a for-profit college operator.)