Can You Trust Your Olive Oil?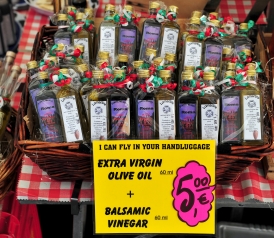 "Researchers found that 69 percent of imported extra virgin olive oils sampled from California supermarkets failed to meet requirements to merit that label," Tom Philpott for Mother Jones.

The good news is that I'm guessing over 69 percent of people don't know what "extra virgin" is even supposed to mean in this context. America's test kitchen recommends Columela, Lucini, and Colavita as the best EVOOs and I've generally been pleased with that advice. Note that there's a plausible linkage here between bad governance and bad economic results. It's extremely valuable to food producers to be able to credibly signal product quality. Over the long-term, that's best accomplished by having an effective regulatory system in place. Each individual olive oil producer has incentives to try to cheat, but as a whole export-oriented olive oil manufacturers will be better off if cheating is rare and extremely difficult because even a small number of cheaters will over time erode the value of everyone's brand. Word is increasingly getting out about olive oil fraud, and people may start turning to other sources for their supply. California olive oils, for example, are much more reliably labeled than Italian ones.