The Euro's Cycle of Collapse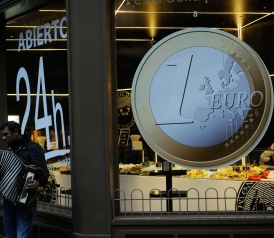 Reuters takes a look at international firms that are starting to engage in contingency planning for the possibility of a Eurozone breakup. Under the circumstances, one can hardly blame them. The problem, however, is that this kind of thing can easily become a self-fulfilling prophesy.
The issue is essentially one of bank runs. One of the ways you plan for the possibility that Spain and Germany might be on different currencies some day is that you try to shift your Euros out of Spain and into Germany. But any tendency of funds to shift out of Spain and into Germany will only exacerbate the deflationary pressures on the Spanish economy while simultaneously tending to fuel inflation in Germany. This, however, is exactly the sort of thing that makes a Eurozone breakup more likely. The more Spanish and German economic conditions diverge, the less sense it makes for them to use the same currency. So the more people start preparing for a breakup, the more attractive a breakup starts to look.