Black Friday Sales Up 6.6% Year-On-Year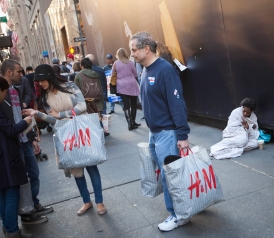 Nominal "Black Friday" sales in 2011 were up 6.6 percent from where they were the year before, according to ShopperTrak. That's a good number. Not like a record-busting catch-up growth number, but a good one. Back in 2007, we got 8.3 percent increase so we've seen better. But this year's growth is the best we've seen since the start of the recession.These numbers have limited predictive value, but a good number is better than a bad one.
For the record, my understanding is that the Black Friday discounts aren't actually very good deals it's all basically a marketing gimmick and coordination point. "Cyber Monday" discounts tomorrow are likely to be better, and of course to get a really good deal on anything what you actually have to do is wait until after the shopping rush and see what excess inventory stores have that they're desperate to purge. Check out Farhad Manjoo's advice on which gadgets to buy and which to avoid.