Fadoodling and the Paphian Jig: 29 Historic Slang Terms for Sex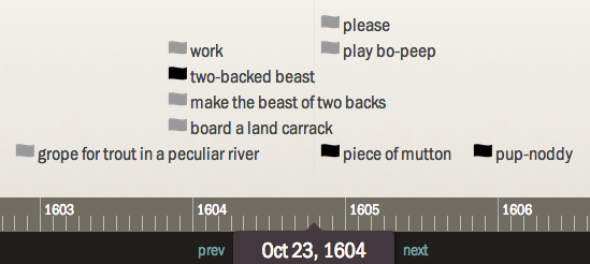 A version of this post appeared on The Week.
Lexicographer Jonathon Green's comprehensive historical dictionary of slang, Green's Dictionary of Slang, covers hundreds of years of jargon, cant, and naughty talk. He has created a series of online timelines (here and here) where the words too impolite, indecent, or risqué for the usual history books are arranged in the order they came into fashion.
Here are the most adorable terms for sexual intercourse from the last 600 or so years. Many of them have origins so obscure they hardly make sense at all, but that doesn't detract from their bawdy adorability in the slightest. When it comes to the ol' houghmagandy, a little mystery goes a long way.
1. Give someone a green gown (1351)
3. Play the pyrdewy (1512)
4. Play at couch quail (1521)
5. Ride below the crupper (1578)
6. Board a land carrack (1604)
8. Put the devil into hell (1616)
10. Princum-prancum (1630)
11. Culbatizing exercise (1653)
13. Dance the Paphian jig (1656)
14. Play at tray trip of a die (1660)
16. Shot twixt wind and water (1665)
17. Play at rantum-scantum (1667)
18. Play hey gammer cook (1674)
20. Play at rumpscuttle and clapperdepouch (1684)
22. Ride a dragon upon St. George (1698)
24. Make feet for children's stockings (1785)
25. Dance the kipples (1796)
26. Have one's corn ground (1800)
27. Horizontal refreshment (1863)
28. Arrive at the end of the sentimental journey (1896)
29. Get one's ashes hauled (1910)