The Trauma of Digital Warfare, on Hacking ​Mr. Robot​: Week 2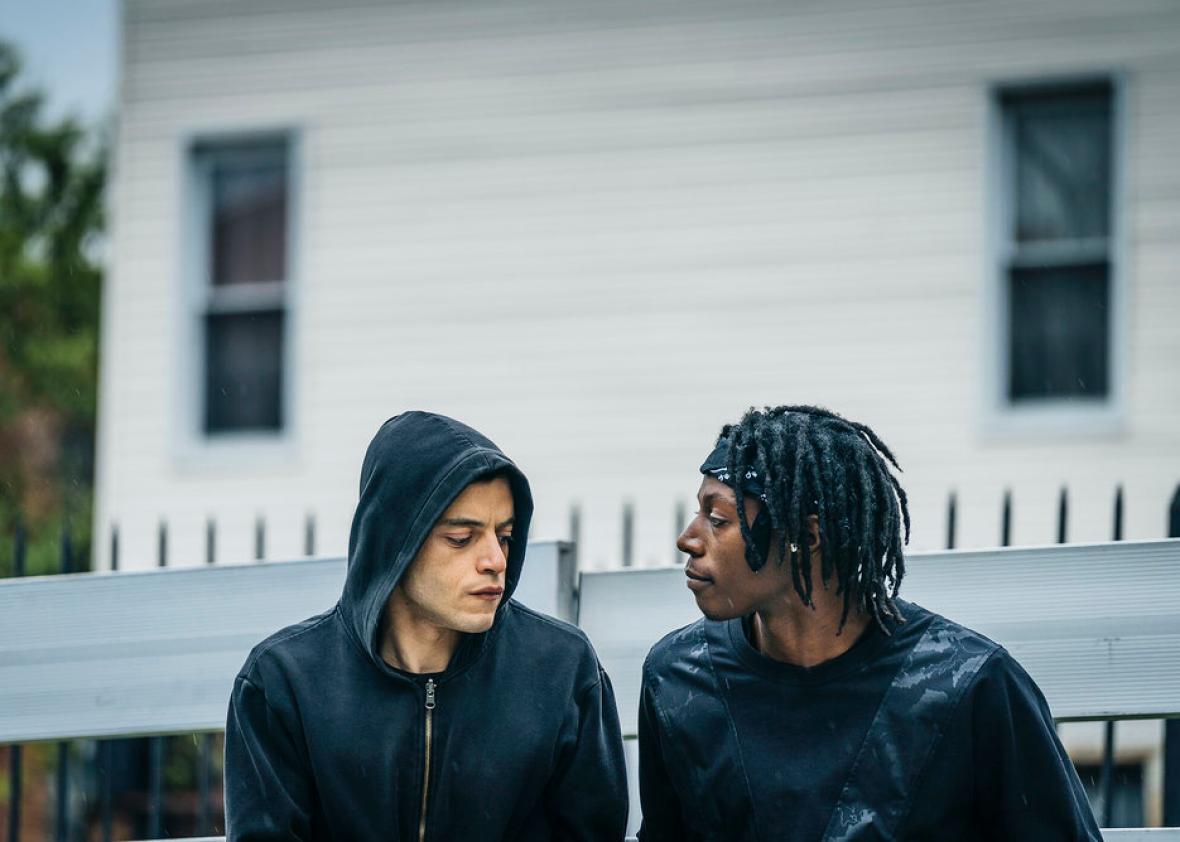 Slate and Future Tense are discussing Mr. Robot and the technological world it portrays throughout the show's second season. You can follow this conversation on Future Tense, and Slate Plus members can also listen to Hacking Mr. Robot, a members-only podcast series featuring Lily Hay Newman and Fred Kaplan.
The third episode of Mr. Robot (don't forget that the premiere was two parts) dropped on Wednesday night, bringing hacker protagonist Elliot Alderson deeper into his madness and despair. It's unclear how long the show will keep Elliot isolated and too confused about reality to actually, you know, do things, but it seems like this episode was the complication before some resolution.
Knowing the show, that resolution will almost certainly be complicating and strange. But Elliot is a talented hacker—he can't live a remote, analog life forever. Meanwhile, the fallout from Fsociety's massive hack of ECorp continues. People close to Fsociety keep getting murdered, an FBI agent is poking around, and ECorp CEO Phillip Price takes an interest in Elliot's childhood friend Angela Moss, who now works in communications for ECorp.
This week's episode didn't have technology driving the plot the way Mr. Robot episodes often do. It was more about exploring the parallels between our digital selves and our interior selves—parts of us that are very real, but don't have a physical manifestation. Season 2 also seems to be meditating on the impacts of digital warfare. Though there's no violent combat, Elliot still seems traumatized by the display of Fsociety's power and his own. Or is it Mr. Robot's power?
Join Slate Plus to Listen to Hacking Mr. Robot Throughout Season 2
Hacking Mr. Robot is a members-only podcast series. To listen to Fred and Lily's seasonlong discussion of the technological world the show portrays, join Slate Plus. You can try it free for two weeks.
Subscribe to Slate's Hacking Mr. Robot Podcast
Copy this link and manually import it into your podcast app:
For full instructions see the Slate Plus podcasts FAQ.
Future Tense is a partnership of Slate, New America, and Arizona State University.