It's Been So Warm in Anchorage, They're Bringing in Snow by Train for the Iditarod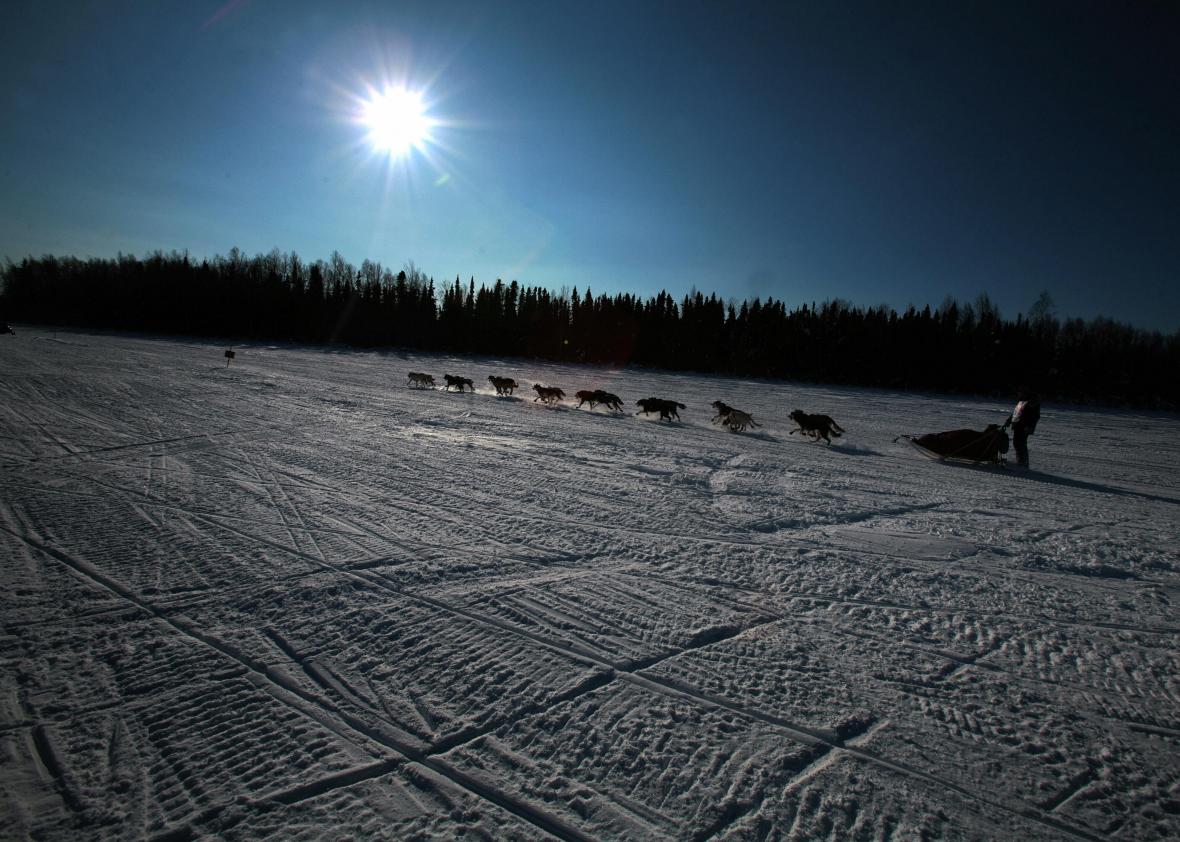 For a state so defined by winter weather, there's been precious little cold this season in Alaska.
That's tough news for dog mushers preparing for the legendary thousand-mile Iditarod trail race, which begins this weekend. On Wednesday, race officials announced that since there is exactly no snow on the ground right now in Anchorage, this Saturday's ceremonial Iditarod start would be cut short. To make the race possible at all, on Thursday morning the Alaska Railroad sent a train load of snow from Fairbanks to Anchorage, 360 miles to the south.
The last two months have been the two most unusually warm months globally in recorded history, in the midst of a record-setting El Niño and steadily escalating global warming—and much of that relative warmth has been concentrated in the Arctic. El Niño isn't entirely to blame, though, since the rapid Arctic warming pattern fits snugly with what scientists expect to happen as our atmosphere stockpiles greenhouse gases. For Alaska, where temperatures are rising twice as fast as the global average, it seems like the future is already here.
As I did in 2014 and 2015, I checked in with musher Monica Zappa, who was making last-minute preparations for her third Iditarod. "The first 30 or so miles are sure to be real bad," Zappa said in an email. "I think it will be a very wet and messy race. I can't wait for it to be over."
Even though temperatures have been warmer than normal and there's been very little snow recently, it seems that most of the trail is in pretty decent shape—except for one section of the barely frozen Yukon River, where the race has been re-routed over land. Last winter, the race was rerouted to start in Fairbanks for only the second time in its history. But after consideration, officials decided that heavy snows in November in Alaska's interior have lingered enough to allow the 2016 race to largely follow its normal course.
Brian Brettschneider, a climatologist with the University of Alaska at Fairbanks, has been closely tracking this winter's progression across the state. "Unlike most places, Alaskans lament the general lack of normal winter conditions. In urban Alaska, the snow cover reflects city lights and keeps things pretty bright during the long nights. Without the snow (like this winter), it's really, really dark in town," Brettschneider said in an email.
After a record-setting 37 days without snow in Anchorage earlier this season, the National Weather Service recently sent out a pun-laden video message intended to boost Alaskans' dreary moods. On his personal Twitter account, Anchorage-based National Weather Service meteorologist Dave Snider said the winter there can be summed up in a single word: "Cancelled."
Future Tense is a partnership of Slate, New America, and Arizona State University.