Netizen Report: Egyptian Activists (and Authorities) Brace for Jan. 25 Protests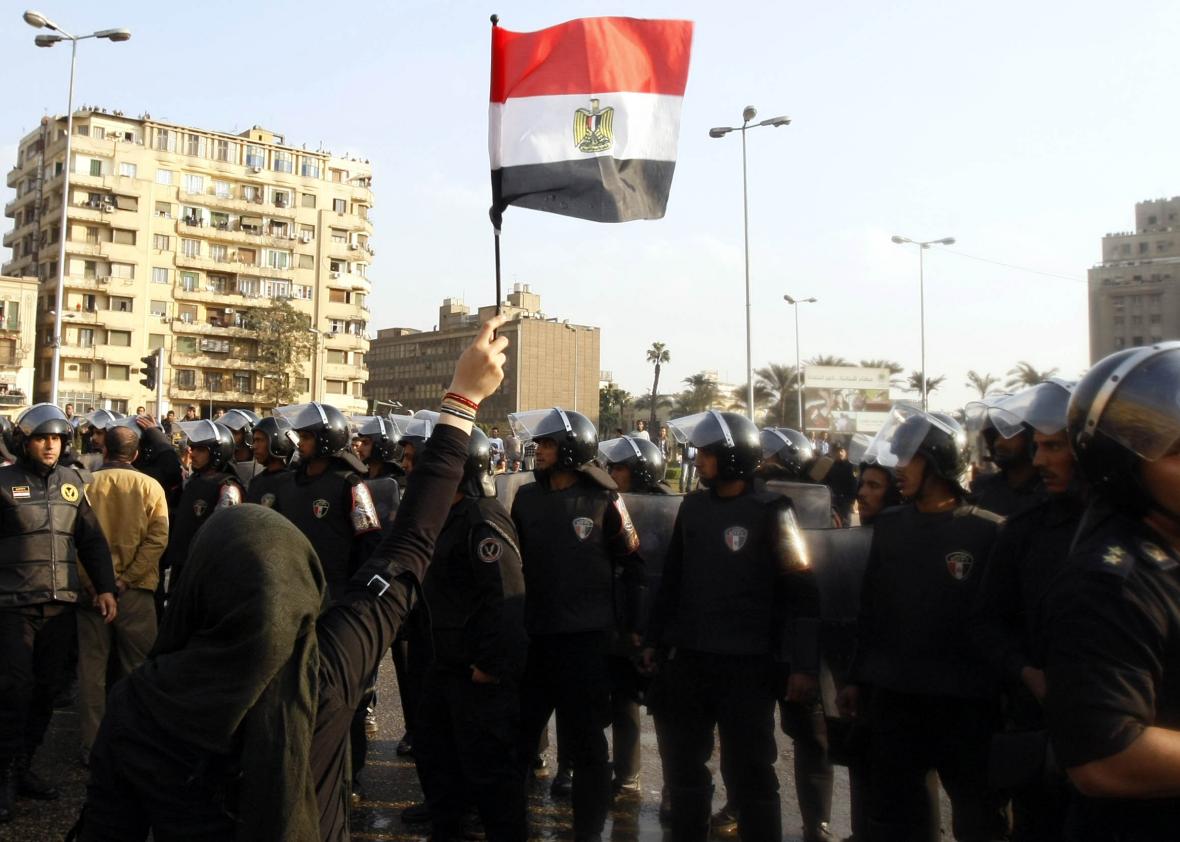 Activists online and on the ground in Egypt have faced heightened scrutiny and legal threats from government authorities since early January, as the country approaches the fifth anniversary of the mass protest movement that toppled former President Hosni Mubarak.
In addition to multiple arrests of activists and artists who have expressed criticism of the current regime, at least five people have been arrested due to their activities as administrators of Facebook pages. Three among them were arrested at the start of January and accused of belonging to the Muslim Brotherhood, the prominent political party outlawed by military leaders in 2013. All were accused of inciting violence against state institutions and calling for protests to be held on Jan. 25.
On Jan. 14, Ahmed Abdel Gawad, managing editor of the privately owned news site Masr al-Arabia, was detained briefly and then released after the site's offices were raided. According to independent news site and Global Voices partner Mada Masr, security forces seized eight computers in the raid and unpublished several of the website's top news stories, saying the articles threatened national security.
Various activists promoting protests have also bumped up against Egypt's so-called anti-protest law, which requires citizens to obtain a state permit before holding a public gathering of 10 or more people.
As online conversations and coordination of demonstrations increases, technology platforms are bracing for challenges as well. Netizens across the country have reported challenges using platforms such as Skype, Facebook, Viber, and WhatsApp. And after Facebook's Free Basics app was mysteriously discontinued by Egyptian Internet service provider Etisalat, Facebook appears to be stepping up its game in order to better serve Egyptian users facing censorship and surveillance constraints. As of Jan. 19, Egyptian Android users can now access Facebook's mobile site using the privacy-protective Tor browser, thanks in large part to Orbot, a proxy tool created by nonprofit tech tool developer the Guardian Project. Learn how to download and use the tools here.
Advocates on trial in Ethiopia, Morocco
Jan. 27 will mark a major court date for several free-expression advocates facing trial in North Africa. In Morocco, seven advocates, including Global Voices author Hisham Almiraat, will begin trial, with five facing charges of "threatening the internal security of the State" and two of "receiving foreign funding without notifying the General Secretariat of the government." In Ethiopia, blogger Zelalem Workagegenhu and two of his friends will return to court on charges of co-facilitating an online social media training (which never took place) and recruiting members for a diaspora organization. Acclaimed journalist and blogger Eskinder Nega, who is currently serving an 18-year prison sentence on terrorism charges, is slated to testify in their defense.
Like Egypt, Morocco is blocking voice-over-IP services
Access to VoIP services WhatsApp, Viber, Facebook, and Skype was blocked by Morocco's telecom providers, who claim the services breached their regulations. In response Moroccans announced plans to boycott the companies, and they said they'll escalate if the block does not end.
China's new assault on circumvention tools
Chinese regulators are working to ensure that local content delivery networks—third-party servers that deliver content to end users with a certain guarantee of high availability and high performance—remove circumvention tools from their networks. Although the move carries some political significance, experts note that most of these circumvention services are not politically motivated but rather geared towards expediting the streaming of foreign online games and television network programs. The change in tactic may be linked to amendments to China's penal code made in November 2015 that addressed "Internet-related crime," among other thing.
Peruvian social media users may face prosecution for criticizing political candidates
Although relatively little is known about the particulars, Peru's National Board of Elections has vowed to prosecute anyone who criticizes or humiliates political candidates on social media, under the country's Organic Elections Law. Elections officials have made clear that the policy would apply to anyone—including competing political candidates.
Pro-Russian separatists block independent news sites in Eastern Ukraine
Access to more than 100 Ukrainian news websites was blocked in the self-proclaimed "Lugansk People's Republic," an area of eastern Ukraine occupied by pro-Russian militia. The militia leaders claim the block, which was ordered by decree from the militia's Ministry of Information, was instituted to protect citizens from the "destabilizing" influence of Ukrainian media. Among the sites blocked are several news services including BBC Ukrainian, Ukrainska Pravda, Obozrevatel, TSN, and 24 TV.
Future Tense is a partnership of Slate, New America, and Arizona State University.