The Only Way to Make the Walmart Shopping Experience Creepier: Add Drones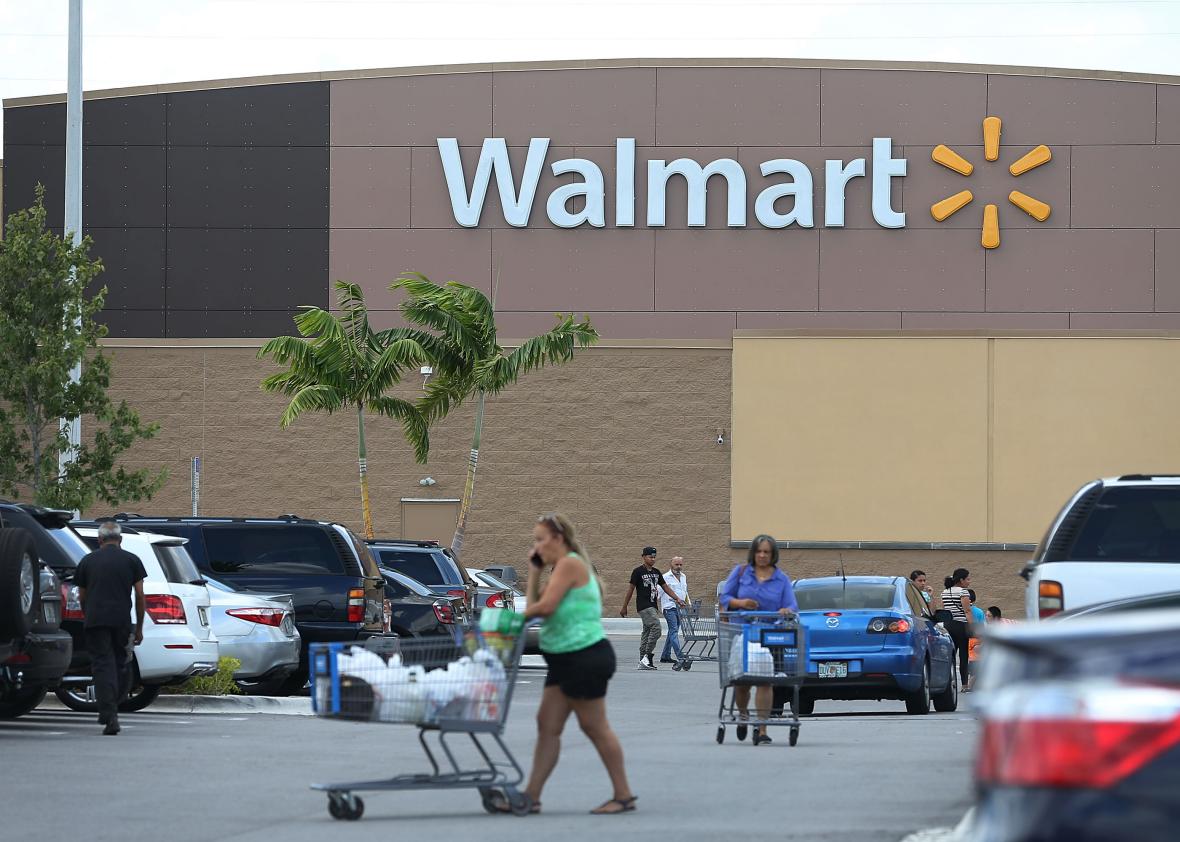 On Monday, Reuters reported that big-box retailer Walmart hopes to get into the drone-delivery gameand has ambitions of using drones for "deliveries to customers at Walmart facilities, as well as to consumer homes." The news makes perfect sense. Not only has Walmart been surpassed in market value by the online retailer Amazon—which has been very public about its own drone-delivery ambitions—but it has long had a mania for minimizing labor costs. Unlike their human counterparts, drone deliverybots will never ask for health insurance, or demand a raise, or try to unionize. (Not until the singularity, at least.)
Though home delivery is the sexiest part of Walmart's drone plan, it's also the least plausible at this point, as battery life and payload capacity severely limit most drones' utility in that space. My sense is that Walmart is probably most excited about how drones might be used at Walmart facilities themselves, where drones will face far fewer logistical hindrances. The Reuters article indicated that Walmart is already interested in using drones to supervise the loading and unloading of merchandise and helping customers transport goods to their cars. Follow this drones-in-stores idea to its logical end, and one can easily imagine drones constantly whirring overhead inside your neighborhood Walmart: restocking bare shelves, assembling displays, pepper-spraying overzealous Black Friday bargain hunters.
OK, maybe that last part is a bit farfetched. But I still find the implications here to be spectacularly grim. Can you imagine anything creepier than walking into a Walmart and having drones constantly buzzing overhead? Or anything less hospitable than having a drone carry your groceries to your car? Walmart clearly believes that you, the customer, will put up with a relatively unpleasant shopping experience in exchange for low prices. Integrating drones into the Walmart shopping experience will put that assumption to the test.
This article is part of a Future Tense series on the future of drones and is part of a larger project, supported by a grant from Omidyar Network and Humanity United, that includes a drone primer from New America.
Future Tense is a partnership of Slate, New America, and Arizona State University.