Netizen Report: Malaysian Politician Charged With Sedition for Satirical YouTube Video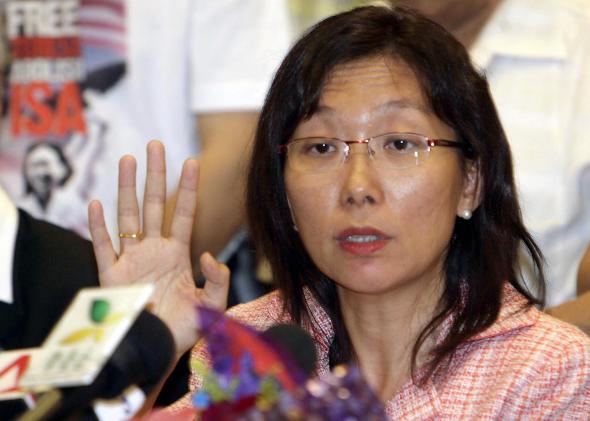 Global Voices Advocacy's Netizen Report offers an international snapshot of challenges, victories, and emerging trends in Internet rights around the world. This week's report begins in Malaysia, where politician and vice-chairman of the Democratic Action Party Teresa Kok was charged with sedition for a satirical video she posted on YouTube, titled "Onederful Malaysia." Kok could be sentenced with up to three years in jail for the video under the Sedition Act—legislation that dates back to Malaysia's days as a British colony.
Saudi blogger Raif Badawi was sentenced to 10 years in prison and 1,000 lashes for "insulting Islam" last week. Badawi founded Saudi Arabian Liberals, an online forum debating the role of religion in the country, in 2008. His lawyer has also been jailed for setting up a human rights monitoring group.
Venezuelan free speech activist and leader of the SOS Venezuela movement Rodrigo Diamanti was detained by national security forces at Caracas' international airport last week when he attempted to leave country. He was released on probation two days later. The offices of Diamanti's NGO "Un Mundo Sin Mordaza ("A World Without Gag Orders") were raided by security officials a week prior to his arrest.
Eight young democracy advocates in Azerbaijan were sentenced by the country's Court on Grave Crimes to prison, for crimes ranging from hooliganism to illegal possession of firearms. Each of them was initially arrested in connection with a series of protests organized online, but in September 2013, they were handed new charges connecting them with organizing mass riots and violence. It is widely believed that the charges were fabricated by officials and that the sentences were motivated entirely by political interests.
Free Expression: YouTube back on in Pakistan?
The High Court of Lahore stated on May 13 that YouTube must be unblocked in Pakistan, in response to a challenge lodged by Pakistani NGO Bytes for All. The decision comes 20 months after the site was blocked by the government in response to the controversial "Innocence of Muslims" film trailer. The High Court's decision does not mean that YouTube will be accessible immediately—the plaintiff must now initiate a new request before the Supreme Court. But the decision is step in the right direction.

the threat embodied in Ethiopia's bloggers, journalists and free thinkers is that they are introducing a radical new idea—the idea of a freer, more democratic country. ... [T]his idea, made even more infectious by the imprisonment of the bloggers and journalists, continues to spread in their absence.

Internet Insecurity: Researchers find bugs in Estonia's Internet voting system
A team of researchers at the University of Michigan found what it called "major risks" in Estonia's Internet voting and has urged the country to immediately freeze the system due to the vulnerabilities. According to the group, which was officially accredited to observe the system during municipal elections in October 2013, there are problems in the operational security, transparency measures, and software design. They note that Estonia is the only country in the world that relies on Internet voting "in a significant way" for its national elections and that it plans to use the system for European Parliamentary Elections this month.
Future Tense is a partnership of Slate, New America, and Arizona State University.