The Weather Map Today Is Completely Insane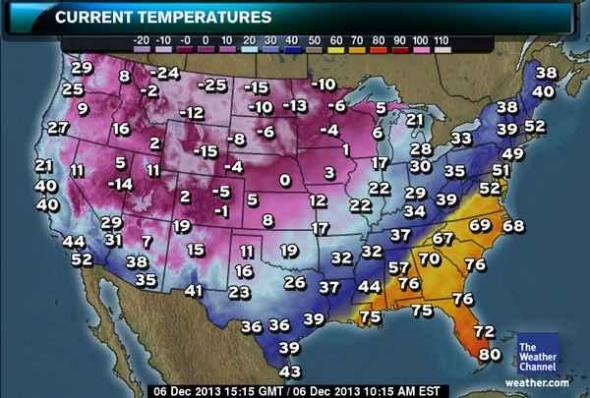 I checked my weather app this morning and did a double-take. I have family in both Kentucky and North Carolina, and most days their weather is pretty comparable. Not today. The forecast for Durham is straight out of June, nearly 80 degrees and sunny. In Lexington, just 340 miles away, winter is in full force, with freezing temperatures and "ice pellets" falling from the sky.
What the hell is going on? I asked Mike Musher, lead forecaster at the National Weather Service's Weather Prediction Center, and he assured me that the weird weather is not a sign of the apocalypse, as far as he can tell. Rather, it's the result of an Arctic air mass descending across the country both earlier in the year and at lower latitudes than usual. While the cold front is moving slowly, he said, it should reach most of the Eastern seaboard by later this evening. So enjoy your sunbathing while it lasts, Durham. Your forecast for Sunday is—you guessed it—a high of 36 with ice pellets.
Future Tense is a partnership of Slate, New America, and Arizona State University.