Amazon's Jeff Bezos Is Like King Midas in Reverse
It's become a quarterly ritual: Amazon reports that it's losing money, and its investors cheer and hand over more. Pundits shake their heads in wonder. And Amazon's competitors tremble in existential terror.
What I can add is this rather mind-boggling chart from the statistics portal Statista.com, which drives home Amazon's uncanny ability to avoid making money in the clearest form I've ever seen. Jeff Bezos is like King Midas in reverse: All the gold he touches turns to something else.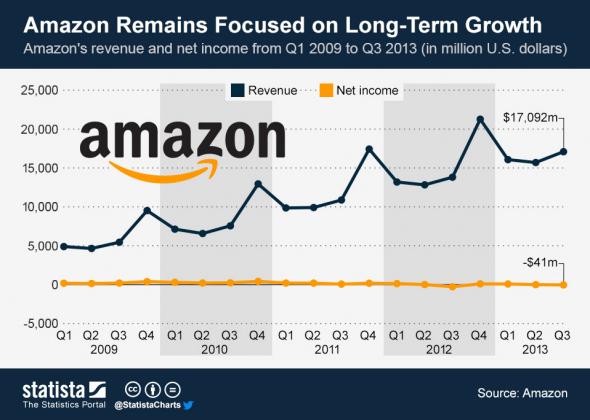 This coming quarter will pose perhaps the company's biggest challenge yet, as Amazon is almost sure to see its revenue leap to a new all-time high over the holidays. But I, for one, have confidence that Bezos will find a way to spend every last dime. The man is a true master of not making money.
Future Tense is a partnership of Slate, New America, and Arizona State University.