The Week's Best Robot Videos: Unlike Curiosity, NASA's Morpheus Crashes and Burns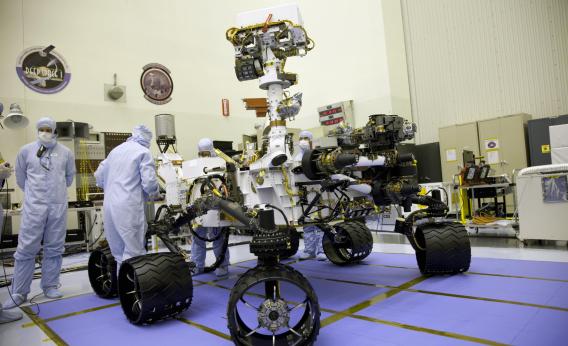 Every Friday, Future Tense rounds up the best robot videos of the week. Seen a great robot video? Tweet it to @FutureTenseNow, or email us.
This week, proof that not all of NASA's landings go so smoothly, a new approach to robotic precision, and your child's new robot friend.
NASA's Other Robot Lander
While the world watched in awe at the robotic choreography used to land the Curiosity rover on Mars, the NASA bots left behind on Earth must've felt a little neglected. Well, Morpheus, a robotic vehicle designed to land cargo on the moon, managed to grab a little attention by staging a fit on the launch pad. The 2,300-pound prototype crashed and burned during a test on Thursday, as if to satisfy anyone who secretly wanted the Curiosity mission to fail. (Stick with it till the two-minute mark to see it really light up.) Morpheus is being built to run on cleaner fuels than most of NASA's spacecraft and could someday carry a robot like Robonaut to the lunar surface. For now, though, it'll just have to accept that it's not ready to shoot for the moon.
The Muscle Bot
Robots are great for disarming bombs, but for a job that sensitive, there's no such thing as too much precision. A group of students at Bosque University in Colombia hopes to harness human muscle power to make the ultimate remote control. Their robot, named Prometheus, uses electronic pulses created by muscle movement to bring a new degree of precision into the remote control process. Instead of controlling the robot the old-fashioned way, with a joystick and a human hand, electrodes are attached to the arms of the person in control to detect muscle movements. As a person in control moves or flexes, the robot moves correspondingly—so large muscle movements push the robot forward a lot, while small movements move it in very small increments. A camera on the front sends back live video, and while it's hard to imagine this device surviving a big blast, the students hope to put it to work very soon.
The Cartoony Bot
Watch here as Zeno introduces himself to the world. This humanoid from Hanson Robotics has plenty of features that its happy to tell you about, but its face is perhaps the most important, for two reasons. First, it's one complete piece of "skin" that stretches and flexes to give it the appearance of emotional expression. The material covering the hardware is called "Frubber," and its spongy texture makes it a great option for synthetic skin. (Hanson Robotics President David Hanson created Frubber, and it even looks pretty good on a robotic version of Philip K. Dick.) Second, it looks human without trying to look lifelike. It's cartoonish, which is friendly and familiar to children, and it's not so human that it's creepy. Zeno is intended to help with things like education for children, even autism therapy, so if kids can warm up to it and it has the right software under the hood, this could be a promising step toward robot teachers in the classroom.
Bonus!
After eight months of anticipation, NASA's crazy, beautiful robotic circus act went off without a hitch, landing the Curiosity rover on Mars and making NASA awesome all over again. Well, forget that animated video we've been seeing for months—now we have a look at what the rover saw in the final two and a half minutes of its journey to the Red Planet. The video shows 297 photos taken during the landing, and it begins with the heat shield falling to the ground. Welcome back to Mars, Earthlings.
Future Tense is a partnership of Slate, New America, and Arizona State University.