Islamist Group in Timbuktu Poised To Destroy Rare Centuries-Old Texts on Science and Mathematics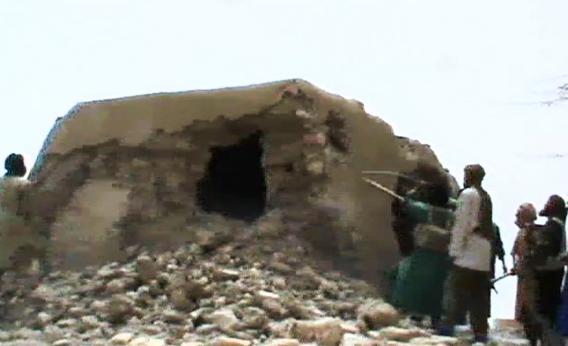 Armed with hammers, pickaxes, and loaded guns, Islamist extremists are tearing down Timbuktu's ancient shrines, endangering rare texts on science and mathematics.
Documents housed in the shrines include writings about astronomy, the health effects of tobacco, and 3,000-year-old medicine, according to the New Scientist. They are part of Timbuktu's "matchless collection" of about 300,000 historical Islamic texts, some dating back to the 13th century.
Since last weekend, members of Mali's Ansar Dine, an Islamist militia with alleged lies to al-Qaida, have destroyed at least eight mausoleums as well as several tombs. They say their actions come at the behest of a "divine order" to eliminate idolatrous monuments, reports Time.
After a coup in March left the country in the midst of a civil war, the Ansar Dine took control of a northern region of Mali. The group aims to impose strict Sharia law across the entire country.
Back in April, Moussa Ag Hamta, a private library owner, told Northern African news site Magharebia that he had begun hiding his collection of scientific texts. "They consider these documents to be a heresy," he said. "Preserving them is some sort of worship, which contradicts the Islamic Sharia in their opinion."
Some of the manuscripts may be from the Islamic world's "Golden Age" of science (750 AD to 1250 AD). "Muslims gave us Arabic numerals, algebra, algorithms, and alchemy; they gave us our names of most of the stars visible to the eye," said Skeptoid podcast host Brian Dunning on recent episode. "Arab-Islamic doctors furthered the art of surgery, built hospitals, developed pharmacology. ... [T]hey advanced art and architecture beyond what even the mighty Greeks and Romans had begun."
While U.N. Secretary-General Ban Ki-moon has criticized the militia's actions as "totally unjustified," the Ansar Dine has remained adamant in its cause. Spokesman Sanda Ould Boumam said the group plans to "destroy every mausoleum in the city—all of them, without exception."
Future Tense is a partnership of Slate, New America, and Arizona State University.