The Layman's Guide to the Best Sci-Fi and Fantasy Novels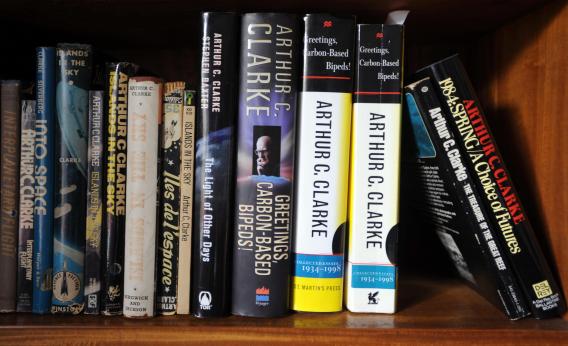 Over the summer, NPR released a list of the top 100 science-fiction and fantasy novels, as voted by fans. For those of us who didn't polish off those books as teenagers, embarking on a sci-fi education can be daunting. Enter the blog SF Signal, which has performed a true public service by creating a flow chart based on the NPR list. With more than 325 decisions and (duh) 100 books, the chart is massive—in fact, the unzipped, downloadable version clocks in at 173 megabytes. The wry, funny decisions include "Gritty noir, neo-Victorian, or Samurai?" and "A dying sun or an impaling demon?" (The first person to write a novel that combines a dying sun, an impaling demon, and neo-Victorian cyberpunk will win the Internet. Let me clarify that: It has to be a good novel.)
The chart is particularly helpful for those who aren't interested in (or ready for) hard sci-fi, with recommendations including Margaret Atwood's The Handmaid's Tale and the book version of The Princess Bride, which I daresay is better than the film. Best of all, there's a pathway just for those who would "rather not be seen in that area of the bookstore." My only disappointment with the list and the chart is that I've read all the suggested post-apocalyptic books—my favorite sci-fi genre. Got any recommendations? Share them in the comments.
Advertisement

Future Tense is a partnership of Slate, New America, and Arizona State University.
TODAY IN SLATE
Foreigners
More Than Scottish Pride
Scotland's referendum isn't about nationalism. It's about a system that failed, and a new generation looking to take a chance on itself.