The Citizen's Guide to the Future
How Fast Are the TIE Fighters in Star Wars VII?
Reprinted from

Before we get started, I should point out that this video isn't that easy to analyze. The best videos (the easiest) to analyze have the following features:
A stationary camera view (non-panning, non-zooming).
Objects in the frame of a known size.
Objects moving perpendicular to the direction the camera is facing.
Objects far enough away from the camera that perspective isn't a problem.
Based on these features, this is a terrible video. TERRIBLE. On top of that, there are only a few frames for me to look at with the objects moving. Of course, these limitations have never stopped me in the past and they won't stop me now.
Let me start with just a few assumptions.
Also, there is one physics thing we need to look at. Since the objects are mostly moving towards the "camera," we can get distance based on the angular size. Basically, the farther away something is the smaller it looks. If you know the actual size and the angular size, you can find the distance to the object. This is the diagram I like to use to describe angular size.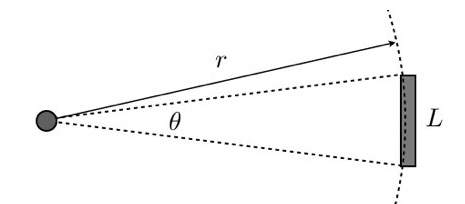 The circle on the left would be a camera. If you know any of the two (angular size, distance, object size) you can find the unknown with the following:

I can measure the apparent size of an object in the video, but that will only give me the angular size if I know the field of view for the camera—which I don't. I'm going to have to make some guesses in order to use this video. What I would like is to find the distance from the TIE Fighter to the Millennium Falcon. With the distance and time for the blaster bolt, I can get the speed.
Here is what I will do. I will just guess. Let's say that the Millennium Falcon is 25 meters in front of the "camera." In this case, I can find the actual angular size and then use this to find the distance to the two TIE Fighters. Here is a plot of the TIE Fighter distances as they fly past the Falcon.
That doesn't look too bad. The data suggests a constant velocity of the two TIE fighters at about 400 meters per second. Actually, this is the speed relative to the camera. If I assume the Millennium Falcon is moving at about the same speed then the TIE Fighters would be traveling at 200 meters per second (about 450 miles per hour).
But what about the blasters? In the above data, the two TIE Fighters start about 300 meters and 250 meters away from the Falcon (one of the TIE Fighters is farther away). From the video, one of these blaster bolts takes about 0.166 seconds to go from the TIE Fighter to the Falcon. In order to find the distance traveled, I need to subtract the distance the Falcon moved toward the TIE Fighters during this time. If it has a speed of 200 meters per second, that would be just 33 meters. So, let's say that the blaster moves a distance of 270 meters giving it a speed of 1,626 meters per second. Warning: This data is just an estimate and only to be used for entertainment purposes. Do not use these speeds to develop TIE Fighter evasion strategies.
Is that a fast blaster bolt? Well, you might recall that I have looked at blaster speeds before (if you can't remember, check it out here). From that analysis, the space-based blasters (except for the Death Star shots) had an estimated speed from between 30 meters per second and 36,500 meters per second with an average of 6,713 meters per second. So this speed seems to fit right in with that data.
Why is there such a large range of blaster speeds in the Star Wars movies? It's because the blaster bolts are drawn in such a way as to have a nearly constant apparent angular speed. Let me look at the motion of one of these bolts in the Star Wars VII trailer. This is a plot of the apparent angular position of the bolt where the width of the screen is at a distance of 1.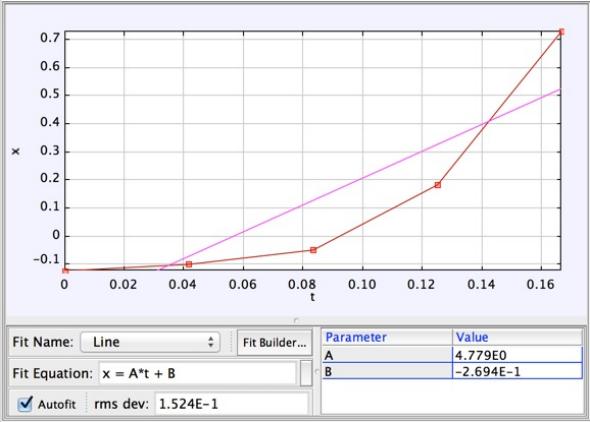 This is a tough video to analyze. Lots of stuff going on. Clearly, someone wanted to set up a situation in which it was all but impossible for me to get any data. Of course I got some data anyway.
The TIE Fighters and the Millennium Falcon are moving at about 200 meters per second. Interestingly, Wookieepedia lists the maximum atmospheric speed of a TIE Fighter at 1,200 kilometers per hour or 333 meters per second.
The blaster bolts from the TIE Fighter are moving at about 1,600 meters per second. This is about the speed of a tank round.
Overall, I think the appearance of these blaster bolts is much better than the bolts in Star Wars Episodes IV-VI. I still need to go back and look at Episodes I-III.
Blaster bolts still aren't lasers.
Finally, I would like to add a note to J.J. Abrams.
I really enjoyed the trailer for Star Wars VII: The Force Awakens. However, it is clear that it will be difficult to obscure important facts (like the speed of TIE Fighter blasters) from my physics analysis. Might I recommend that you just stop trying to hide things? Instead, you could offer a role in Star Wars VIII (title to be determined). For a small fee, I would gladly accept your offer to be in your film.
Wait, just one more thing. I originally tried to analyze this scene by recreating the objects in Glowscript. It turned out that I didn't really need it, but here is what it started to look like.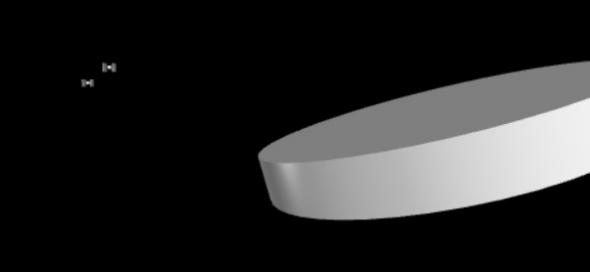 Here is the code if you want to play with it. Yes, I am representing the Falcon as just a disk. You could add some more detail if you like. Actually, it would be fun to animate this so that it does the same thing as the clip from the trailer. That can be your homework if you like.
Netizen Report: Kyrgyz News Site Censored in Central Asia for ISIS Coverage
We begin this week's report in Central Asia, where independent media workers have been gripped by controversy over a video that allegedly depicts children from Kazakhstan at an ISIS training camp in Syria. Kloop.kg, an independent news site based and hosted in neighboring Kyrgyzstan, republished the video as part of an article about Kazakh children purportedly living in ISIS training camps in the Middle East. When Kazakh authorities asked that Kloop remove the video, the site's owners declined to do so. The Kazakh government promptly blocked the video.
Though often considered the most open country in Central Asia, Kyrgyzstan is now mimicking its neighbor. Kloop's editors once again declined a removal request, this time from the Kyrgyz government. In response, the country's prosecutor general requested on Dec. 10 that all local ISPs block access to the video. Carrying out that order would be technically complex.
Although authorities claim the video constitutes "extremist propaganda," local experts suspect that officials wanted to make an example of Kloop—the site refused to remove the article on journalistic principle, causing the government embarrassment.
Muck-raking journalist arrested in Azerbaijan
Azerbaijan does not have much of a record of protecting free expression—President Ilham Aliev was recently afforded the dubious honor of winning a corruption watchdog's "Person of the Year" award. Last week, the arrest of investigative journalist Khadija Ismayil illustrated just how far the Azeri government will go to shield itself from the unflattering reports of investigative journalists. But this was hardly unexpected—Ismayil has faced legal challenges, sexual harassment, and online intimidation for several years in response to her reports on shady financial deals by members of the Aliev family. While the charges against her are unclear due to gag orders placed on her lawyer and accuser, news of her arrest received international attention human rights groups and intergovernmental organizations alike.
In Japan, whistleblowers beware
A controversial state secrecy act became law in Japan on Dec. 10, increasing criminal penalties for individuals who leak information that has been classified as a state secret. The law provides sentences of up to 10 years for government workers who leak state secrets and up to five years for anyone that solicits information using "grossly inappropriate means." The new law, which elicited mass protests in several of Japan's major cities last spring, is widely expected to have a chilling effect on free speech in the country.
Swedes pounce on Pirate Bay
File-sharing site the Pirate Bay was shut down this week following a raid on its servers by Swedish police, who took down the site over alleged copyright violations. While there were no arrests, one of the Pirate Bay's operators said they were not yet sure whether they would reboot the site.
U.S. Congress members make last-ditch effort to reverse IANA function promise
Republicans in the U.S. Congress added a provision to the recently passed budget bill seeking to prevent the Obama administration from giving up its oversight over the Internet Assigned Numbers Authority function, a key component of the U.S. government's power over the domain name system for the global Internet. However, the measure is likely to be ineffective due to procedural errors. Among other things, the contract that gives the nation's Commerce Department oversight over IANA will not run out until fiscal year 2016—the appropriations bill only applies to 2015.
The Navy's New Robot Looks and Swims Just Like a Shark
Reprinted from

The American military does a lot of work in the field of biomimicry, stealing designs from nature for use in new technology. After all, if you're going to design a robot, where better to draw inspiration than from billions of years of evolution? The latest result of these efforts is the GhostSwimmer: The Navy's underwater drone designed to look and swim like a real fish, and a liability to spook the bejeezus out of any beach goer who's familiar with Jaws.
The new gizmo, at five feet long and nearly 100 pounds, is about the size of an albacore tuna but looks more like a shark, at least from a distance. It's part of an experiment to explore the possibilities of using biomimetic, unmanned, underwater vehicles, and the Navy announced it wrapped up testing of the design last week.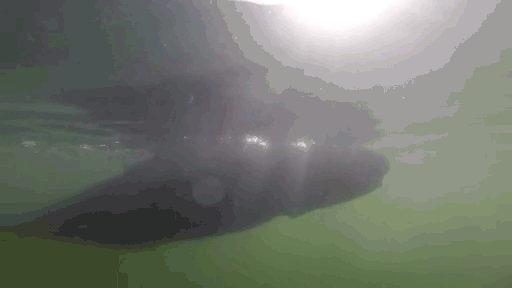 The robot uses its tail for propulsion and control, like a real fish. It can operate in water as shallow as 10 inches or dive down to 300 feet. It can be controlled remotely via a 500-foot tether, or swim independently, periodically returning to the surface to communicate. Complete with dorsal and pectoral fins, the robofish is stealthy too: It looks like a fish and moves like a fish, and, like other underwater vehicles, is difficult to spot even if you know to look for it.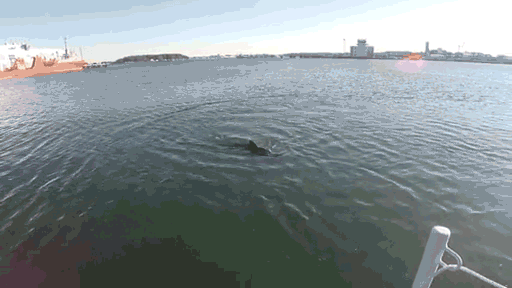 Down the line, it could be used for intelligence, surveillance, and reconnaissance missions, when it's not assigned to more mundane tasks like inspecting the hulls of friendly ships. Animal lovers will be glad to hear that the GhostSwimmer could take the jobs of the bottlenose dolphins and California sea lions the Navy currently trains to spot underwater mines and recover equipment.
The GhostSwimmer joins the ranks of animal-based awesome/creepy robots like the "Cheetah" that can run at nearly 30 mph, the Stickybot that climbs like a gecko, and the cockroach-inspired iSprawl that can cover 7.5 feet per second. And it may get a baby brother: The Department of Homeland Security has been funding development of a similar, smaller robot called the BIOSwimmer.
True to military form, there's a whole suite of acronyms to go along with the new toy: The UUV (unmanned underwater vehicle) has been in testing at the JEBLC-FS (Joint Expeditionary Base Little Creek-Fort Story), and was developed by the CRIC (Chief of Naval Operations Rapid Innovation Cell) project, called Silent NEMO (actually, this one doesn't seem to stand for anything). It was developed by the Advanced Systems Group at Boston Engineering, a Navy contractor that specializes in the development of robotics, unmanned systems and something called "special tactical equipment". The company and Navy haven't said much about when GhostSwimmer might be deployed or how much it would cost, but next time you're at the beach and see a fin sticking out of the water, it might be a killer shark—or it might just be a Navy robot.
New York's Fracking Ban Is About Politics, Not Science. And That's Just Fine.
New York will ban fracking, Gov. Andrew Cuomo's administration announced Wednesday. "I cannot support high-volume hydraulic fracturing in the great state of New York," said acting health commissioner Howard Zucker, according to the New York Times.
Cuomo had dithered for years on this decision, leaving in place a de facto moratorium on fracking in the state as he called for further study on the health risks. Wednesday's announcement sparked an outpouring of glee from a vocal anti-fracking lobby that includes the likes of Robert F. Kennedy, Jr. and Mark Ruffalo.
Fracking—a method of extracting natural gas and oil from shale deposits—has driven a natural gas boom in the United States over the past decade. Because natural gas burns cleaner than coal, the boom has helped to cut the United States' carbon emissions. But fracking comes with risks of its own, including potential health and safety threats, which depend in part on how carefully it is carried out.
So did Cuomo make the right call? He did, but not for the reasons he'd have you believe.
Cuomo has promised all along to base his fracking decisions on scientific evidence. But, as is often the case with controversial new technologies, the scientific evidence points in both directions. We know there are risks, benefits, and uncertainties. We just can't agree on how to weigh them. That's why, as Adam Briggle argued convincingly in Future Tense last year, the fracking debate cannot be settled by science alone. It can only be settled by appeals to values, priorities, and interests—which is to say, politics.
To understand Cuomo's decision, then, you have to understand the political context. For years, he has been haunted at nearly every public appearance by anti-fracking protesters enraged by his waffling on the issue. But the moderate Democrat was reluctant to take an anti-fracking stand before his November re-election, lest Republicans seize on the issue to whittle away at his majority. (He ended up winning with 54 percent of the vote.) With the campaign behind him, Cuomo was finally free to make a decision that would get the anti-fracking crowd off his back.
A second factor may also have spurred him to action: The recent steep decline in oil prices has stifled demand for drilling and fracking, undercutting Republicans' efforts to paint fracking as an economic imperative.
Cuomo insisted Wednesday that the fracking ban was the result of a bureaucratic, evidence-based process. "I don't think I even have a role here," he said in a news conference. Yeah, right—and Obama doesn't have a role in the Keystone pipeline decision.
In fact, Obama's pipeline quandary resembles Cuomo's fracking dilemma in several respects, including his risk-averse handling of it. Politicians are often criticized for putting off tough decisions. But Cuomo's fracking decision shows that procrastination can pay off, provided you act once the opportunity arises. Perhaps Obama, whose State Department has been "reviewing" Keystone XL for six years, will be the next to kill a controversial energy project. Why not strike while the oil is cheap?
What We Do and Don't Know About the Sony Pictures Hack
We do know that Kanye wants to make a movie and that there's a big pay gap between the genders at Sony. But not much information about the Sony Pictures hack itself is public right now. We don't know who did it or even really how they did it, but here's a rundown of where things stand.

How did it start?
Sony's networks went down on Monday, Nov. 24, after computers displayed a red image of a skeleton and the words "Hacked By #GOP." A Sony Pictures representative, Jean Guerin, told Reuters that there was "a system disruption" and that Sony IT was "working diligently" to fix the problem. She didn't comment on whether the situation was a cyberattack, but rumors started swirling, and Sony quickly confirmed that it had been hacked.
Where did it come from?
At least one of the command and control servers (which control distributed malware) used in the hack is located in Bolivia. Sources also told Bloomberg that the malware was phoning home to the hackers through an IP address at a university in Thailand, and on a network at the St. Regis Bangkok. Some security experts have also speculated that the attack or some aspects of it originated in Japan, based on forensic IP address evidence.

And that's ... about it in terms of knowledge of the hack itself. It clearly penetrated deep into Sony Pictures' networks since the hackers have been sharing hundreds of gigabytes of data. But Sony, which is working with law enforcement and FireEye Inc.'s Mandiant cybersecurity unit, is keeping details of the hack quiet. Sony Pictures did not respond to a request for comment on the nature of the hack.

Is North Korea behind this or not?
Yeah, unclear. Could the nation state itself pull this off? Are the hackers part of a group like DarkSeoul that is thought to have ties to North Korea? Did the country hire outside hackers to do this? Did North Korean sympathizers launch the attack independently? Is a disgruntled former Sony employee involved? Is it all a viral marketing campaign? No one knows yet.
Update, Dec. 17, 6:15 p.m.: The New York Times reports that U.S. officials believe the North Korean government was indeed connected to the attack. From the Times:
American intelligence officials have concluded that the North Korean government was "centrally involved" in the recent attacks on Sony Pictures's computers, a determination reached just as Sony on Wednesday canceled its release of the comedy, which is based on a plot to assassinate Kim Jong-un, the North Korean leader.
Senior administration officials, who would not speak on the record about the intelligence findings, said the White House was still debating whether to publicly accuse North Korea of what amounts to a cyberterrorism campaign. Sony's decision to cancel release of "The Interview" amounted to a capitulation to the threats sent out by hackers this week that they would launch attacks, perhaps on theaters themselves, if the movie was released.
This must be a pretty sophisticated hack if we still don't know who did it, right?
The Sony Pictures hack is definitely a big deal and affects thousands of people. But in terms of how it was executed (as far as anyone knows right now), it doesn't seem to have been particularly ingenious. Jonathan Carter, the technical director of Arxan Technologies, told Security Week on Dec. 5:
So far, the evidence seems to suggest that the Sony hack was accomplished via execution of malicious malware. Hackers typically conduct these attacks by somehow tricking the user into executing something that is malicious in nature from within a system that is sensitive in nature. The recent iOS Masque and WireLurker vulnerabilities clearly illustrate that the delivery and execution of malicious code can take some very clever approaches. In light of these recent revelations, it is reasonable to expect to see a rise in distribution of malware ... via mobile devices owned by employees that have access to sensitive backend systems.
Is this cyberwar?
That is an excellent question! No one knows. The hackers have now started threatening physical attacks on movie theaters that show The Interview. And some, like David Auerbach on Slate, are already calling the hackers terrorists. But we don't know at this point what the hackers really want—aside from generally keeping Sony Pictures from making money off of The Interview—so it's hard to predict what will happen next.

Is it just me, or has Sony been hacked before?
Yes. A bunch of times. (Remember the 2011 PlayStation hack?) Yet clearly the company did not prioritize its cybersecurity protections the way it should have. As Chester Wisniewski, a senior security advisor at Sophos, explained to Gizmodo, "Sony's been raising the ire of hackers for as long as I can remember, so you have to think that they've known they're a serious target. ... I'm not justifying what these people did. But [Sony people] are kind of the perfect people to go after."
This is ridiculous. When are companies going to start taking this stuff seriously?
Perhaps the sheer magnitude of the Sony hack, the cost of containing it, the loss of revenue, and the class action lawsuit Sony Pictures employees are now filing will all combine to motivate companies to prioritize their cybersecurity. Hacks don't have to use novel strategies to be devestating and extremely difficult to trace. As security expert Bruce Schneier said, "That we live in the world where we aren't sure if any given cyberattack is the work of a foreign government or a couple of guys should be scary to us all."
Update, Dec. 17 5p.m.: Sony is cancelling the Christmas Day theatrical release of "The Interview." The company said in a statement:
In light of the decision by the majority of our exhibitors not to show the film The Interview, we have decided not to move forward with the planned December 25 theatrical release. We respect and understand our partners' decision and, of course, completely share their paramount interest in the safety of employees and theater-goers.
Neil deGrasse Tyson on Stephen Hawking, Black Holes, and The Theory of Everything
"You go into science because you want to make a discovery, you want to advance our understanding of the universe," says Neil deGrasse Tyson in the video above. "Not everyone gets to accomplish that. Stephen Hawking has."
While we all know Hawking has made an enormous impact on the world of knowledge, lots of us don't quite understand the science that made him famous. But his fellow genius Neil deGrasse Tyson is here to help you out. In the video, Tyson discusses Hawking radiation—arguably the theoretical physicist's most famous contribution—and how it fundamentally changed our understanding of black holes. He describes Hawking's merging of quantum physics with the general theory of relativity as, in a word, "badass." It's because of all of this that Tyson is "enchanted" by the uptick in the production of movies like the Oscar buzz-worthy The Theory of Everything, which portray scientists as the heroes that many of them are.


The Most Important Cybersecurity Story That No One Is Talking About
There's no doubt what the most discussed cybersecurity story of the month is—with belligerent attackers, sophisticated counterhacks, corporate lawyers threatening journalists, speculation about the potential involvement of a rogue nation state, entertaining sniping about movie stars, and even real-world threats, the Sony data breach has all the excitement of one of the action-packed films pilfered from the studio's networks.
At the far other end of the computer security sexiness spectrum—lacking every single one of those elements, and garnering maybe 0.1 percent of the media attention devoted to Sony—was another incident. Security researcher Brian Krebs reported last week that thousands of devices used to process credit card payments in the United States stopped working on Dec. 7.
There was no attacker behind the incident, which affected a specific brand of credit card terminals manufactured by Hypercom, which is now owned by Equinox Payments. The culprit: an expired digital certificate, created in 2004 and valid for 10 years. Digital certificates provide a crucial security function by assigning public keys to be used for cryptographic purposes, including digital signatures and encryption. The authority that issues those certificates determines how long the assigned key will be valid—in this case, 10 years—before the certificate needs to be replaced or updated.
An Illuminated Manuscript About Space Exploration, Science Fiction, and Physics

You just don't see many illuminated manuscripts these days. There's a good reason why: They take a long time to make.
I learned this recently when I set out to commission a thoroughly modern illuminated manuscript: not a religious text, but an interview with theoretical physicist and cosmologist Paul Davies, a professor at Arizona State University and the author of books like How to Build a Time Machine. In the interview, Davies discusses the feedback loop between science-fiction storytelling and real-world innovation and discovery; lauds science fiction as an important vehicle for social and political commentary; ponders why our visions of the future are so often mired in gloomy dystopian thinking; and shares his insights on the art of communicating cutting-edge scientific concepts to the public.
The manuscript was created as a holiday gift for Project Hieroglyph's digital community members. Hieroglyph, which is based at Arizona State University, is a network of science fiction authors, scientists, and other creative people who collaborate on hopeful, technically grounded stories about the future. (I work for Hieroglyph; Future Tense is a partnership of Slate, ASU, and New America.)
The interview with Davies originally appeared in the anthology Hieroglyph: Stories and Visions for a Better Future, a collection of short stories set in the near future that aims to rekindle our ambitions for the future by creating new, inspiring icons of scientific and technological progress and achievement to match Isaac Asimov's robots and Robert Heinlein's rockets.
In a particularly compelling exchange, Davies argues that establishing colonies on Mars is possible today without any new technological breakthroughs—if only the funding and public support were there. He explains how the "national virility contest" of the Cold War drove the development of advanced physics throughout most of his career. Now that hostilities have subsided, funding for "big science" is much harder to come by: "The plan was when we stop spending this obscene amount of money on armaments ... the nonmilitary science would absolutely flourish. The exact opposite occurred. The peace dividend turned out to be a negative once the arms race faded away."
Davies also discusses the role of science fiction not only in inspiring young people to pursue careers in science and technology, but also in communicating "the science process"—how inquiry at the forefront of scientific knowledge is conducted. He admires writers like Stephen Baxter and David Brin who create meticulously researched fictional worlds and keep abreast of cutting-edge discoveries, and is a lifelong fan of Fred Hoyle, a fiction writer and renowned cosmologist who ended up giving Davies his first job.
The artist (or should I say "illuminator"?) is Roy Wasson Valle, an Arizona-based printmaker. Valle was inspired by Davies' discussion of medieval cathedrals and the idea of ambitious, long-term human projects. We decided to use a devotional art form to express the way that interplanetary missions and particle accelerators might function as the scientific cathedrals of our era. These enormous investments of capital and labor are designed to give us a window on the universe, a way of grasping at something larger than ourselves. In Davies' words, they represent "a great, collective human venture for trying to understand our place in nature."
We hope you enjoy reading the manuscript as much as we enjoyed creating it. It's free to read, download, and share.
Drone Footage Shows Just How Much Damage Greenpeace Did to Peru's Nazca Site
Last week, amid the United Nations' climate talks in Lima, Peru, members of Greenpeace made a serious pro-sustainability statement. They arranged huge yellow letters to form the message "Time for change! The future is renewable. Greenpeace." But they did it on the Nazca Lines World Heritage Site, an area that is restricted to preserve delicate, 1,500-year-old drawings of animals in the soil.
Greenpeace has apologized for the damage it did and said that it won't use images from the campaign in future promotions. PBS NewsHour, working with the Culture Ministry of Peru, got access to the first drone footage assessing the impact on the Nazca Lines from the air. And ... it doesn't look great.
Luis Jaime Castillo, Peru's deputy culture minister, told NewsHour that:
These things were damaged, they have to be returned to their original status. Some people will have to face criminal charges, because that is unavoidable and the process has already started. ... When you step on [the surface] you simply break the patina and expose the bottom surface. How long does it take for the nature to lift again all that sand and expose again and create the patina? Hundreds of years? Thousands of years? We really don't know.
From the drone footage you can see where the Greenpeace letters were laid out and where the activists walked. Standard practice is for experts to wear special pads on their shoes when they examine the Lines, sort of like snow shoes, to distribute their weight and avoid leaving marks like Greenpeace did.
According to the Guardian, Castillo has told state media that Peru is considering seeking extradition so the Greenpeace workers can be held accountable.