Simone Manuel's Gold-Medal-Winning Reaction Was the Best Moment of the Rio Games
American swimmer Simone Manuel made history in two separate ways on Thursday night in Rio. Her time of 52.70 seconds in the women's 100-meter freestyle—she tied for first with Canada's Penny Oleksiak; both swimmers will get gold medals—set a new Olympic record. More substantially, she became the first black American swimmer to win individual Olympic gold.
Manuel wasn't expected to win. Before the race began, NBC focused its narrative on Australian sisters Cate and Bronte Campbell, whose father was in the stands. (The fact that Cate was not named Austen is a major parenting fail, incidentally.) If Simone Manuel's family members were cheering her on, NBC didn't show them. "And then there is Simone Manuel, the other American in the final," Dan Hicks said as the camera showed Manuel adjusting her goggles. "The other American in the final"—that was how Simone Manuel was introduced to NBC's star-spangled audience.
At the race's halfway point, Hicks was effusing about Cate Campbell's "effortless stroke" and musing about how cool it would be if the Campbell sisters won gold and silver. And then, all of a sudden, Manuel came from nowhere.
You can gauge the quality of an Olympic swimming race based on how incoherent NBC commentator Rowdy Gaines sounds in the final stretch. At the end of the women's 100-meter freestyle, Gaines' voice rose in pitch and intensity as Manuel gained on the Campbell sisters. "Look at Simone Manuel!" Gaines screamed, 46.3 seconds into the race, as the unheralded American made a late move for the lead. When Manuel took that lead, Gaines screamed louder: "Look at Simone!" Then Gaines fell silent, presumably watching with his mouth open like the rest of us.
The look on Manuel's face when the race ended was an instant classic Olympic moment. First, she adjusted her goggles and turned to check her time. Then, upon realizing she had won, her jaw went slack. She loosed a small scream, covered her mouth with her hands, took a few deep breaths, and pointed briefly at the sky. You will see this reaction shot for the next 40 years, in commercials and best-of compilations. I do not think it will ever lose its power.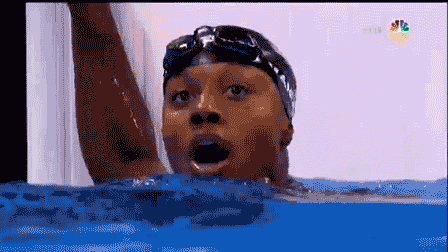 Afterward, everyone had a lot to say. "For so many reasons, certainly personal, this gold means so much, but it means so much more for our sport," said Gaines, implying that a black female gold medalist would help broaden swimming's appeal. Manuel certainly seems ready to be a spokeswoman. In a Houston Chronicle profile from a few weeks ago, she spoke eloquently of "the impact that [black swimmers] can have on the sport by helping to diversify it and getting people to believe that if we can do it, they can, too. So I'm kind of struggling with it a little bit, but I'm happy to be an inspiration."
In a post-race interview with Michele Tafoya, Manuel referred to two record-setting black swimmers who preceded her in international competition—Cullen Jones and Maritza McClendon—as inspirations. These are not pioneers from some long-ago age. McClendon, formerly Maritza Correia, was the first black American woman to set American and world swimming records. She did so very, very recently—in 2002. Two years later, McClendon was the first black woman to make a U.S. Olympic swim team. Cullen Jones, who nearly drowned as a small child, became the second black swimmer to break a world record (Anthony Ervin was the first) when he raced in the 100-meter freestyle relay at the 2006 Pan Pacific Championships. Jones has been heavily involved with USA Swimming's Make a Splash program, an initiative to teach children to swim.
"This medal is not just for me," Manuel said. "It's for a whole bunch of people who have come before me, and have been inspirations for me—Maritza, Cullen—and it's for all the people after me who believe they can't do it, and I just want to be an inspiration to others that you can do it."
When she got out of the pool, Manuel's coaches and teammates clapped for her and hugged her as tears streamed down her face. Maybe that was the best moment of the Rio Games. At this point, Simone Manuel's only competition is herself.
For more great stories like this one, subscribe to Slate's daily newsletter, the Angle.