D'oh Canada! The U.S. Women's Hockey Team's Crushing Gold-Medal Loss in Three GIFs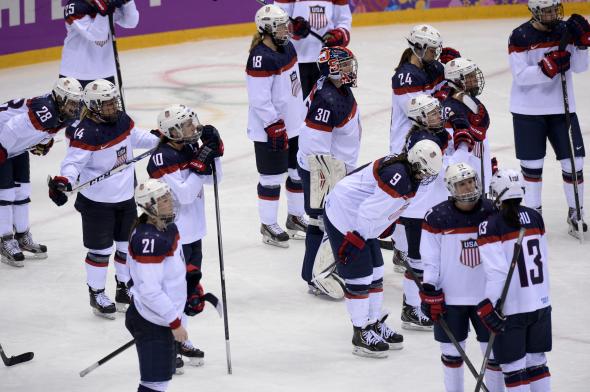 Slate will have more on the amazing (if you're Canadian) and truly heartbreaking (if you're American) women's hockey gold-medal game shortly. But for now this GIF will give you an idea of just how close the Americans came to winning their first gold medal since 1998.
Canada, trailing 2–1 with less than 2:00 to go in the third, pulled its goalie in exchange for an extra attacker. A shot from the opposite blue line (aided by interference from a referee) came within inches of finding the Canadian net and giving Team USA an insurance goal that would have iced the game. Instead, the puck struck the post head-on.

Less than 30 seconds later, Team Canada—still playing without a goalie and with an extra attacker—tied things up 2–2, sending a game the Americans once thought was theirs to overtime.
And then, halfway through the extra period with Canada on a 5–3 power play, Marie-Philip Poulin netted the golden goal that ended one of the best hockey games you'll ever see.