Analyzing the top news stories across the web
This Chinese Smartphone Battery Charges 50 Percent in Five Minutes
Huawei, the Chinese smartphone giant, has developed a battery that can charge to 48 percent in around five minutes, the BBC reports.
Huawei also developed a battery that can charge to nearly 70 percent in two minutes, but it is not big enough to power a smartphone for an extended period of time.
Enabling fast battery charging is one way of compensating for the relative lack of progress being made by big tech companies.
Here is a video of the smartphone charging to 50 percent in five minutes:

Why Is Urban Outfitters Getting Into the Pizza Business?
Urban Outfitters just bought a pizza chain and several fine-dining restaurants. The fashion company announced Monday that it had purchased the group of restaurants, including the fast-casual chain Pizzeria Vetri, from The Vetri Family, which is based in Philadelphia.
Urban Outfitters' foray into the food business comes after several quarters of sales declines at its namesake stores. The company's stock price has lost half its value since March.
Urban Outfitters, along with the rest of the apparel industry, is suffering from sales and traffic slowdowns as consumers have started saving more and shifting their spending to experiences and big-ticket items, such as cars, homes, house renovations, and electronics.
The acquisition signals that clothes and shoes alone aren't enough to boost sales and drive traffic to Urban Outfitters' stores anymore.
And unlike retail, the restaurant business—and especially fast-casual chains—is growing.
"Spending on casual dining is expanding rapidly, and thus, we believe there is tremendous opportunity to expand the Pizzeria Vetri concept," Richard A. Hayne, CEO of Urban Outfitters, said Monday.
Urban Outfitters will most likely start integrating Pizzeria Vetri and other new concepts into its existing and new stores. The company has already started offering food, coffee, books, and even salon services at several of its newest stores, which the company now calls "lifestyle centers."​
The shift is meant to give customers more than one reason to visit an Urban Outfitters store.
"We think retailing needs to become more experiential," Dave Ziel, chief development officer for Urban Outfitters, told Philly.com. "I think there's a craving for real socialization beyond social media."
Ziel told Philly.com that people were increasingly shifting their disposable income from retail into food, and he noted that e-commerce was not a threat to the restaurant industry.
We reached out to Urban Outfitters and The Vetri Family group for comment. The company will probably reveal more details about the acquisition on Monday afternoon after its earnings release.
Pizzeria Vetri, which has two locations in Philadelphia and one in Austin, Texas, serves a rotating menu based on seasonal ingredients. The pizza is baked in a wood-fired oven and topped with premium ingredients such as smoked provolone cheese, sausage, and roasted fennel. The chain also serves salads, beer, wine, cocktails, and desserts like Nutella pizza topped with marshmallow.
Financial terms of the deal weren't disclosed.
Marriott International Is About to Become the Biggest Hotel Company in the World
Marriott International is acquiring Starwood Hotels & Resorts, creating the world's largest hotel company.
The deal is valued at $12.2 billion, consisting of $11.9 billion worth of Marriott stock and $340 million in cash. For each share of stock, Starwood investors will receive $2.00 in cash and 0.92 shares of Marriott, with Marriott priced at $72.08 per share.
Marriott (MAR) closed Friday at $72.74. Starwood (HOT) closed at $75.00.
Combined, the company will be able to offer 1.1 million rooms in more than 5,500 hotels across more than 100 countries.
"Marriott expects to deliver at least $200 million in annual cost savings in the second full year after closing," the announcement read. "This will be accomplished by leveraging operating and G&A efficiencies."
"This is an opportunity to create value by combining the distribution and strengths of Marriott and Starwood, enhancing our competitiveness in a quickly evolving marketplace," Marriott CEO Arne Sorenson said. "This greater scale should offer a wider choice of brands to consumers, improve economics to owners and franchisees, increase unit growth and enhance long-term value to shareholders."
Sorenson will remain president and CEO of the combined company.
The deal will come with $100 million to $150 million in one-time transaction costs, which the company expects to incur over the next two years.
Marriott will not be acquiring the entirety of Starwood's current business. Starwood will first spin off its timeshare business.
"Starwood shareholders will separately receive consideration from the spin-off of the Starwood timeshare business and subsequent merger with Interval Leisure Group, which has an estimated value of approximately $1.3 billion to Starwood shareholders or approximately $7.80 per Starwood share, based on the 20-day [volume-weighted average price] of Interval Leisure Group stock ending November 13, 2015," management said. "The timeshare transaction should close prior to the Marriott-Starwood merger closing."
Deutsche Bank served as adviser to Marriott. Lazard and Citigroup served as advisers to Starwood.
"I'm delighted to welcome Starwood to the Marriott family," Marriott chairman J.W. Marriott Jr. said.
Microsoft Is Trying to Make PowerPoint a Lot Less Boring
PowerPoint presentations are the standard for presentations in the workplace.
It's not really Microsoft's fault. PowerPoint gives you all kinds of templates and graphics tools, but all anyone ever uses is boring bullet points on a white background.
Today, Microsoft is introducing a pair of new PowerPoint features, Designer and Morph, that make it a lot harder to create a boring presentation.
"We want to make PowerPoint smarter," PowerPoint Partner Group Program Manager Shawn Villaron tells Business Insider. "The quality of your slides is going to go up."
The catch is that you'll need a Microsoft Office 365 subscription to take advantage, and the new features are only on the Windows desktop and Windows Mobile versions of PowerPoint thus far. Microsoft promises it's coming to other versions of PowerPoint in the future.
The first feature, called PowerPoint Designer, actually suggests slide layouts and features based on the content. If you include a picture, for example, it suggests a series of remixed slide designs that might change the color scheme to match the photo, or place the photo at an interesting, eye-catching angle, or both.
So you drag a picture into your slide, like so. Note the Designer suggestions on the right: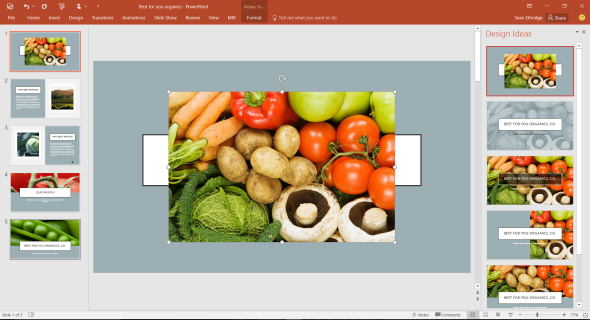 If you choose one, it looks like this:
Nothing that Designer suggests is anything that you couldn't do yourself. But even if you knew the right menu options to get to the features, you don't necessarily have the design background (or the patience) to make it all sing.
And so, rather than take control away from the user, Villaron says, the whole point of Designer is to shorten the loop between Microsoft's internal team of graphics experts and users.
Furthermore, Microsoft is actually leaning on its machine learning expertise on the backend to constantly update Designer with new, more relevant and good-looking suggestions. This is a big part of why you need that Office 365 subscription to take advantage: Villaron says it's going to get better and smarter over time.
The second big update is PowerPoint Morph, which makes it much easier to do simple animations in your presentation.
Sure, you can do animations in PowerPoint today. But, again, even if you know how, they're weird and fidgety and take lot of steps to accomplish.
Meanwhile, check out this presentation by Microsoft PowerPoint Senior Manager Chris Maloney, made with PowerPoint Morph:
That cute little cartoon? Done in PowerPoint. Maloney says that people retain information better when it's done in this more visual, animated way, and it certainly looks more interesting than bullet points.
Villaron says that this is the kind of pace that customers should expect from PowerPoint going forward: The presentation is a cornerstone of Office, and Microsoft is working on making it smarter across all devices.
Villaron also notes that the PowerPoint organization has a "very close relationship" with the team behind Microsoft Sway, the app that many (Business Insider included) have called a PowerPoint-killer, meaning that it could be an early indicator of things to come.
With Office 365 giving Microsoft the path to update its software faster, Villaron says this is only the beginning. In fact, Microsoft is also launching into beta an "Office Insider" program that lets brave souls sign up and test out new Office features a few weeks ahead of schedule.
"We've never been able to do this with Office," Villaron says.
TV Networks Want More Credit When Their Shows Stream on Netflix
Some major TV networks have begun to play hardball with Netflix, demanding that the streaming company display their logos and branding more prominently, according to The Wall Street Journal. These networks seem to be afraid that Netflix users will forget who is actually making the shows in the first place.
A prime example of this is ABC's hit show How to Get Away with Murder. While most shows on Netflix don't show much evidence of where they come from, Murder includes a few-second promo at the start that displays the ABC logo. The show's title in the Netflix menu also shows a tiny ABC logo in the top left.
Some particularly zealous Netflix subscribers might view this as the first step in a slippery slope toward allowing ads on the platform. But it's important to remember that this is just the functional equivalent of the credits that roll before a movie. The fact that some shows have no network branding at the start might simply be a leftover from the era of cable TV reruns, which usually do not carry the branding of the original network.
But even if it doesn't represent Netflix caving to the networks with regards to advertising, the trend does seem to indicate a fear by ABC and others that their brands are losing ground. When people are watching shows on streaming services like Netflix, Amazon Prime, and Hulu, it's often easy for them to forget where they came from.
And ABC doesn't want Netflix trying to take the credit, however indirectly.
"[Netflix] should be obligated to offer that little bit of branding material. I'm glad to see it going into that direction," one head a major TV studio told the Journal.
Snapchat Wants You to Buy Its New Selfie Filters
Snapchat has just unveiled the "lens store," a place where users can buy additional photo lenses for $0.99. The company will continue to offer free lenses every day, but there will now be a further 30 which, if purchased, will stick around forever, according to The Verge.
Snapchat's lenses have proven incredibly popular so far, appearing in over 10 million snaps every day. According to Snapchat, geo-filters (such as "London Life") appear in around one million photos per day.
Snapchat currently has 100 million users.
Photo lenses can be branded and Snapchat is working on partnerships with clients, such as EON Productions (who made "Spectre"). According to Re/Code, Snapchat—which is valued at $16 billion—is aiming to bring in $50 million in revenue during 2015.
The move comes after Fidelity, a mutual fund, wrote down its investment in Snapchat by 25 percent. After the company rejected a $3 billion offer from Facebook, there has been a real drive to increase the revenues of the company alongside usage figures.
Snapchat has previously charged a small amount to "replay" multiple snaps after the 10-second timeframe has elapsed and it would appear that the company is now expanding into other areas.
The ability to buy lenses is being rolled out to the United States, Canada, the United Kingdom, Australia, Brazil, and Saudi Arabia (alongside other un-named European countries), according to Snapchat.
The update is live in the App Store.
Bleeding Revenue, Macy's Embraces the Bargain Bin
Macy's is diving headfirst into the world of extreme discounting.
Two months after opening the first three stores in a new discount chain called Macy's Backstage, Macy's is ramping up the rollout with plans to open 50 new stores within the next two years, the company said Wednesday.
The stores sell Macy's merchandise and clearance items at discounts of up to 80 percent off.
Shoppers started gravitating toward discount stores during the recession, and many have failed to return to shopping in full-price stores. Once they realized they could get steeply discounted merchandise, they became addicted and haven't stopped since.
Macy's shares have declined 32 percent in the past year. Same-store sales have declined for three straight quarters.
Macy's is also planning to add a Backstage section to 10 of its existing stores. "We are finding that Backstage is definitely attracting a younger consumer," Macy's CEO Terry Lundgren said on an earnings call. "And assuming these pilots work, we'll be ready to roll this concept out as a hybrid model quickly."
Lundgren said consumers—and especially millennials—are migrating toward lower-priced discount stores. "Particularly over the last two years to three years, there has been a consumer migration to these lower price point options, and so that's where we know that there's a consumer interest," Lundgren said "We just need to get our share of that."
The off-price apparel and footwear market grew to $45 billion in revenues in 2014, which is up 40 percent since 2009, according to RBC Capital Markets. As the off-price market has grown, department stores have been losing their share of apparel sales, as shown by the chart below.
Lundgren said consumers aren't contracting spending in the way they did in 2008 and 2009, however. In other words, this isn't another recession.
They have money to spend, but they just aren't spending it on clothes and shoes, he said. "They still indicate that there is money to spend if the consumer chooses to do so ... We're just waiting now to see if, in fact, they will," he said.
This could be equally as alarming as another recession for Macy's and other apparel retailers, however. It could be a sign that consumers have fundamentally altered their spending behavior to allocate less money to clothes and shoes and more to technology, healthcare, and other expenses.
Retailers like Nordstrom, Kohl's, and J. Crew have also opened lower-priced outlets to drive sales in the competitive retail environment. But retail expert Robin Lewis believes this strategy is flawed and will hurt the companies long-term.
"Over time as their discount stores outnumber their full-price stores (which is already the case for some retailers); consumers will perceive the flagship brand and the discount store brand to be one and the same," Lewis writes on his blog, The Robin Report. "Sadly, they will happily continue to shop in the brand's discount store where they can get it cheaper."
The resulting "race to the bottom" will send retailers into an "economic black hole," where they have completely devalued their own brands and trained customers to never pay full price for anything.
"There is now going to be no end to discounting because all the players must dance as long as the music is playing," Lewis writes. "And it will ultimately drag everything down with it, including brand image, potentially quality and essentially the value of all things."
Nordstrom has nearly 200 Nordstrom Rack discount stores and 121 full-priced stores in the US and Canada. Kohl's recently announced that they would be opening discount stores, as well.
Kohl's is starting with one store in Cherry Hill, New Jersey, that will offer Kohl's items at discounts of up to 90 percent off. J. Crew has online and stand-alone outlet stores, and just opened a new discount concept called J. Crew Mercantile.
Retailers, including Macy's, argue that the discount stores are an opportunity to attract younger customers who will ultimately graduate to shopping in their full-price stores.
Lewis says that argument is a "charade." "The great 'value strategy' charade is that retailers actually believe discounting to be a whole new market for them," he writes. "What they are really succumbing to is a competition for cheap, cheaper and cheapest, when they should be pursuing good, better and best."
Neil Saunders, CEO of retail-consulting firm Conlumino, also warned that Macy's Backstage could degrade the price integrity of Macy's flagship brand.
"The logic behind the move is sound—namely that Macy's wants to tap into the growing off-price market," Saunders wrote in a note to clients. "However, we would sound a note of caution that Macy's must not blur the lines between its mainstream stores and the new concept too much if it is to maintain price integrity within its department store."
These 70 Million Leaked Calls Suggest That Jails Breach Prisoner-Lawyer Confidentiality All the Time
An anonymous hacker has released records of 70 million phone calls by inmates in United States prisons and jails to the press—and it suggests that attorney-client privilege has been routinely violated on a huge scale.
Significantly, at least 14,000 of the calls included in the cache are between prisoners and their lawyers. This, The Intercept says, is "a strong indication that at least some of the recordings are likely confidential and privileged legal communications—calls that never should have been recorded in the first place."
In fact, the actual number of calls with attorneys may well be even higher, because the 14,000 number was reached by cross-checking the hacked data with only the known landline numbers of lawyers—not accounting for mobile phones.
Business Insider has reached out to Securus for comment.
The point of attorney-client privilege is that it gives people a safe space to discuss their case with their lawyers. It is hard to formulate a strong legal strategy if the state (or private companies) could be listening in to exactly what you're saying, so such communication is generally protected from such prying.
Yes, Securus does warn you at the start of a call in a prerecorded message that "this call is from a correctional facility and may be monitored and recorded." But in states including Missouri and Texas, there have reportedly been undertakings made by Securus not to record attorney-client or privileged calls, or to delete them as soon as they take place. Despite these promises, The Intercept says its data trove includes call records and recordings from those states—showing that this hasn't happened.
Securus Technologies is a for-profit company that supplies communication technology like phones to prisons and jails, and then takes a cut of the cost charged to inmates to use them. It, and companies like it, have been criticised for the high costs they charge —according to International Business Times, at one facility it costs $10 for a phone call or $8 for a video chat.
The Intercept does not provide any details on its source, apart from that the source is a hacker who gained access to the records (presumably as opposed to an internal whistle-blower at Securus). The source apparently took action because it thinks "Securus is violating the constitutional rights of inmates." The fact a hacker was able to gain access to this kind of data also raises questions about the company's security practices.
David Fathi, director of the ACLU's National Prison Project, said Securus' actions "may be the most massive breach of the attorney-client privilege in modern US history, and that's certainly something to be concerned about.
"A lot of prisoner rights are limited because of their conviction and incarceration," he added, "but their protection by the attorney-client privilege is not."
Tinder Now Shows Job and Education Info So You Can Judge a Potential Match's Qualifications Just Like IRL
Dating app Tinder just released a major new update that lets you add job and education information to your profile. Tinder will also now display a "smart" snippet of text below the picture of a potential match, which changes based on what you have in common. For example: "You both went to UCLA."
This update is part of a wider push by Tinder to give you more relevant information about someone before you decide to swipe left or right, CEO Sean Rad tells Business Insider.
"We have a lot of information we use silently behind the scenes to determine who is most relevant for you, and over the coming months you are going to see more of that surfacing up to the top of the [profile]," he says. "We want to give you the opportunity to make the decision for yourself."
Many people were already displaying their jobs and education in their Tinder profiles in plain text, so Rad decided to make it a formalized section.
Rad says this update will make Tinder more true to the way we meet people in real life. "Job" and "education" are often two big factors people use to decide whether they want to go on a date with someone.
"I think the thing that has shocked me [in developing Tinder] is that when it comes to establishing an initial impression, there's a very finite set of things we look at to decide whether we want to have a conversation with someone. 'How you look—and what that says about your personality. Common connections. Career. Education.' 90% of it comes down to that, and sociologists will tell you the rest is sort of diminishing value. People know that instinctively but don't like to admit it," he says.
Tinder's focus right now is on finding precisely the right amount of factors that most people want to know—no more, but also no less. Rad doesn't want to withhold anything from his users, or bombard them with irrelevant information.
"We don't want to create and alternative reality like I think some other apps do," Rad says, taking a small jab at some of his competitors who artificially constrain users in an effort to create a better way to date. Take Bumble, where women are the only ones who can start a conversation, or Hinge, which only lets you match with people you are somehow connected with socially.
"I think when you place too many limitations and when you violate what's natural to people, it becomes very gimmicky," Rad says.
The new Tinder update will also feature an updated algorithm that Rad says will look at even more factors to order your matches, as well as a revamped messaging interface.
Someone Invented a Smart Pillow for Making Long-Distance Relationships Less Unbearable
Little Riot, a Telefónica-backed company, is looking to raise $113,000 (£75,000) for its "Pillow Talk" product, which picks up a user's heartbeat in real time and transmits it over the internet to a device under their partner's pillow.
The Pillow Talk kit, expected to retail at $89 (£65), consists of a wristband, a speaker and an app.
The wristband detects the user's heartbeat, which is then sent to the speaker under their lover's pillow via the app.
"Pillow Talk is not a conventional wearable; it's not a fitness or sleep tracker or any sort of 'qualified self' product," said 28-year-old interaction designer Joanna Montgomery, the founder and CEO of Little Riot. "Pillow Talk is about communication and feeling connected to someone."
Little Riot believes Pillow Talk will prove popular with military families in which one person in the relationship is based overseas for long periods of time. It could also take off with students that are in a relationship but studying at different universities, according to the company.
More than 50,000 people are on the waiting list for Pillow Talk, but the only Pillow Talk device that has been manufactured to date is a £600 prototype. Little Riot hopes to use the Kickstarter funding to get more Pillow Talk devices made.
Little Riot has already raised £250,000 from private investors and is one of several early-stage startups based out of Telefónica's London startup accelerator, Wayra.
Gary Stewart, director at Wayra UK, said: "This product meets the needs and wants generated by the ever growing complexity of the digital world by presenting a new and previously unexplored way for humans to interact with technology, creating an immerse experience which currently cannot be matched."