Analyzing the top news stories across the web
For One Golden Moment, This Guy Owned Google.com
Ex-Googler Sanmay Ved was the lucky buyer of "Google.com," if only for a minute. Ved told Business Insider that he was up late and searching Google Domains, Google's website-buying service, when he noticed that Google.com was available.
Instead of a gray sad face that indicates a domain has an owner, the green happy face showed it was available. The cost to buy the most-trafficked domain in the world? Only $12.
"I used to work at Google so I keep messing around with the product. I type in Google.com and to my surprise it showed it as available," Ved told Business Insider. "I thought it was some error, but I could actually complete check out."
Ved added it to his shopping cart and, surprisingly, the transaction went through.
Instead of receiving the normal "you bought a domain" emails from the company, his Google Search Console dashboard, which has an overview of his other websites, was updated with messages for the Google.com domain owner. He also received emails with internal information, which he has since reported to Google's security team, Ved said.
"The scary part was I had access to the webmaster controls for a minute," Ved said. He frantically took screenshots along the way and detailed the whole ordeal in a LinkedIn post.
His run of Google.com was short-lived, though. Google Domains canceled the sale a minute later, saying someone had registered the site before he could, and refunded Ved the $12 that had already been charged.
"So for one minute I had access," Ved said. "At least I can now say I'm the man who owned Google.com for a minute."
Ved is not sure what happened to allow him to purchase the site. It could have been a bug in Google Domains or the company simply failed to renew its domain name when the time came. A Google representative said they are looking into the issue, but aren't currently noticing anything unusual.
Google's not the first to run into weird domain problems. In 2003, Microsoft failed to renew its "Hotmail.co.uk" web address, and someone else bought it. While in Google's case it was bought from Google itself and quickly canceled, Microsoft had to ask the buyer to return it to them.
While Ved's control over Google.com may have been fleeting, he's still surprised that his late-night searching led to actually buying the site. He has been a fan of the company since he worked there for 5 1/2 years before leaving to get his MBA. His profile picture on Facebook is just a picture of the Google Plus logo.
"I can't shake that feeling that I actually owned Google.com," Ved said.
For the First Time, a Phone Carrier Is Blocking All Mobile Ads
While Digicel is a small company, the move is potentially seismic: For the first time, an ad-blocking company will be switching off all ads on the mobile web and in apps, for all customers.
For web publishers in Jamaica, the ad-block-alypse just arrived. If the rollout is successful—from the carriers' point of view—it could spur other, larger companies to start blocking ads worldwide.
Digicel will first deploy the technology to customers in Jamaica, before rolling the "ad control" service out to other markets in the Caribbean and the South Pacific. In total it has 13.6 million subscribers across 31 markets. The system blocks display and video ads in both mobile browsers and apps. The apps part is significant, because the mobile ad blockers in the market right now can only block ads on the mobile web.
Perhaps controversially, ad blocking for Digicel customers will roll out as standard. It won't be an optional add-on, although the company says it may offer customers the ability to switch off the facility. The only sites that won't see their ads blocked will be "certain local news sites," a Digicel spokeswoman told Business Insider.
That's unless media owners enter a partnership with the carrier. Digicel is calling on the biggest advertising companies including Google, Yahoo, and Facebook to enter into a revenue-share deal. Its argument is that ads use up as much as 10 percent of a customer's data plan allowance, and those companies are not fairly compensating Digicel for use of its bandwidth. Digicel says it will reinvest that money back into its infrastructure.
If a company like Google, for example, wanted to a serve an ad to a customer on the Digicel network, Google would have to sign up to a code of conduct and share some of the associated ad revenue it from ads served with Digicel. If Google chose not to, then the ad would be blocked by Shine's technology.
We asked whether it seemed likely that many advertising vendors will sign up, considering each individual company will need to form a separate partnership with Digicel. The spokeswoman responded: "Yes, but we don't see this as a barrier. Most of the ads served come through a small number of companies mentioned in the press release...there is a precedent in the market for this business model."
Digicel also told Business Insider it doesn't plan to promote ad blocking through marketing—the service will just be switched on.
Denis O'Brien, chairman of the Digicel Group, said in the press release: "This is about giving customers the best experience and about getting access to broadband to the unconnected and allowing them to benefit from the opportunities it affords. Companies like Google, Yahoo and Facebook talk a great game and take a lot of credit when it comes to pushing the idea of broadband for all–but they put no money in. Instead they unashamedly trade off the efforts and investments of network operators like Digicel to make money for themselves. That's unacceptable, and we as a network operator, are taking a stand against them to force them to put their hands in their pockets and play a real role in improving the opportunities for economic empowerment for the global population."
O'Brien was recently described by The Guardian as the "Irish media tycoon who is rarely out of the headlines." Alongside Digicel, he also owns companies including European media holding company Communicorp, which operates a number of radio stations, and he owns a major stake in Independent News & Media, which controls the Irish Independent, The Belfast Telegraph, and Irish Daily Star. He is Ireland's richest man, having amassed a fortune worth £5 billion ($7.6 billion.)
O'Brien is known for taking on the status quo. In June, he launched legal action against the Irish state and parliament over comments made about his banking affairs by a politician under parliamentary privilege, The Guardian reported. The billionaire had previously taken out a high court injunction to prevent the Irish media reporting on his finances.
Shine, meanwhile, counts Li Ka-shing, the billionaire chairman of of Hutchinson Whampoa, as one of its investors. It originally started its life as a company devoted to creating mobile-anti virus software before pivoting recently to focus on ad blocking. While Digicel is Shine's first customer announcement, it is understood it won't be its last. Other carriers may be waiting to see the outcome of Digicel's rollout before launching their own ad blocking initiatives.
Shine's stance on ad blocking is that it is a consumer right, and the company is unrepentant about the money that publishers may lose in advertising revenue as a result.
Roi Carthy, Shine's chief marketing officer, previously told Business Insider: "We believe ad blocking is a right, full-stop. If the consumer decides to use it, we believe that it should be their right, and they should be able to do it with full integrity ... nobody [in business] has a god-given right to exist. If you own a trucking business, and gas prices rise, and you can't afford to pay your bills because you were not able to manage your business, you go out of business. There will be causalities, absolutely, but I know I'm not losing any sleep knowing remnant inventory ad networks will disappear."
Earlier this week Scott Cunningham, SVP of US trade body the Interactive Advertising Bureau, compared ad blocking to "highway robbery," Adweek reported. He also announced that the IAB has released a piece of code designed to help small publishers detect ad blocker users and serve them messages to encourage them to turn their blockers off.
There's a New App for Seeing What Your Friends Are Up To. It's Called Sup.
Rich Pleeth is the former CMO of Gett, a no-surge pricing Uber competitor that's crushing it in Europe. In March he left Gett, but now, Pleeth is back with a new venture: Sup. Not to be confused with the video messaging app of the same name, Pleeth's Sup app has one goal: to help millennials find their friends around them.
Pleeth says when he was working at Gett, he was constantly traveling for business. He'd check in on Facebook when he was in a new city or at an airport, hoping to meet up with friends.
But the problem with these check ins is that even if his friends were around, they often wouldn't see his notification for hours or days later, and Pleeth wanted to find a way to "make serendipitous moments happen instantly." In March, Pleeth left Gett, and along with his cofounders Robin Gadsby and Al Fayolle, founded Sup.
Of course, social discovery isn't exactly a new concept. Services like Find My Friends and Google's Latitude serve similar purposes. But Sup works by showing users where their friends are on a radar rather than a map, and not by showing your exact location.
Users log into Sup using Facebook and their cell phone number, and their friends who have Sup get added to their radar automatically if they're within 2000 yards.
Though the goal of the app is to show you people who are nearby, Pleeth says he understands privacy is a concern for his users. "By not having a map we've ensured that users cannot be tracked as you can't see people's precise location," he tells Business Insider.
"Users see a radar and can see if any friends are nearby, not an exact location, you can zoom in to 20 yards and out to 2,000 yards, you cannot tell which direction they are, your friends show up with their profile pictures on the radar."
Once you see a friend pop up on your radar, you can tap on their profile picture, send a Sup notification, text chat, or voice chat to meet up. If you don't want to show up on your friends' radar, Sup also has a "go dark" feature, which takes you off the grid.
On Wednesday, Sup launched in the App Store and announced it has raised 1.1 million in seed funding from JamJar, among other investors. Right now Sup has a CTO, a community manager, and three developers. The new funding will be used to launch the app and build up Sup's core team in London and New York.
The Federal Reserve Is Worried That Small Online Lenders Might Be a Problem
The Federal Reserve, which regulates the biggest banks in the United States, is starting to turn its eye to some of the smallest and newest lenders on the scene.
Startups are partnering with banks both big and small to originate billions of dollars' worth of consumer loans. That has caught the Fed's eye.
"Right now, this type of business is not that large, but it has potential to be disruptive and could be very large going forward," St. Louis Federal Reserve Bank President and CEO James Bullard told Business Insider last week.
"We certainly want to learn as much as we can about it," he told Business Insider, so as to understand "to what extent are we inappropriately allowing competitive advantage to one group of lenders versus another."
Online lenders match would-be borrowers with banks, hedge funds, and even individuals—with some of these loans later repackaged as asset-backed securities. That, though, has the Fed concerned certain lenders partnering with startups may have an advantage over their rivals.
Some of the leading players in the space will be at Bullard's bank in St. Louis on Wednesday and Thursday to meet him to discuss community banks' changing role in lending this week at an annual conference. This will include an executive from Lending Club, and Gilles Gade, CEO of Cross River Bank, one of the key banks supporting online lending.
Cross River is one of several Web-only or smaller community banks processing loans to consumers through online portals like Lending Club, Prosper, and PayPal's small business lending arm.
Other firms in the space include WebBank, Union Bank, Radius Bank, Wisconsin-based Bank of Lake Mills, and Trust Company of Lincoln, in Nebraska. BofI Federal Bank in California, another branchless bank, also works with startups processing loans.
"[Wall Street] Banks don't have the time to underwrite small loans," said Georgia Quinn, an industry attorney and founder of iDisclose, a startup providing legal services and advice to startups. "It's credit they're not willing to issue—serving people Bank of America doesn't want to give the time of day to."
Then there is peer-to-peer based asset-backed securities, which are marketed to hedge funds and other institutions. For ABS offerings, Goldman Sachs and Morgan Stanley are among the 'warehouse providers' in the space.
Gade feels concerns over the consumer loans originated by startups are overblown. "They're a drop in the bucket," he said. "Even if they fail, nothing is going to happen to the economy."
Oracle Is Closing for a Week—and Making Workers Use Paid Vacation Time for It
Some Oracle employees are upset about a new edict coming from on high that affects their vacation time. The company has decided to close down during the holiday week between Christmas and New Year's.
Lots of tech companies do that. But in Oracle's case, it is mandating that all employees pay for this furlough with four days of their PTO/vacation time, according to several sources we spoke to. That's far less common.
"We all know that it's actually a trick to get rid of accrued PTO on their balance sheet before the next year," one employee told us. "Needless to say, people are clearly very unhappy about this announcement, especially since it just happened this week and holiday season is just around the corner."
The really harsh part is that Oracle isn't particularly generous when it comes to vacation time.
For the first five years, employees are entitled to two weeks off and after five years, three weeks off, employees tell us. However some managers are more generous with time off than others, according to reports on Glassdoor, and sick days are not counted as PTO, according to Oracle's website.
Employees also get eight federal holidays off, working through holidays like Martin Luther King Day.
But compared to say, HP, where long-term employees can earn four and even five weeks of vacation, Oracle's vacation policy isn't all that competitive.
Some employees are blaming Mark Hurd for the mandatory vacation days plan, since he was known for his extreme cost-cutting when he was CEO at HP. We're hearing that other cost-cutting efforts are also being rolled out, such as trimming back on car allowances for some people in the marketing sales teams that report to him.
It's not shocking that Oracle is keeping a tight eye on expenses. Top line revenue shrank a tad between 2014 and 2015, from $38.28 billion to $38.27 billion, according to Google Finance.
An Oracle spokesperson declined comment, but did point out that Oracle isn't going into a wholesale cost cutting phase. It's still hiring like crazy, with nearly 10,000 open jobs listed on its website, for instance, and it has ratcheted up R&D a bit, spending $8.7 billion in its last fiscal year (ended in August) compared to $8.6 billion in fiscal 2014.
Amazon Prime Music, Aiming to Take on Apple and Spotify, Now Includes Universal Music Artists
On Tuesday, Amazon announced that its music streaming service, Prime Music, will now include albums from Universal Music artists. These artists include big names like Katy Perry, Luke Bryan, Lana Del Rey, Maroon 5, Of Monsters and Men, Ariana Grande, The Weeknd, Ellie Goulding, Drake, Lorde, and Eminem.
This is a big deal for Amazon, as one of the main gripes people had with Amazon Prime Music when it launched last summer was that its catalog was filled with old titles no one wanted to listen to. Prime Music advertised having "more than one million songs" available to stream, but that's a far cry from Spotify's 30 million. And it didn't feel like Amazon was rolling out a competitor to the elite music streaming services, but rather just placing a cherry on top of its Prime subscription.
Prime members already enjoy two-day free shipping and special offers on products, paired with Prime's rising video streaming service. The music part was an afterthought to many people, and was woefully short on popular genres like rap and EDM.
With the addition of Universal's catalog of artist, that might be starting to change. Universal is a powerhouse in the music industry and was one of the most obvious holes in Amazon's music library. And while Prime Music is still nowhere near services like Spotify or Apple Music in terms of catalog, this new deal shows Amazon is putting a priority on getting top-shelf artists on its service.
The video portion of Amazon Prime has also made immense strides in quality in the last year. Last year, Netflix had up 31 Emmy nominations while Amazon had none. But this year Amazon took home five Emmys, besting Netflix's four. While the markets are not identical, this success is a blueprint for how fast Amazon's streaming content business can take off.
Disclosure: Jeff Bezos is an investor in Business Insider through his personal investment company Bezos Expeditions.
Jordan Spieth's Caddie Probably Made More Than $2 Million This Season
Jordan Spieth had one of the best seasons in PGA Tour history, and, as a direct result, so did his caddie, Michael Greller.
In 25 events, Spieth won five times (including two majors) and finished in the top 10 a whopping 15 times. That added up to more than $12 million in official PGA Tour earnings. However, once we include Spieth's win at the Hero World Challenge and his $10 million bonus for winning the FedEx Cup, prize money that is not counted on the official money leaderboard, Spieth's 2015 earnings surpass $23 million.
Caddies are traditionally paid 5 percent of the prize money for making a cut, 7 percent for finishing in the top 10, and 10 percent for winning a tournament, according to Golf Digest's "undercover pro." If Spieth is using the same structure, including 10 percent for the FedEx Cup bonus, Greller's cut this season would be $2.1 million.
That would be enough for Greller to rank 39th on this year's PGA Tour money least, ahead of 211 PGA Tour members, and just behind Phil Mickelson ($2.2 million).
For comparison, Tiger Woods made just $448,598 this season.
Is iOS 9 Sucking Up All Your Data? Turn Off This New iPhone Setting Right Now.
Alongside split-screen apps, Apple News, better Maps, and improved battery life, iOS 9 has a new feature: WiFi Assist. When your wireless Internet connection is poor, your iPhone will compensate by switching back and forth between cellular and Wi-Fi, improving the experience of using the Internet.
In Settings, Apple describes WiFi Assist as letting users "automatically use mobile data when WiFi connectivity is poor." While this is fine in theory, some users are seeing dramatic increases in data use without changing their browsing habits. While many users have seen a small increase in use—around a gigabyte—others have seen a jump from 1GB to 7GB since updating to iOS 9. The issue was first spotted by Quartz.
Switching off WiFi Assist can fix these problems, thought it does come at the detriment of a reliable internet connection when using Wi-Fi. To switch it off, go to Settings > Mobile Data and scroll all the way to the bottom where "WiFi Assist" is located and toggle it off. If you're in the U.S., go to Settings > Cellular and follow the same steps.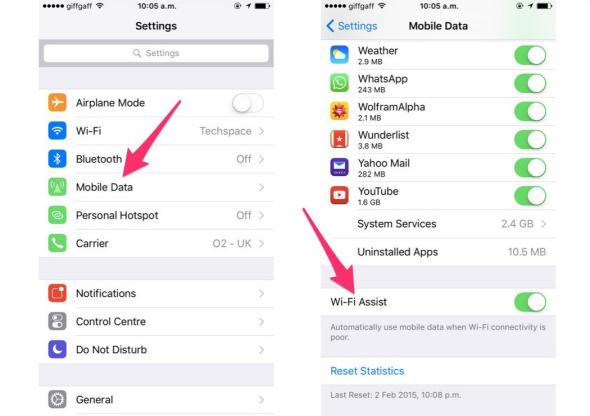 Having WiFi Assist on by default is a deliberate choice by Apple, which seems to be aware of the problem.
Mark Zuckerberg Met With Xi Jinping and Spoke Only in Chinese
Facebook CEO Mark Zuckerberg's Chinese seems to be getting better by the day.
"Today I met President Xi Jinping of China at the 8th annual US-China Internet Industry Forum in Seattle," Zuckerberg wrote on his Facebook wall. "On a personal note, this was the first time I've ever spoken with a world leader entirely in a foreign language. I consider that a meaningful personal milestone. It was an honor to meet President Xi and other leaders."
This isn't the first time Zuckerberg showed off his Chinese fluency in public. Last year, he conducted his entire 30-minute Q-and-A at Tsinghua University in China in Mandarin. On the Chinese Lunar New Year, he also shared a video in which he speaks in Chinese.
There are a few reasons for Zuckerberg putting so much effort into learning Chinese. His wife's family speaks Chinese, and it also helps him understand Chinese culture, a market Facebook may eventually want to get into. Facebook is currently blocked in China, as are other popular websites such as Google and YouTube.
The meeting on Wednesday was put together as part of Xi's visit to the U.S. Some of the most powerful tech leaders, including Amazon CEO Jeff Bezos, Apple CEO Tim Cook, and Microsoft CEO Satya Nadella were all in attendance to meet the Chinese head of state.
Here's a group photo of the meeting:
New York's Uber for Helicopters Now Has an Avoid-the-Pope Special
Blade, an Uber-for-helicopters startup, has a solution to the anticipated traffic congestion in New York City this weekend when the Pope visits the city.
The startup, which raised $6 million at a $25 million valuation this summer from investors including Eric Schmidt, says that on Friday, Sept. 25, it will fly customers between the West Side and East Side of Manhattan during the morning and evening rush hour periods, the company announced in an email to customers Thursday.
This Friday, traffic in New York City is anticipated to be terrible—Pope Francis, President Obama, and 200 United Nations foreign leaders in attendance at the UN General Assembly are simultaneously converging upon New York City. If you're used to driving or taking a cab or an Uber around the city, you may want to reconsider for Friday.
Blade says a trans-Manhattan ride in one of its choppers will cost members $95 a seat and takes between five and eight minutes. You'll depart and arrive from the West Side Heliport on Manhattan's West Side and the East Side Heliport at East 34th Street and FDR Drive. You'll have access to the rides from 7:45 am and 10 a.m. and again between 5 p.m. and 7 p.m.
You can book a seat using the Blade app. The flights won't be routed across Manhattan; instead, flights get routed around Manhattan's southern tip.
The app has since been downloaded more than 40,000 times. Considering a typical ride costs $575 per seat one way to the Hamptons or Fire Island from New York City, a $95 ride across Manhattan is quite a steal, and it sure beats waiting in the apocalyptic traffic that's been forecasted for Friday.