Analyzing the top news stories across the web
How Putin's Invasion of Ukraine Already Cost Russia $10 Billion
The Central Bank of Russia has been forced to intervene in the foreign exchange market today to stem the decline of the Russian ruble, which tanked Monday following an escalation of military tensions on the border between Ukraine and Russia over the weekend.
According to a trader at ING cited by Bloomberg News, the central bank sold more than $10 billion of its dollar reserves this morning in exchange for rubles in the open market in order to prop up the value of the ruble. The IMF estimates that at the end of January, Russia's stock of foreign reserves totaled $457.2 billion.

Basically, when a central bank wants to prop up its currency, it dips into its foreign exchange cash pile and buys its own currency on the open market. The central bank also unexpectedly hiked its key benchmark policy interest rate to 7 percent from 5.5 percent in an effort to stem the ruble's decline.
The dollar is still up 1.4 percent today against the ruble, but the Russian currency has pared losses from earlier this morning when the dollar was up even more. The latest decline in the ruble on the back of escalating military tensions pushes the ruble into territory that the Central Bank of Russia can no longer ignore, given its effect on inflation.
What Frank Underwood Doesn't Get About How Treasury Auctions Work
There is a lot of confusion surrounding China and its role as a holder of U.S. government debt.
An exchange at the beginning of episode 6 of the second season of House of Cards provides a perfect illustration of this. In the show, members of the presidential administration are discussing which tack to take with China, and the president suggests playing hardball.
"If China doesn't show at the refunding auction, long-term interest rates will spike!" warns someone at the table—ostensibly the treasury secretary.
"And in a week, yields on our 10-year notes will pierce the 7 percent threshold," chimes in Frank Underwood (the show's main character, portrayed by Kevin Spacey). "That could happen."

You've probably heard this before in American political discourse. There's this idea that if China decides to stop buying U.S. government bonds, the U.S. Treasury will have a failed auction and bond yields will surge. There are two big problems with this: First, there is a system of primary dealers in place to make sure that failed auctions won't happen, and second, China's holdings of U.S. Treasuries are not some sort of "leverage" that the Chinese government holds over the U.S. government.

On the contrary, China's Treasury holdings are a function of its foreign exchange reserve accumulation.
As other countries buy Chinese goods with dollars—the primary currency of international trade—it puts upward pressure on the Chinese renminbi. China's central bank accumulates dollar reserves to counter this upward pressure, and it holds those dollar reserves in U.S. Treasuries in order to garner interest.
China's foreign reserves continue to rise, so it is in no position to "dump U.S. debt," as politicians sometime like to claim it will. It is true that its central bank has begun to allocate away from Treasuries as a percentage of its reserve portfolio, but this is the sort of thing that must be done over time.
So when you hear politicians engaging in fear-mongering over China's holdings of U.S. government bonds, remember that it's complete nonsense.
Why SEC Employees Are Freakishly Good Stock Traders
Two academics from the University of Virgina got a hold of the trading records of SEC employees—then they built a mock hedge fund to see how it would do. The results are all in a paper presented at UVA's Darden School of Business.
The academics, Emory University professor Shivaram Rajgopal and Georgia State University accounting Ph.D. candidate Roger M. White found that SEC employees tend to sell a company's stock before the SEC takes enforcement action against the company.
The result, they wrote, were abnormal returns of about 4 percent for the market in general, and about 8.5 percent for the U.S. stock market. That's significant. While an SEC employees' stock purchases are normal, their stock "sales appear to systematically dodge the revelation of bad news in the future," according to the paper's findings.
Check out the table below. It shows that 60 days before an enforcement action, when the market is selling at a rate of about 50 percent, SEC employees are selling at a rate of 71 percent. The SEC employee rate of sales increases as the enforcement action approaches, while the wider market's pretty much stays the same.
Rajgopal and White specifically found a high volume of SEC employee sales from 2010 to 2011 before enforcement action in Bank of America, General Electric, Citigroup, Johnson and Johnson, and JP Morgan.
This information was obtained through the Freedom of Information Act, and the identities of specific SEC employees that traded on this information is unknown. In fact, this kind of information wasn't even recorded until 2009, when a new rule required SEC employees to get clearance from an ethics committee before stock trades.
In a statement to the Washington Post, the SEC said that this can all be explained. Before an employee works on a case, they must divest themselves from any interest in the company. So it makes sense that employees sell their stock in a company before enforcement action. It just happens to also be profitable.
Under House Arrest, This "Bitcoin Millionaire" Is Basically Drinking and Watching Netflix
Shrem cannot leave his parents' house in New York without court permission 48 hours ahead of time: "I can't go anywhere. It sucks," he says.

"My friends are here a lot and I'm getting a lot of free stuff. People are sending me a lot of alcohol gifts, which is good. I'm trying to make the best of it – I'm learning some new languages, I'm working out a lot every day and watching Netflix – a lot. Just trying to keeping my spirits up,"
"I'm just trying to encourage entrepreneurship and innovation in the space. My brain is here for the picking and a lot of people are calling me to see what I think about their business and I'm brutally honest with them," Shrem explained, adding:

"Just bring me a six-pack and I'm yours for an hour."

Shrem also makes the case that BitInstant—which enables people to transfer money to bitcoin exchange accounts—was actually several steps removed from Silk Road, the anonymous website where criminals traded bitcoins for drugs.

Chris Christie's Allies Are Still Joking About Causing "Traffic Problems"
On Thursday, the New Jersey Legislature released a new batch of documents subpoenaed as part of the ongoing investigation into whether the administration of New Jersey Governor Chris Christie played a role in lane closures on the George Washington Bridge last September. There are several new details that shed light on the scandal including Christie allies making politically incorrect jokes about causing "traffic problems" for a local rabbi and a mysterious figure in the Jersey State House called the "general."
These documents are unredacted versions of records that were subpoenaed from close Christie ally David Wildstein by the Legislature's Transportation Committee as part of its initial investigation into the closures, which caused days of gridlock in Fort Lee, N.J. Last month, the Legislature voted to establish a special committee solely dedicated to investigating the so-called "Bridgegate" scandal surrounding the closures. Some Democrats have alleged the lanes were shut to retaliate against Fort Lee Mayor Mark Sokolich for not endorsing Christie's re-election bid last year.
Wildstein, who grew up with Christie, was appointed by the governor to the Port Authority of New York & New Jersey, which oversees the bridge. He resigned in December amid questions about the Fort Lee traffic jam. Christie has repeatedly said he had nothing to do with the closures. During a radio appearance Wednesday, Christie dismissed speculation about the scandal as "hysteria."
Here are the five juiciest details from the new document dump:
1) Traffic Problems In Tel Aviv
The new documents include a text message exchange from Aug. 19 in which Christie's former Deputy Chief of Staff for Legislative and Intergovernmental Affairs, Bridget Anne Kelly, joked with Wildstein about causing "traffic problems" to take revenge against a rabbi who crossed him.
Wildstein kicked off the exchange by sending Kelly a photo of an unnamed man who he later identified as being "Jewish." According to the local Bergen Record newspaper, that man is a rabbi named Mendy Carlebach.
"He has officially pissed me off," Wildstein wrote.
"We cannot cause traffic problems in front of his house, can we?" Kelly replied.
"Flights to Tel Aviv all mysteriously delayed," said Wildstein.
An earlier round of subpoenaed communications infamously showed Kelly telling Wildstein it was, "time for some traffic problems in Fort Lee" in an email exchange on Aug. 13, 2013, a few weeks before the lanes were closed.
2) Christie Allies Scheduled Meetings To "Stave Off Reporters"
The new documents also include text messages between Wildstein and Bill Baroni, another top Christie Port Authority appointee who resigned in December. One of these conversations occurred last Sept. 17, days after a traffic columnist published an article in the Record describing the traffic jam that featured Sokolich speculating he was targeted by the closures.
Baroni forwarded Wildstein messages he received from Sokolich asking whether the traffic was "punishment." Wildstein responded that he had not yet "heard back" from Kelly.
"Fck (sic)," Baroni wrote.
Wildstein then said Kelly told him she would be in touch shortly. Baroni suggested they make time to discuss a media strategy.
"We could sched (sic) a meeting to stave off reporters," he said.
So far, documents subpoenaed by the Legislature have shown several figures close to Christie were involved in discussions about the lane closures and subsequent fallout including; Baroni, Wildstein, Kelly, former Christie campaign manager Bill Stepien, and top administration spokesman Michael Drewniak. However, the new documents show other Christie aides discussed how to handle questions from the press and politicians about the closures. There was also an indication an unnamed figure Wildstein referred to as "general" was in on the conversation.
On Oct. 2, 2013, Baroni sent a text to Wildstein describing communication he had with Christie's Deputy Chief of Staff for Communications, Maria Comella.
"Comella didn't think much of the story. Said Nobody paying attention," Baroni wrote.
"Bridget same," replied Wildstein, in an apparent reference to Kelly.
Wildstein followed up with a question.
The remainder of this exchange was redacted.
4) "O'Toole Statement Ready"
Other subpoenaed documents have already shown indications state Senator Kevin O'Toole, the lone Republican on the Legislature's special committee investigating the closures, was possibly communicating with Baroni and Wildstein as they gave testimony during the initial transportation committee investigation in November. Because of this, some observers have suggested O'Toole should be taken off the committee. Democrats with knowledge of the investigation who have spoken with Business Insider have also raised questions about whether a statement O'Toole issued last Nov. 25, the day Baroni testified, indicated coordination since it contained many of the same figures Baroni cited in his testimony. In that statement, O'Toole blasted the Legislature's investigation into the closures as "discriminatory."
The newly unredacted documents include an exchange from Nov. 25 where Baroni asks Wildstein for feedback on the testimony. In what seems to be an indication they were indeed in the loop with O'Toole, Wildstein also updated Baroni on the status of O'Toole's statement.
"O'Toole statement ready," he wrote.
On November 12 of last year, Baroni sent Wildstein a text that was perhaps indicative of the mounting pressure Christie's allies faced amid growing questions about the closures.
"Are we being fired?" he wrote.
Later portions of that conversation were redacted.
American Military Dominance in One Staggering Chart
Despite a proposed slashing of U.S. Army personnel to pre-World War II levels, American military might is beyond question.
This chart from April 2013, which is making the rounds again, shows that America's 2012 defense budget surpassed that of the next 10 countries combined. (Defense spending accounts for about 20 percent of all U.S. federal spending.)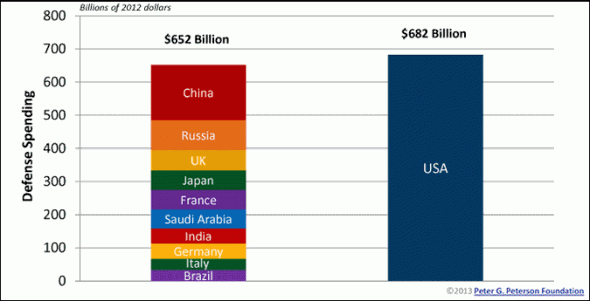 Another example of American military dominance is all of the world's aircraft carriers: The U.S. has 19 aircraft carriers (including 10 massive ones), compared to 12 operated by other countries.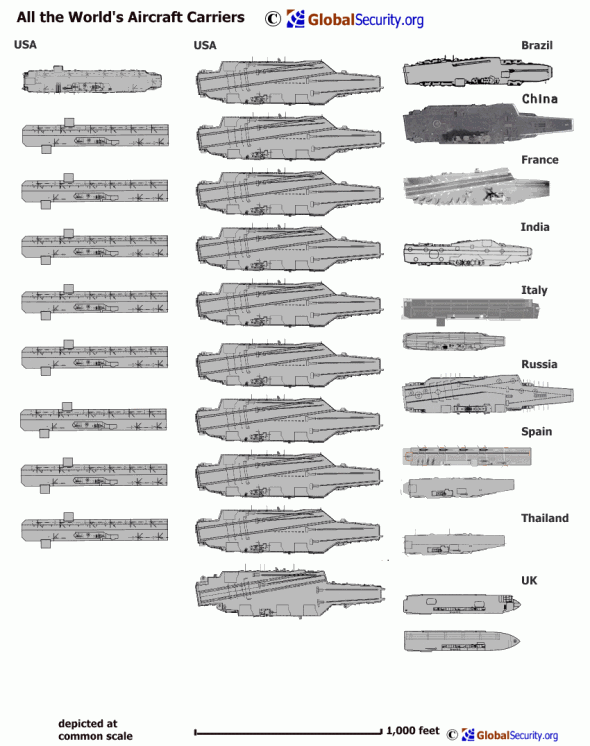 What's Your State's Most Unique Music Taste?
The Echo Nest's Paul Lamere has correlated listening data among music service users who put their zip code address in their profiles with the relative number of streams of a given artist. The result: a map showing each which artist enjoys the most outsized support in each state.
Correction, Feb. 26, 2014: The original version of this map misspelled Kelly Rowland's last name.
Correction, Feb. 27, 2014: This post originally had the headline, "What's Your State's Favorite Band?" The map shows what musical artists people in each state like to listen to more than people in other states. The headline has been changed.

Here's What Google Really Looks for When It's Hiring
If you're trying to get hired at Google, don't bother bragging about your GPA.
What does it take to impress a Googler?
Bock says that the No. 1 thing that the company looks for is not I.Q. but learning ability. Candidates need to be able to process things "on the fly" and draw conclusions from seemingly unconnected info.
They also need to be "emergent" leaders. Google isn't necessarily looking for the president of the chess club. It's looking for people who know when to lead and when to follow.
"What's critical to be an effective leader in this environment is you have to be willing to relinquish power," he says.
Humility and ownership are two other big pieces of the puzzle. Bock wants Google employees to feel a sense of responsibility and ownership that will make them step in and try to solve any problem. But they also need the humility to embrace the better ideas of others. There needs to be the right mix of confidence and adaptability.
"They'll argue like hell. They'll be zealots about their point of view. But then you say, 'Here's a new fact,' and they'll go, 'Oh, well, that changes things; you're right,' " Bock says. "You need a big ego and small ego in the same person at the same time."
Finally, Bock says that Google doesn't care about expertise. Experts will respond to problems with the same solutions they've seen work a million times. A nonexpert will mess up occasionally, but usually they'll come up with the same answer. And once in a while they'll come up with something that is completely new. That's how innovation happens.
69 Years Ago, a Relatively Unknown Photographer Captured the Most Iconic Photo of World War II
The raising of the flag at Iwo Jima, 69 years ago, is perhaps the most iconic image of World War II.
No other picture so succinctly and evocatively captures the triumph of the Allied forces, while also highlighting the critical role that U.S. troops played in the Pacific. The picture has become an enduring symbol of the steadfastness and strength of the Marine Corps.
Joe Rosenthal, at the time an unknown Associated Press photographer, is the man behind the photo. Although it was technically the second flag raising on Iwo Jima, which shows five Marines and a Navy Corpsman, it is no less important. The first flag planted was replaced as it was too small to be seen from the coast.
Rosenthal, in an attempt to position himself properly for the shot, almost actually missed the flag raising. In a desperate attempt to capture the scene, Rosenthal shot the image without the use of his viewfinder. His gut instinct certainly hit the mark; he went on to win the Pulitzer Prize for his image.
Almost immediately, though, the overall quality of the framing led to accusations that Rosenthal had framed the picture.
This controversy still remains. Fortunately, an official video of the flag raising by a Marine photographer shows that the events transpired naturally, and exactly as Rosenthal had claimed.
Rosenthal's photo has gone on to become a deeply ingrained cultural image for America. The U.S. Marine Corps War Memorial, in Washington, D.C., is modeled after this photo. President Roosevelt also used the image to promote war bonds at the end of the war, and it was featured on stamps.
It's important to note that, while the image evoked a feeling of American victory, it was shot only five days into the Iwo Jima campaign. The battle went on for many more weeks, and three of the Marines who raised the flag were later killed in action.
Although Rosenthal's image has become synonymous with the courage of the Marines, many still debate the value of invading Iwo Jima.
The battle was particularly bloody, being the only battle in which the U.S. Marine Corps suffered more casualties than the Japanese Army. The Japanese were well entrenched on the island when the U.S. decided to invade. Iwo Jima's topography, being a mountainous island, also proved extremely difficult for U.S. troops.
However, Iwo Jima proved of extreme tactical importance to the U.S. policy of island hopping to the Japanese mainland. For this, the military command decided that the 26,000 American casualties was worth the island.
This cost, and the grand accomplishment, of the campaign is forever immortalized in Rosenthal's photograph.