Analyzing the top news stories across the web
On Tangier, a Disappearing Island
If you stand at the end of the dock in Crisfield, Maryland, and gaze out over the water, you might not catch the tiny shape of a water tower barely visible on the horizon. And when you look at a map you can just as easily miss the tiny island that the tower sits on, 12 miles from either coast in the middle of the Chesapeake Bay. Largely unknown, Tangier Island, Virginia, is one of the most isolated and extraordinary places in the continental U.S.
It's also in danger of disappearing. In 50 to 100 years, the water tower in the center of town may be all that's left of the place.
Many of us have heard about far-off islands, like the Maldives or Kiribati, which are slowly sinking into the ocean because of erosion and rising sea levels. Far fewer know of Tangier, an island right here in the U.S. that's currently only 4 feet or so above sea level at its highest point and that may soon suffer the same fate.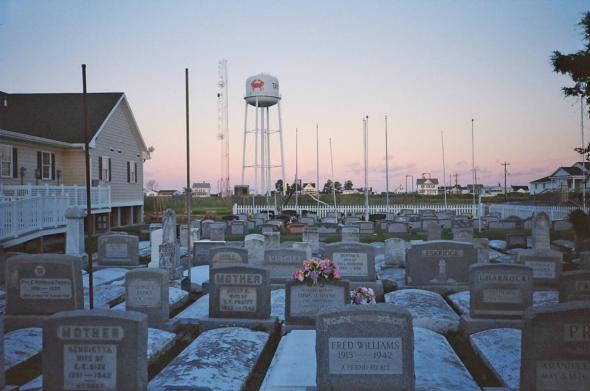 "Tangier's laid back," says Ricky Laird, the man who became my surrogate tour guide on a recent visit to the island. "It's a nice place and everything's reasonable here," he says as he paints a newly purchased dingy in the yard of his house.
Laird, 44, was born on Tangier, and, after a stint on a farm in Appalachia, he moved back.
"I don't care who the president is—I don't even know who the governor or senator of Virginia is," Laird says. The isolation of the island, an hour-and-a-half ferry ride from the coast, and largely closed off from the rest of the world, makes it unique. Some islanders go years without seeing the mainland, getting the supplies from the trusty mail boat that arrives in the harbor every day, rain or shine.
The men on the island, virtually all of whom work as commercial crabbers and oyster fishermen, or "watermen," pack their catch on a separate boat that makes daily trips to the mainland, further reducing the need to leave.
Just 1.2 square miles in all, Tangier Island is home to more than 500 full-time residents whose families have known one another for decades. "You don't have to worry about traffic jams and murders, child molesters, rapist, and thieves," Laird says. "You can leave your doors open. You don't have to lock anything.
Although he knows pretty much everyone, he doesn't share one of the island's prevalent last names, which include Parks (93 residents had that name in 2009), Pruitt (75), and Crockett (65). Many of these names can be seen on tombstones in the front lawns of the homes on Tangier, placed there out of necessity because of the island's low elevation and lack of space.
Laird speaks in a thick accent native to the island, equal parts Southern twang and English brogue. The traces of Elizabethan English still present in the accent may have been influenced by working-class Brits who came to the island early in its settling. Vowels are extended to multiple syllables, making certain words hard to understand to outsiders.
I was confused when Ricky referred to what I heard as "terrorists" visiting the island. I soon realized he was referencing the "tourists" who flock there every summer. Europeans, led by Captain John Smith, explored Tangier Island in 1608, though it had been a summer camping spot for the Pocomoke Indians long before that. Legend has it that John Crockett, still a common surname on this island, was the first to inhabit Tangier full-time when he and his eight sons arrived in 1686.
In the 19th century, Tangier became home to annual Methodist tent meetings, and the island has been a stronghold of religion ever since. The island shuts down every Sunday morning, and once denied Hollywood filmmakers permission to shoot the PG-13 Kevin Costner movie "Message in a Bottle" there because of the script's mentions of swearing, sex, and drinking.
Tangier is dry, with booze unavailable for purchase. But don't let that fool you. "Everybody drinks, but they do it inside the house," a man we'll call Mike tells me as he passes a Sprite bottle filled with vodka from the cup holder of his golf cart, the preferred mode of travel on the island (there are few cars).
Still, while minor transgressions occur behind closed doors, the religious ethos prevails, causing many young people to feel stifled. "When I was a teenager, there was a pool hall, but you had to be 16," Mike says. "Otherwise, they're ain't shit to go on for teenagers. When they graduate, that's why they want to move off."
After walking the island and reading the historical signs in the streets, one gets the sense that the heyday of Tangier, once home to movie theaters, factories, stores, and an opera house, is long past. The population has declined from about 1,500 at one point to a third of that today, and the total drops every year.
One of the main reasons for that may be that the island itself is disappearing.
Records indicate that in the mid-1800s, Tangier Island encompassed some 2,062 acres. It was home to watermelon farms, grazing cows, and a variety of plant life. In 1997, the total land mass amounted to just 768 acres, of which just 83 acres are habitable. Today, the island is even smaller.
While Tangier Island has been slowly losing ground to erosion for hundreds of years, the combination of rising sea levels and more devastating weather—both spurred by global warming—have greatly increased the rate of land loss. Until around 1900, sea levels in the Chesapeake Bay rose at an average of three feet per thousand years, geologists calculate. However, the rate greatly increased in the 100 years that followed, seeing levels already increase by one foot and growing. Research shows that Tangier is now losing nine acres of land a year to erosion and rising tides.
"It'll be gone. If we don't get a seawall—that's been in the process for years—it's just gonna wash away," Mike tells me when I ask what the island will be like in 50 years. The proposed seawall, a long rock barricade that would run the length of the eastern shore of the island, is expected to be completed in 2017. A similar seawall to the west was completed in 1990 and now protects that shore, which had previously seen houses falling into the sea.
One of the most striking signs of the rapidly disappearing island is the Uppards, a beautiful area on Tangier's north end, where multiple families once lived year-round. Today, the Uppards has almost completely succumbed to the rising water levels, turning into a marshy, swampy wetland with major portions of fully submerged.
I ask Ricky Laird to take me to the area on his skiff, now the only way to reach it. He tells me how he used to play with his friends in the Uppards and hunt ducks with his father. Now the only sign that humans ever lived there is a solitary mobile trailer on the beach, seemingly minutes from being taken completely by the surf.
Laird doesn't seem worried, though. "The island ain't goin' nowhere. They talk about erosion, but it's been here forever and it ain't gone nowhere in forever," he says.
But as I walk around the island on my second day and see front yards turned into shallow ponds as high tides come in, I'm not as confident. And neither are most scientists.
"We have a pretty high degree of certainty that things are going to get wetter and wetter," Carlton J. Hershner Jr., a climate-change scientist at the Virginia Institute of Marine Science, recently told the AP. "Not to be a bearer of bad news for Tangier, but that would suggest that sometime in the next 50 to 100 years the island would basically be underwater."
Tangier's physical fate may not be the most pressing problem on the island today, however. The more urgent question on the minds of residents seems to be whether anyone will still want to live there in the future, even if the island does survive the next 100 years.
A Different Kind Of Disappearance
"I'd like to be able to do this for the rest of my life," Laird's son, Nick, declares over egg sandwiches in his family's kitchen. "It's kind of scary to think you might not be able to." Nick, 24, has decided to follow in his father's footsteps and become a waterman. Years ago, this career path was the norm for boys on the island. Nowadays, Nick is in the minority.
"I think the work part deters a lot of people," Nick says. "I don't want to say they're lazy, but there's not much else here to offer young people." Kids are leaving Tangier in droves, some for college, others for the military or elsewhere. Many will never return to the island full-time.
"A lot of kids nowadays, it just doesn't appeal to them. They see mainstream culture, and they say 'Hey, I think I'd like to move off, get a car, get a house, go to the mall," Nick says.
It certainly doesn't help that being a waterman is becoming increasingly difficult. For the past 15 years, in an effort to prevent overfishing, Virginia has placed a moratorium on any new crabbing licenses. And other restrictions have greatly reduced the length of fishing seasons.
With more and more young people moving off the island every year, Tangier Island truly is entering a twilight stage. Nick guesses that about half the island is at or above the age of 60. On an island this small, it's hard to find a partner and, increasingly, young folks move away for romance as well. "Some people that are married here today, they've been together since the seventh grade. But if you don't get someone in the seventh or eighth grade, you're in trouble," Ricky says, adding that the fourth-grade class at the island's only school has one lone boy.
The once prosperous town now looks a bit beat down and lonely, too. Houses sit abandoned and dilapidated. Ricky tells me that I could buy a house and land on the island for about $7 to $10,000, a steal in any other island community. It sounds tempting until you remember that such an investment might well end up being the equivalent to throwing money in the ocean.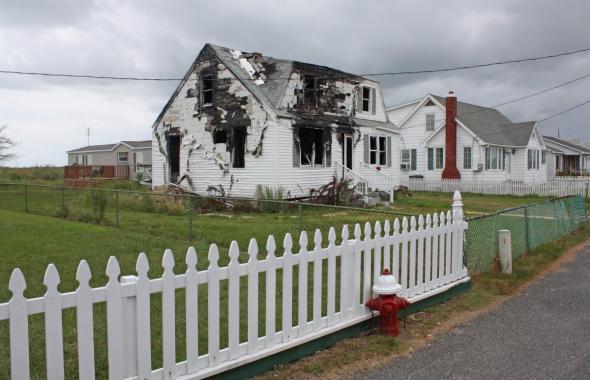 Before I leave the island, I stop a boy working to clear water out of his fiberglass dingy. I ask him what he plans to do when he gets older. "They say in about 100 years, this island's gonna be disappeared, but I'm not going to college. I'm gonna work on the water here," he says. "I'm not gonna be living in another 100 years, either."
Here are the Most Affluent Towns in Every State
One of the many types of geography the Census Bureau tabulates figures for are "places." These are either legally incorporated cities or towns or Census-designated statistical equivalents. In this map, we consider places with at least 1,000 residents, according to the 2008-2012 American Community Survey.
Using income estimates from the ACS, we found the place with the highest median household income in each state. The map shows where the affluent towns are, and the median income in each:
Many of the affluent communities are wealthy suburbs of major cities such as Scarsdale, New York, and Darien, Connecticut, outside of New York City, and Chevy Chase, Maryland, and Great Falls, Virginia, near Washington, D.C. They all tend to be fairly small with populations ranging from about 1,000 (our chosen lower cutoff) to about 18,000.
Here's a table with the 50 towns and their median incomes:
Toronto's Brilliant Anti-Littering Ads
Livegreen Toronto is rolling out an advertising campaign that has everyone talking right now. They're trying to stop people from littering on the streets.
The thing is, they're being really abrasive about it.
Check out the images, posted on Imgur, they're using to stop people from throwing trash all over the streets.
So far the campaign seems to be going over pretty well with many folks in Toronto:
What It Feels Like to Say "No" When Someone Offers to Buy Your Startup
One startup CEO who was faced with that tough decision is Jim Payne, who walked away from three acquisition offers before he agreed to sell his ad tech company MoPub to Twitter. Fortunately for Payne, it worked out: Twitter paid $350 million to buy his 100-person company, and 36 of his employees became millionaires.
But he says walking away from one particularly serious offer was the hardest decision he has ever had to make. The first time [I walked away from a deal], I was panicked," Payne says. "Someone is putting you all-in in poker, and whatever you consider to be your fortune is on the line. You get involved in the deal process and you start to think about the exit. It's human nature. People get attached to the idea and it's very hard to walk away."
Payne declined one very serious offer because he felt it was too early to sell MoPub, even though it would have meant financial security for him and his family. But he says that experience allowed him to look at future deals with logic, rather than emotion. And that strategy worked when Twitter came knocking. Payne was able to ask for things, like restricted stock units for employees and the ability to keep his team on the East Coast, during the acquisition.
The end result: A $350 million buyout that made one-third of MoPub's employees millionaires, with 10 people who now have "significant" wealth.
A Man With a Plan to Solve Late Payments
Christian Lanng was only 19 years old when he founded his first startup in Denmark. Although it closed after just two years, it was enough to make him the youngest division head in the Danish government. There, he was asked to keep track of the government's 25,000-plus suppliers, who were sending over 15 million invoices every year. Because most invoices were—and still are, in a lot of companies—paper-based and mailed to buyers, it was extremely difficult to manage invoices and collect payments.
That's what inspired Lanng to build an electronic invoicing platform. Through his software, companies were able to send invoices and track down payments immediately. Within 10 months, 95 percent of all companies in Denmark were using it.
Fast-forward to 2009, Lanng once again felt that entrepreneurial itch. He decided to launch his own startup, based on a similar electronic invoicing idea. He called it Tradeshift. Tradeshift offers a paperless, cloud-based invoicing software. Companies are able to digitally send invoices and collect payment through it, expediting the whole payment process. But Lanng built Tradeshift with a bigger problem in mind: boosting cash flow cycles.
Companies usually pay suppliers in 30-, 60-, and 90-day cycles. This inevitably slows down the cash collection period, and smaller companies suffer—and often go bankrupt—because cash is not immediately available. "More than $2 trillion are locked up in late payments in the U.S.," Lanng told Business Insider, citing an industry report.
In fact, a recent survey by Basware, another e-invoicing company, revealed that over half of the companies it surveyed were actively engaged in late payments, while a third of them believe late payment was a fact of business life." Buyers usually delay payments because they want more cash in hand to spend on more immediate needs, like R&D or dividend payouts. Because of this delay, suppliers often take out bank loans to sustain their business, which adds cost.
To solve this late-payment culture, Tradeshift offers services that encourage companies to pay faster. One option is Dynamic Discounting, where companies can offer discounts to clients who pay early. Basically, the earlier the buyer agrees to pay, the less money is owed. Another is called Supply Chain Financing. With this, a third-party bank would pay the supplier immediately, at a low interest rate, and the buyer (who owes the money) would pay back the bank instead in 60 days or more. This benefits both sides of the deal because the supplier gets the cash immediately and the supplier gets to delay the payment. "It's true that big companies can save a lot of money by delaying payments," Lanng says. "But they're also hurting themselves because suppliers could go out of business while waiting for payment. Companies could save up to $30 million a year easily, just by paying earlier."
Some of these features are available on other similar services, too, like Ariba (which was acquired by SAP for $4.3 billion), Taulia, or Basware. But Tradeshift is free for all suppliers, and it has a unique social-media-like layout that makes it really easy to use. Its real-time news feed enables a collaborative commenting and work-assigning environment. And it's all open source, so you can build customized apps on top of it.
In its first six months of launch, Tradeshift made it into over 100 countries. Now, in a little over three years, Tradeshift has become one of the fastest-growing cloud invoicing services, with more than 500,000 clients worldwide, including DHL, Dell, and the U.K.'s National Health Service. Over the past 18 months, Tradeshift grew 300 percent, and it is projected to process over $50 billion in annual transactions. And with roughly $130 million in funding so far, Tradeshift is worth nearly $300 million.
Because of its disruptive nature, the electronic invoicing business is quickly becoming a hot industry. But Lanng is confident that Tradeshift has cracked the code and will be able to beat out larger competitors like SAP or smaller startups like Taulia. People always ask if I'm going to sell to SAP, and I (jokingly) tell them, 'No, I'm going to buy SAP,'" Lanng said. "We think this is the future of big businesses."
Mobile Payments Will Be the Defining Feature of the iPhone 6
Mobile payments is an idea that sounds much better than it is in practice. At least for right now.
Despite the efforts of PayPal, Square, and even Google Wallet, few people have actually replaced their wallets with their smartphones, which was the original idea behind mobile payments: Since most financial transactions are electronic these days (sorry cash), we should be able to make our wallets and our phones into one single product.
Apple's alleged mobile payments system, which was actually patented years ago as the "iWallet," describes how users could control their financial accounts and transactions on their phones, but also be able to pay for goods directly with those devices as well, thanks to a near-field communications (NFC) chip.
Compared to other services, Apple's mobile payments platform, made secure by its proven Touch ID fingerprint scanner, iPhone users could see their credit card profiles, messages from their banks, and even schedule payments directly from their phones.
While the iPhone would reportedly anchor Apple's forthcoming mobile payments service, the company's unannounced wearable device is also expected to play a role in this service, since the wrist device will have tight integration with the iPhone. This could allow "iWatch" customers to leave their iPhones in their pockets as they pay with their wrists.
It's unclear if and how this service will become an extra revenue stream for Apple, but if people can actually—finally—substitute all of the items in their wallets with valid digital substitutes, it should give consumers one more reason to buy an Apple device this season.
People might be happier about having a bit more visual real estate to use their apps, but killing the credit/debit card once and for all with a simple and more efficient solution—if that's what actually happens on Sept. 9—would be a much bigger deal.
Oh Good, Fake Cellphone Towers Are Intercepting Our Phone Calls
Seventeen fake cellphone towers were discovered across the U.S. last week, according to a report in Popular Science. Rather than offering you cellphone service, the towers appear to be connecting to nearby phones, bypassing their encryption, and either tapping calls or reading texts.
Les Goldsmith, the CEO of ESD America, used ESD's CryptoPhone 500 to detect 17 bogus cellphone towers. ESD is a leading American defense and law enforcement technology provider based in Las Vegas.
With most phones, these fake communication towers are undetectable. But not for the CryptoPhone 500, a customized Android device that is disguised as a Samsung Galaxy S III but has highly advanced encryption. Goldsmith told Popular Science: "Interceptor use in the U.S. is much higher than people had anticipated. One of our customers took a road trip from Florida to North Carolina and he found eight different interceptors on that trip. We even found one at South Point Casino in Las Vegas." The towers were found in July, but the report implied that there may have been more out there. Although it is unclear who owns the towers, ESD found that several of them were located near U.S. military bases.
"Whose interceptor is it? Who are they, that's listening to calls around military bases? Is it just the U.S. military, or are they foreign governments doing it? The point is: we don't really know whose they are," Goldsmith said to Popular Science.
Not the NSA, cloud security firm SilverSky CTO/SVP Andrew Jaquith told us. "The NSA doesn't need a fake tower," he said. "They can just go to the carrier" to tap your line.
Will America's Shale Boom Soon End?
One of the most successful oil traders alive thinks America's shale renaissance will prove to be a dud and that crude prices will hit $150 within five years. In an upcoming Bloomberg Markets profile, Andrew John Hall, who according to a 2013 Max Abelson profile is known as "God" by competitors, has been telling subscribers to his investing letters that he's been buying up long-dated crude contracts in anticipation of a run-up in prices as America's shale oil boom recedes.
The British-born Hall was embroiled in a fight during the financial crisis over access to a $100 million bonus payout he was due for 2009 trades from then-employer Citi. It was ultimately blocked after Citi received a third bailout. But the year before that, he'd netted $98 million.
More recently, as oil price growth has stalled, Hall's trades have come up short, Bloomberg's Bradley Olsen writes. Assets under management at his Astenbeck Capital Management LLC hedge-fund firm fell as much as 29 percent to $3.4 billion this May from 2013. But Hall, who also remains CEO of Phibro, a trading unit Occidental Petroleum bought from Citi in 2009, is unfazed by the losses. Despite America's massive shale oil boom, Hall is convinced prices will rise.
"When you believe something, facts become inconvenient obstacles," Hall wrote in April according to Olsen, taking issue with a Citi's Ed Morse, who has predicted a shale renaissance could result in $75-a-barrel oil over the next five years. Hall has said Brent crude prices are likely to rise to as much as $150 a barrel in five years or less, according to Olsen.
The back-end of the crude futures curve already seems to agree with him. While near-term contracts continue to slide on ample supply, long-dated ones remain elevated.
"In his counterarguments, he digs deep, delving into the minutiae of how Texas discloses oil production, the tendency of some shale wells to play out quickly and the degree to which the boom has relied on debt," Olsen says. "The simplest of his reasons, though, is that producers have already drilled in many of the best areas, or sweet spots." Hall predicts that growth in shale output will begin to moderate this year and U.S. production will peak as soon as 2016. "Once those areas have been drilled out, operators will have to move to more-marginal locations and well productivity will fall," Hall wrote in March. "Far from continuing to grow, production will start to decline."
Here's How Long It Takes to Recoup the Cost of Your College Degree
College starts today for students across the country.
With tuition costs surging, we can't help but ask, "What are they thinking?"
In a new note, the New York Fed's Jaison R. Abel and Richard Deitz write that, looked at one way, these young people are making a sound investment as it now takes fewer years than ever for graduates to recoup their investment.
While you used to have to work nearly 25 years to earn back what you'd fronted for your degree, only about 10 years on average are now required.
"Despite the challenges facing today's college graduates, the value of a college degree has remained near its all-time high, while the time required to recoup the costs of the degree has remained near its all-time low," they write.
However, that 10-year time-frame has not really budged since the late '90s.
Similarly, the value of a college degree has not increased since 2000, and has actually been decreasing of late.
"We estimate that the value of a college degree fell from about $120,000 in the early 1970s to about $80,000 in the early 1980s, before more than tripling to nearly $300,000 by the late 1990s, where it has remained, more or less, ever since," they write.
That value of college has stayed near all-time highs despite rising tuition costs and falling wages for graduates actually has more to do with plummeting wages among high school graduates.
In other words, the opportunity cost of not going to school are climbing.
But Abel and Deitz recognize that it still remains difficult to argue one way or the other.
"...It's possible that some part of what we estimate as the value of a college degree isn't driven by the skills an individual acquires while in college: people who earn a college degree may simply differ in their innate skills and abilities from those who don't obtain a degree," they write. "Maybe some college graduates would have earned higher wages even if they had never gone to college. Separating out these two effects in research studies is extremely difficult."
We should keep our eyes on this space as the pair say they have further posts on this subject in the pipe, including one that shows that based on the distribution of wages for college graduates, college actually does not appear to have paid off for a sizable fraction of those who made the investment.
My Experiment in Texting Using Only Emojis
Emoji are everywhere. The little illustrated characters that are on smartphone keyboards are taking over the world. There are shoes with emoji on them, pants with emoji on them, emoji stickers, emoji yoga, and the list goes on and on with no sign of ending. As emoji spreads into our culture, I've actually heard the following question: Is emoji moving to replace communicating with the written word?
To find out, I communicated via iMessage using only emoji for five days. That meant every time someone sent me a text or I wanted to send a text, I could only use the popular tiny picture characters to respond to or start a conversation.
I wasn't allowed to cheat by moving the conversation to Facebook message or Twitter DM, but I could send a phone emoji to indicate to the recipient of my texts that they could call me instead; I could not instigate the phone call myself. If I was trying to text someone and I saw that they were available to talk on Gchat instead, I could not cease the text conversation and pick it back up on Gchat.
I wanted to see if it was easier or harder than I expected it to be, yes, but I also wanted to see if I could influence those I was conversing with to overthrow their use of text and start using emoji while talking to me.
Spoiler Alert: It Was Hard
Communicating with emoji was way more difficult than I expected it to be. First, there was the fact that everyone who contacted me via text, or those I needed to use text to talk to, didn't know that this was going to be my only way to communicate for five days.
There were people who were annoyed with me. There were people who gave up after a few back-and-forths. There were missed messages, mixed messages, and messed up plans. There were people who immediately just called my phone to get the conversation moving faster. And there was my mother who doesn't have an iPhone and texts me often.
The first emoji were created in the late nineties by Shigetaka Kurita, who at the time was working for Japanese carrier NTT Docomo. They became popular when Apple added the emoji keyboard to the iPhone 5 in 2012. Every emoji is defined officially in the "emojipedia" (think of it as a dictionary for emoji), but more likely, the definitions become molded by the way they're integrated into popular culture. For example, take the prayer hands emoji, two hands clasped together and giving off a glowing light. About a month ago, it was reported that this emoji was actually two people high-fiving, sending the internet into a tailspin. It turns out that report was probably wrong. It really is prayer hands.
The first person to text me was my colleague Alyson Shontell. She knew the experiment was happening so made a large effort to stump me with hard questions that, to be fair, no one would ever ask me via text, like "where were you born again?" She was in the room with me when she sent it, so I was able to roll my eyes at her.
Though her experiment had nothing to do with communication, here's what Rexroat found by living—quite literally—by emoji:
Then there was the case of Alex Goldmark and his girlfriend Liza, who, last winter, decided that for 30 days they would only use emoji when communicating via their phones. In an interview with WNYC, the couple spoke about "what went wrong" during their experiment. Goldmark and his girlfriend explained there was an instance where plans had to be changed last minute, but Goldmark misunderstood what Liza was trying to convey to him via emoji.
This happened to me when I was trying to explain to my friend Tom that I had booked both of our tickets for a destination wedding in several months. In turn, Tom thought I got a raise.
It was extremely frustrating but it forced me to pick up the phone and call him at a time when I had a free moment to share information. With my mom, who doesn't have an iPhone, my only means of communication was using the phone (and maybe an email here or there.)
There were very few glimmers of hope throughout this experiment, and I cherished all of them. It wasn't always terrible, sometimes (though they were rare instances), people seemed to understand what I was trying to tell them. Take my college friend Rachel, for example, who was taking a bus from Boston to visit me in New York. We communicated via text briefly—and flawlessly.
Unsurprisingly, the easiest person to communicate with using emoji was my 18-year-old sister, and I only slipped once: When my editor, Jay Yarow, texted me to tell me I was late for a meeting I responded with a typed out expletive and then quickly followed up with a dozen "poo" emoji.
My experiment wasn't as controlled as Goldmark's experiment with his girlfriend Liza. Instead of just altering one relationship by extensively editing my means of communication with just one person, I spread the idea across my entire social circle, the trade off being that transactions of conversation were much more shallow. One thing I agreed with while listening and reading Goldmark's findings was that he and Liza felt that emotions were easier to communicate using emoji, whereas logistics—plans, questions—were not. And unlike Rexroat's awesome "only eating food found in emoji" experiment, I really set out to find if replacing the written word was plausible.
The truth? It's probably not going to happen. Emoji is better as a form of punctuation. It adds flair to otherwise normal, and boring statements in a way that a period, exclamation point, or question mark never could.
One of the most charming elements of emoji is that, while every emoji has a technical official definition, people use them to represent different things. Quite simply, it's a language that's more subjective than objective. It became very clear early on that it would never replace the written word, unless as a civilization we were able to come together and assign very specific meanings to each picture that could, under no circumstance, be changed.