Analyzing the top news stories across the web
The Man Who Invented the Cubicle Hated What They Became
While the cubicle is today seen as a symbol of the drudgery of office work and the control companies have over their employees, the design was originally meant to give workers more freedom when it was first introduced in 1968.
In his book Cubed: A Secret History of the Workplace, author Nikil Saval writes that what we today call the cubicle was actually first marketed as "The Action Office II," the second attempt of designer Robert Propst to create a workstation that gave people individual autonomy and the ability to work in a variety of settings.
Initially, the adjustable walls that make up the modern cubicle were meant to be kept at a 120-degree angle, giving workers privacy when they needed it, while also making them available to coworkers they wanted to speak with.
Inside the workstation, the Action Office II contained pushpin walls that people could personalize, several levels of shelving, and room for both a standing and sitting desk. The idea was to give office workers a flexible space that allowed them to move seamlessly between their various individual and collaborative tasks.
Saval writes that the design, produced by the office furniture company Herman Miller, was met with public acclaim, including a New York Post column titled "Revolution Hits the Office."
Of course, many companies were more interested in saving money than providing their employees with flexible working arrangements. So once they figured out they could put people into a smaller space by repositioning the walls to form a box, that's exactly what they did.
As other companies began to copy the design, their versions increasingly were marketed as the small, closed boxes modern workers are familiar with—in contradiction to Propst's original intentions.
By 1997, three years before Propst's death, The New York Times estimated that upward of 40 million Americans were working in cubicles. It was then that Propst told the Times that he had designed the Action Office II to "give knowledge workers a more flexible, fluid environment than the rat-maze boxes of offices."
Instead, corporations had perverted his intent to cut costs.
All Propst had left was this final denouncement of what his creation had become: "The cubicle-izing of people in modern corporations is monolithic insanity."
Fast-Food Customer Service Has Never Been Worse
Service at fast-food drive-thrus is slower than ever, according to a new study. Customers' average wait time is now 220 seconds, up from 181 seconds last year, the study by QSR Magazine found. That's the slowest service time in the 17 years that QSR has been conducting the study.
To be fair, QSR expanded its research from seven chains last year to 23 this year. But "the numbers this year were still telling," writes Sam Oches, the editor of QSR. "Speed used to be a badge of honor for many chains," he writes. "Faster service means happier customers and more cars through the line, both of which can boost perception and sales."
But service times are now suffering because many fast-food chains, in an effort to stem widespread traffic declines, have been rapidly expanding their menus, which slows down workers.
McDonald's executives have acknowledged the adverse effects of their expanded menu on service times. The chain announced plans last year to add a third window to its drive-thru lanes to address complaints about service times.
The company also launched a limited one-minute guarantee program for lunchtime customers at McDonald's locations in South Florida this summer. If customers' food wasn't ready within one minute of ordering, they would be awarded a coupon for a free lunch item.
Taco Bell has also been expanding its offerings, adding a premium Cantina Bell menu in 2012 and launching a breakfast menu this year. "Consumer needs are changing rapidly," Taco Bell chief operating officer Mike Grams told QSR. "There are going to be more complex products coming in, and we just have to change our training methods, our engagement plans in the restaurant, and how we approach them so that we can execute and still be relatively at a good speed that customers are going to be comfortable with."
The Number of Public Sector Jobs Has Not Exploded Under Obama
If you think the Obama administration has been characterized by a big expansion of government employment, you're wrong.
As you can see, it's not even close.
Obama in the dark blue line has seen a sustained and violent slump in public sector employment since he became president, and we're not even close to closing the gap.
Reagan had a brief decline in public sector employment, but it came back fast. All the other presidents saw only gains on this measure.
Partisans will point out that Obama doesn't deserve any "credit" for the decline in government employment, because most of it has happened at the state and local levels.
And that's true as far as it goes, but it misses the simple story, which is that the Obama economy is facing a headwind that simply has not been seen in decades. If it hadn't been for the collapse in public-sector employment, the jobs picture would currently look much brighter than it is.
If you want to understand why Obama's jobs recovery had been mediocre, this is a great place to look.
The Explosion of Crayon Colors Since 1903
First invented in 1903, the original Crayola box contained only eight colors, including red, orange, yellow, green, blue, violet, brown, and black. It sold for only a nickel.
A chart posted on Reddit shows how Crayola crayon colors have grown from eight basic hues to dozens in a little over 100 years.
Now, there are 120 colors in the Crayola color wheel. The names have evolved as well to include colors like "denim," "screamin' green," "dandelion," and "razzle dazzle rose."
Stephen Von Worley, a visualization researcher at Data Pointed, created the visual crayon chronology with his pseudonymous friend who he calls "Velociraptor." They used Wikipedia's list of Crayola colors and added the standard 16-count crayon box released in 1935 for schools to create the beautiful graphic.
The pair also figured out that the average growth rate of crayon colors was 2.56 percent annually, meaning that the number of colors doubles every 28 years.
So by 2050, our future children could be coloring with 330 different colored crayons.
Busting One of Tech's Biggest Myths
Adam Savage and Jamie Hyneman, the hosts of Discovery Channel's MythBusters, were keynote speakers at Thursday's Evernote Conference.
Although not the typical guests you would expect at a tech conference, Savage and Hyneman said Evernote reached out to them because they're both "esoteric makers" for many different kinds of projects. They're working on a future collaboration project that will be revealed to the public in the near future.
After the speech, Business Insider caught up with the MythBusters hosts to ask what was the single coolest tech myth they've ever busted on the show.
"Using a cellphone will not blow up the gas station," Savage said, referring to the common myth that you could accidentally blow up a gas station with a cellphone.
He said it's not the cellphone, but static sparks created when drivers rub themselves on the car that cause most of these fires. A lot of times, the drivers talk on their phones when the spark happens, so it just looks as if the cellphone is the cause of the fire, when it's actually irrelevant.
"When you're moving in and out of your car, you're generating static electricity. If you feel a spark, that's usually between 10 and 20,000 volts of static electricity—and that's plenty strong enough to make gas fume," he said.
In fact, this is something the cellphone industry acknowledges, too. According to an ABC report, two industry studies have concluded there's no evidence that cellphones are a hazard around gasoline. Instead, it notes drivers should avoid static fires.
Savage said his show might have actually helped raise awareness of this problem. Since that episode aired nearly 10 years ago, the American Petroleum Institute told him, "the number of fires at gas stations has dropped by two-thirds."
You can see part of that episode below:
Some McDonald's Monopoly Properties Matter More
McDonald's kicked off its annual Monopoly sweepstakes this week, so of course we are thrilled to devour the stats.
Here's how it works. Every time you purchase certain items at McDonald's over the next couple weeks—any one of 26 different menu items—you'll get to peel off a game piece composed of two stamps.
These game stamps can correspond to either an instant prize, or they can correlate to a space on the Monopoly board. For spaces on the Monopoly board, if you get all the properties of a single color—or the Railroads — you win a prize.
So, let's take a look at your odds of winning prizes by buying McDonald's.
Before we get into the stats, there are a few basic elements of the game you need to know.
First of all, nobody cares about the online sweepstakes games. This is the last we will mention it, ever, because it's boring. All we care about is the in-store game, where you peel game pieces and win.
There are approximately 602,490,060 game pieces in play.
This means that there are 1.2 billion game stamps, or individual attempts at victory.
There are 135,540,995 food prizes
There are 15,838,729 instant win prizes.
The odds of winning a prize at the in-store game are 1 in 4, or a 25 percent probability.
Here's what all that looks like: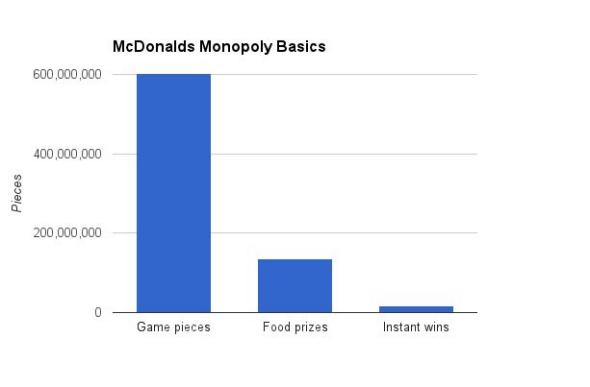 If you win a prize on McDonald's Monopoly, it is probably going to be a food prize. There's 1 in 4.45 odds—a 22.5 percent chance—you win a food prize when you get a McDonald's game piece. As we mentioned earlier, the odds you win any prize is approximately 1 in 4, a probability of 25 percent.
So what does this mean? Well, comparing the two probabilities, 89.9 percent of the prizes will be food prizes. Hope you're hungry.
In fact, 4 out of every 11 prizes allocated will be a medium fries.
So let's look at the potential food prizes:
Medium Fries ($1.75): Odds 1 in 9, or 11.1 percent chance you win.
Quarter Pounder w/ Cheese ($3.60): Odds 1 in 44, or 2.3 percent chance you win.
Small McCafe or Smoothie ($2.40): Odds 1 in 44, or 2.3 percent chance you win.
McFlurry ($2.55): Odds 1 in 44, or 2.3 percent chance you win.
Breakfast Sandwich ($2.65): Odds 1 in 22, or 4.6 percent chance you win
Since there's a 25 percent chance of winning an instant prize, and a 22.5 percent chance of winning a food prize, that means that there is roughly a 2.5 percent chance of winning one of the other instant prizes.
These range from a Redbox DVD (1 in 101 chance) to a pair of headphones (similar probability of drawing the Ace of Spades from a shuffled deck of cards four consecutive times) to $100,000 (drawing the Ace of Spades five consecutive times).
But let's get to the real fun.
Here's the secret to McDonald's Monopoly. Many people assume that all the spaces are equally likely. For instance, most people think if McDonald's wants the Brown prize probability to be 1 in 1,000,000, they'll make the probability of drawing Baltic 1 in 1,000 and Mediterranean 1 in 1,000, making the probability of getting both 1 in 1,000,000.
Instead, McDonalds was much smarter about it. They make Baltic show up 1 in 10 times and Mediterranean show up 1 in 100,000 times. This means that almost all the game pieces are entirely worthless, and only one game piece from every set is actually tantamount to winning the prize. It's easy to get a hold of some of the worthless properties. They're outstandingly common, most with a 1 in 10 or so chance of popping up. Just hit Craigslist or something.
So here are the only game pieces that are actually very valuable. Don't trade these away:
BROWN: Mediterranean Ave, odds 1 in 30 million wins $1,000.
LIGHT BLUE: Vermont Ave, odds 1 in 40 million, wins $5,000.
PINK: Virginia Ave, odds 1 in 200 million, wins $10,000
ORANGE: Tennessee Ave, odds 1 in 602 million, wins Super Bowl tickets.
RED: Kentucky Ave, odds 1 in 15 million, wins one of 40 plane tickets for two.
YELLOW: Ventnor Ave, odds 1 in 300 million, wins $20,000
GREEN: Pennsylvania Ave, odds 1 in 40 million, wins one of 15 Fiat cars.
BLUE: Boardwalk, 1 in 602 million, wins $1,000,000 in $50,000 annual payments.
RAILROADS: Short Line railroad, 1 in 150 million, wins a year's supply of gas.
So, if you find one of those pieces, you're actually special. If you find any other piece, it's basically worthless, unless you can find a guy with an actually valuable piece to sell it to.
Crumbling Infrastructure and Traffic are Costing Every L.A. Driver $2,500 a Year
Crumbling infrastructure alert!
A new report from TRIP, a Washington, D.C., transportation research group, finds that Los Angeles motorists are each spending an extra $2,458 per year due to poor roads and bridges.
And that's just the City of Angels.
"Roads and bridges that are deficient, congested or lack desirable safety features cost California motorists a total of $44 billion statewide annually," the report concludes.
The report's authors are unflinching in their recommendations:
With a current unemployment rate of 7.4 percent and with the state's population continuing to grow, California must improve its system of roads, highways and bridges to foster economic growth and keep businesses in the state. In addition to economic growth, transportation improvements are needed to ensure safe, reliable mobility and quality of life for all Californians. Meeting California's need to modernize and maintain its system of roads, highways and bridges will require a significant boost in local, state and federal funding.
The situation with California's roads is especially grim. TRIP breaks it down:
Thirty-four percent of California's major roads and highways have pavements in poor condition, while an additional 41 percent of the state's major roads are rated in mediocre or fair condition and the remaining 25 percent are rated in in good condition.
Roads rated in poor condition may show signs of deterioration, including rutting, cracks and potholes. In some cases, poor roads can be resurfaced, but often are too deteriorated and must be reconstructed.
Driving on rough roads costs all California motorists a total of $17 billion annually in extra [vehicle operating costs]. Costs include accelerated vehicle depreciation, additional repair costs, and increased fuel consumption and tire wear.
In addition to flat tires from potholes, poor road conditions are also costing motorists in the Golden State time.
Los Angeles and San Francisco-area residents are no strangers to traffic, but they probably won't be happy to learn that drivers in and around both cities are losing 61 hours a year to congestion. That's more than two days.
California is carland, but I can identify with whatever astonishment the people who live and drive in the state are experiencing, given TRIP's findings. I lived there for a decade and saw firsthand a lot of the decay, and suffered through the traffic delays on a regular basis.
In a state whose economy is bigger than most countries, this is a major challenge.
How One Entrepreneur Is Transforming Blood Testing
The next time you get a blood test, you might not have to go to the doctor and watch vials of blood fill up as the precious fluid is drawn from your arm. No more wondering to yourself, "Ah, how much more can they take before I pass out?" Instead you might be able to walk into a Walgreens pharmacy for a reportedly painless finger prick that will draw just a tiny drop of blood, thanks to Elizabeth Holmes, 30, the youngest woman and third-youngest billionaire on Forbes' newly released annual ranking of the 400 richest Americans.
Revolutionizing the blood test is a golden idea. Because of new testing methods developed by Holmes' startup Theranos, that lone drop can now yield a ton of information. The company can run hundreds of tests on a drop of blood far more quickly than could be done with whole vials in the past—and it costs a lot less.
Holmes dropped out of Stanford at 19 to found what would become Theranos after deciding that her tuition money could be better put to use by transforming healthcare.
Traditional blood testing is shockingly difficult and expensive for a tool that's used so frequently. It also hasn't changed since the 1960s. It's done in hospitals and doctors' offices. Vials of blood have to be sent out and tested, which can take weeks using traditional methods and is prone to human error. And, of course, sticking a needle in someone's arm scares some people enough that they avoid getting blood drawn, even when it could reveal lifesaving information.
Holmes recognized that process was ripe for disruption. It took a decade for her idea to be ready for primetime, but now it seems that her decision to drop out was undoubtedly a good call. Last year, Walgreen Co. announced that it would be installing Theranos Wellness Centers in pharmacies across the country, with locations already up and running in Phoenix and Palo Alto, California. And Holmes has raised $400 million in venture capital for Theranos, which is now valued at $9 billion (Holmes owns 50 percent).
The other two 30-year-olds on Forbes' List, Facebook founder Mark Zuckerberg and his former roommate and Facebook CEO Dustin Moskovitz, also have access to a wealth of information about people—but their data is less likely to directly save a life.
One closely guarded secret is what MedCityNews calls "the most interesting part of [the Theranos] story": how exactly the technology behind its blood test works. The company's methods are protected by more than a dozen patents filed as far back as 2004 and as recently as last week.
In an interview with Wired, Holmes hinted at some of the key ideas behind Theranos. "We had to develop ... methodologies that would make it possible to accelerate results," she said. "In the case of a virus or bacteria, traditionally tested using a culture, we measure the DNA of the pathogen instead so we can report results much faster."
While we can't yet assess independently how well that method works when compared with traditional blood tests, it already seems to be upending the old way of doing things.
Holmes told Medscape that she targeted lab medicine because it drives about 80 percent of clinical decisions made by doctors. By zeroing in on the inefficiencies of that system, the Theranos approach completely revolutionizes it.
The new tests can be done without going to the doctor, which saves both money and time. Most results are available in about four hours, which means that you could swing by a pharmacy and have a test done the day before a doctor's visit, and then the results would be available for the physician. Quick tests that can be done at any time are already a total change, but the amount of data the company can get from a single drop of blood is amazing.
Blood samples have traditionally been used for one test, but if a follow-up was needed, another sample had to be drawn and sent out—making it less likely that someone would get care. The Theranos approach means the same drop can be used for dozens of different tests.
It's cheap, too. One common criticism of the healthcare system is that the pricing structure is a confusing labyrinth that makes it impossible to know how much anything costs. Theranos lists its prices online, and they're impressive. Each test costs less than 50 percent of standard Medicare and Medicaid reimbursement rates. If those two programs were to perform all tests at those prices, they'd save $202 billion over the next decade, Holmes said in an interview on Wired
Plus, people get access to their own results. As an example of how helpful that can be, Holmes told Wired that Theranos charges $35 for a fertility test, which is usually paid for out-of-pocket and costs up to $2,000. But she also said that this data could be useful for anyone looking to gain a better understanding of his or her health. "By testing, you can start to understand your body, understand yourself, change your diet, change your lifestyle, and begin to change your life," she said.
Why the New York City Greenmarket Is Great for Small Farms
In this age of corporate agriculture, family farms that have survived have done so by capitalizing on the local food movement: selling to organic and specialty supermarkets, selling wholesale to restaurants, selling shares of a farm's harvest directly through community-supported agriculture (CSAs), and selling at farmer's markets.
The New York City Greenmarket was founded in 1976 by New York City architect Barry Benepe to support local farms that were too small to sell to wholesalers. What began as a one-day-a-week farmer's market in Union Square supporting seven farmers has exploded. Today, the Greenmarket runs 52 farmer's markets in different locations in the city, supporting 240 farmers in seven states.
"We cut out the middle man between producers and consumers by providing regional farmers direct access to their customers," Michael Hurtwitz, the director of the Greenmarkets for GrowNYC, told Business Insider.
Sycamore was one of the first farms at the market, joining up in 1981. Henry Smith, the founder of Sycamore Farms and Kevin's father, recognized the potential of the Greenmarket early.
It turned out there was, not just for Sycamore but for other farms as well. According to Hurwitz, the overwhelming majority of farms that sell at the Greenmarket derive their main source of income from the markets. 85 percent of the Greenmarket farmers told Hurwitz they would be out of business if it weren't for the markets.
Today, the Union Square market, Greenmarket's flagship market and the only one that Sycamore attends, runs four days a week, year round. On an average September Friday, 360,000 people pass through the market. More pass through on Saturdays. While other Greenmarket locations are equally lucrative, no other market has that kind of foot traffic.
The Hard Numbers Of Small Farms Today
Sycamore hosts a stand at the Greenmarket three days a week, from June until November. In a typical week, the stand sells approximately 5,100 ears of corn and 5,000 pounds of tomatoes, as well as other produce, baked goods, and preserve, according to Smith. On a single day, Sycamore will sell to about 1,000 customers.
During a good year, Sycamore's Greenmarket sales come out to about $15,000 to $25,000 per week during the selling season, which comes out to approximately $300,000 to $500,000 income.
That sounds like a lot until you start factoring in costs. Property taxes alone figure to be above $20,000. Operating costs for materials, equipment, and maintenance can be $100,000 to $250,000. Once you add in hourly wages (between $10 to $15/hour) for seven farm employees, liability insurance, farm insurance, employment insurance, and disability insurance, it becomes clear: margins can get very tight depending on the year.
While sales are generally constant year to year, running a farm today is as unpredictable as it ever was. Different weather conditions can wreak havoc on a season in different ways. A rainy season can make crops thrive, but it can also slow traffic at the Greenmarket or even shut the market altogether. Too little rain and some crops will have difficulty growing, but there are more days to sell at the market.
As the national climate for small farms has stiffened, the Greenmarket has expanded its reach. In just the last seven years, the market has increased from 174 farmers to 240 and 44 markets to 52. According to Hurwitz, overall revenue at the markets has increased during that time and a number of farmers have told him that last year was their highest-grossing year ever.
Part of the boom is due to what Hurwitz calls "an explosion in demand for local."
Smith has observed the same trend: "Customers today are more interested, engaged, and knowledgeable. 99 percent are repeat visitors and I never have to hard-sell the produce."
Even a decade ago, Smith spent countless time at the market trying to explain to customers why his local produce cost more than supermarket produce, often to no avail. Customers were baffled or frustrated and tried to haggle the price down. Today's urbanites are obsessed with anything locally-sourced, organic, and especially farm-to-table, which Sycamore and other local farms are perfectly positioned to capitalize on. The flood of interest in farm-to-table has its downsides though.
"Because the demand is there, there's way more competition at the Greenmarket and outside of it," says Smith.
CSAs, co-ops, food boxes, gourmet grocery stores, Whole Foods, and non-Greenmarket farmer's markets (some that have "Don't Ask, Don't Tell" policy for where sellers get their produce) have sprung up are all over Brooklyn and Manhattan. Factor in the proliferation of farmers at the Greenmarkets themselves and its clear that local food has become a crowded market.
With that in mind, Smith has kept margins tight by reinvesting Sycamore's profits back into the business—"the Amazon plan," he calls it. The Greenmarket has been good to Sycamore, but Smith is smart enough to recognize that relying solely on one revenue source is a bad business model.
Building A New Business Model
Until five years ago, the farm's income was 100 percent derived from the Greenmarket. Today, that percentage has been scaled back to 90 percent.
Towards that effort, Sycamore opened a 4,000-square-foot farm stand on site last year. At the farm stand, Sycamore sells its freshest produce, as well other locally-sourced produce from farms in the area that they trust. In addition, they now sell cooked and processed items made in their own kitchen and bakery, such as jams, jellies, pickles, tomato sauces, fruit pies, breads, and very popular tomato pies.
Smith is also looking to expand Sycamore's presence at the market to year-round, selling the farm's processed items during the winter months to stay in front of New Yorkers' faces and promote the farm stand.
Currently, Smith has been organizing events to get people to the farm: chef's dinners using Sycamore produce, potlucks, and educational events for both young children and adults. He promotes the on social media and always talks up the farm stand at the Greenmarket. While he's only in the beginnings of his grassroots efforts, Smith envisions a day when the stand gets enough foot traffic that Sycamore can stop trekking to Manhattan altogether. It will require a redoubled presence at the Greenmarket to get the message out to the people that care.
Apple BendGate Truthers Smell a Media Plot
Were news reports that the iPhone 6 is prone to bending actually a plot orchestrated by mainstream media? That's what some Apple fans are starting to say after forensically analyzing the original video that broke the BendGate story.
Here is a breakdown of the theory that suggests Apple is merely the patsy in a wider conspiracy to defame the company's not-bendable products. As Pocket-Lint reports, there may be something strange going on with the time shown on the iPhone 6 in the original video that caused the story to go viral. Reddit user "akrosdabay" has written this analysis of why people are starting to call foul over BendGate:
When he is bending it with his bare hands, the phone shows 2:26 p.m. Then, talking about it that later claiming it has bent as a consequence of his actions earlier in the video, the phone shows 1:58 p.m. Then later when he is summarizing, the time on the phone is 1:58 - 2:00 and has a bend in it. Then it shows 2 p.m. and the phone is straight with some possible damage near the volume button.
Canadian YouTuber user Unbox Therapy created the video, and Apple fans are beginning to accuse him of subterfuge to inflate just how bad the bending issue is.
Reddit user "tittywagon" was one online commenter who is skeptical of BendGate: "The hoodie, glasses, backwards hat. The guy is a side-show idiot who blew it way out of proportion for YouTube views."
The "iPhone In Canada" blog goes one step further, blaming mainstream media for the controversy: "Bendgate actually happened in 2012—but was missed by the mainstream media."
Reports had surfaced in 2012 that said the iPhone 5 was susceptible to a similar kind of bending as the iPhone 6 Plus. However, the issue didn't gain anywhere near as much attention as the current controversy.
A statement was also emailed to Business Insider that played down concerns over a widespread structural issue with the iPhone 6. Apple told us that "through our first six days of sale, a total of nine customers have contacted Apple with a bent iPhone 6 Plus."
Apple's full BendGate statement is below:
Our iPhones are designed, engineered and manufactured to be both beautiful and sturdy. iPhone 6 and iPhone 6 Plus feature a precision engineered unibody enclosure constructed from machining a custom grade of 6000 series anodized aluminum, which is tempered for extra strength. They also feature stainless steel and titanium inserts to reinforce high stress locations and use the strongest glass in the smartphone industry. We chose these high-quality materials and construction very carefully for their strength and durability. We also perform rigorous tests throughout the entire development cycle including 3-point bending, pressure point cycling, sit, torsion, and user studies. iPhone 6 and iPhone 6 Plus meet or exceed all of our high quality standards to endure everyday, real life use.
With normal use a bend in iPhone is extremely rare and through our first six days of sale, a total of nine customers have contacted Apple with a bent iPhone 6 Plus. As with any Apple product, if you have questions please contact Apple.