Trevor Noah: Whether You're Pro-Life or Pro-Choice, Everyone is Going to be Pro This Story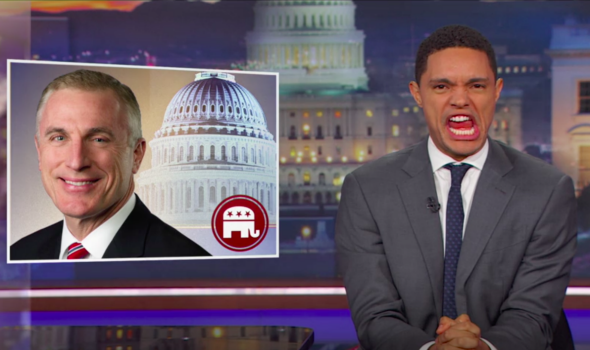 A dark week for the country is a dark week for late night hosts. On Thursday's Daily Show, Trevor Noah decided it was time to lighten the mood—his and ours. And that he did, gleefully excoriating "pro-life" Republican Tim Murphy for his grotesque levels of hypocrisy. In case you missed it: It was revealed this week that Pennsylvania congressman Tim Murphy had asked his young mistress to terminate a pregnancy, despite a long record of being vehemently against abortion. And just when you thought nothing could top Ted Cruz liking a porn tweet in terms of Republican "family values" late night fodder …
Noah, feeling the schadenfreude, wanted to share it with us all. "Whether you are pro-life or pro-choice," he said. "I think we can all come together to laugh at this man."
A few things made this scandal even sweeter, according to Noah. One is that this revelation came the same week Murphy had co-sponsored a bill banning all abortions after 20 weeks. "The dude's timing could not be worse," laughed Noah.
But the best part? Murphy's mistress wasn't even pregnant—it was only a scare. "Which makes this even funnier," said Noah, who could not seem to wipe the smile off his face. "The guy didn't even wait a day? He didn't even wait a day to confirm it before abandoning his entire belief system?"
The schadenfreude continued right up to the story's "sad" conclusion, with Murphy resigning in shame: "It's such a pity Tim Murphy terminated his career before it came to term."
After a tragic week, I think we can all come together to appreciate the unrestrained joy Trevor Noah brings to the early termination of Murphy's career.