The First Teaser for Ava DuVernay's A Wrinkle in Time Is Here, and It Looks Incredible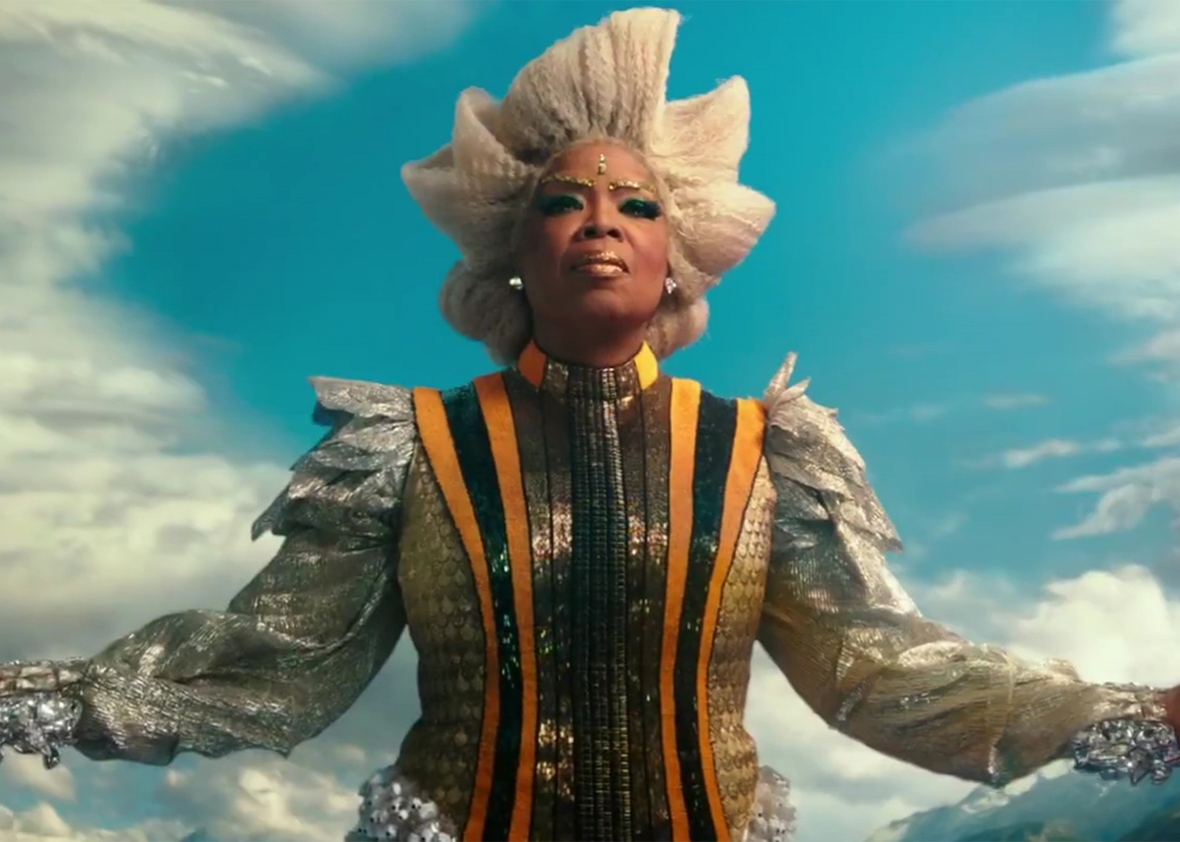 The first trailer for Ava DuVernay's adaptation of Madeline L'Engle's classic young adult novel A Wrinkle in Time was released Saturday, and it looks like the beloved book may finally be getting its cinematic due. Child actress Storm Reid makes an excellent Meg Murray, earnest and fiercely intelligent, and the brief glimpses we get of Levi Miller's Calvin and Deric McCabe's Charles Wallace seem fine. But like most movies about kids, the actors playing the meatiest roles aren't really the draw, at least for advertising purposes. Instead, Disney gives us a good look at Reese Witherspoon, Mindy Kaling, and above all Oprah Winfrey, as Mrs. Whatsit, Mrs. Who, and Mrs. Which, respectively. (Or at least, we get a pretty good look at their human avatars: The trailer also includes what looks like the first half of a gorgeous "centaur reveal" shot, but the payoff will have to wait for theaters.) Audiences disappointed they won't get to see DuVernay's take on Wakanda—she was originally attached to direct Black Panther but left over creative differences—will no doubt be thrilled to see her version of L'Engle's universe, particularly the extraordinary outfits she and costume designer Paco Delgado have given the weird trio of Ws.
But the proof of a Wrinkle in Time film is not in the costumes nor in the casting but in the Camazotz, the evil, conformist planet that remains one of the most iconic horror settings in children's literature. DuVernay's Camazotz is a good one: specifically Southern Californian, and even more specifically Spielbergian (down to the massive, looming E.T. moon). Contrast that with the chaotically tilted non-Camazotz SoCal establishing shot and the image of Meg surrounded by a multicultural crowd of schoolkids in Lakers colors bouncing balls out of sync, and one might almost conclude DuVernay is responding to the current wave of Spielberg nostalgia. You can't make a children's adventure movie without playing in his sandbox—there's a "Spielberg face" shot of Reid and Miller even in the trailer—so it will be interesting to see if the full film takes this beyond visual references. The colorblind and occasionally gender-flipped casting—Meg is black; the Murrays are a mixed-race couple; the Ws, in addition to being centaur creatures from another planet, are in disguise as a variety of human races; the Happy Medium is now Zach Galifianakis—feels like its own sort of rebuke to Hollywood kid-movie tokenism: In this film, the Murray children have a white friend who tags along with them. All this and a red-eyed Michael Peña ruling over a planet-sized Levittown? March 9, 2018, can't get here soon enough.