Jay Z's New Music Video Uses America's Long History of Racist Cartoons to Deliver a Haunting Message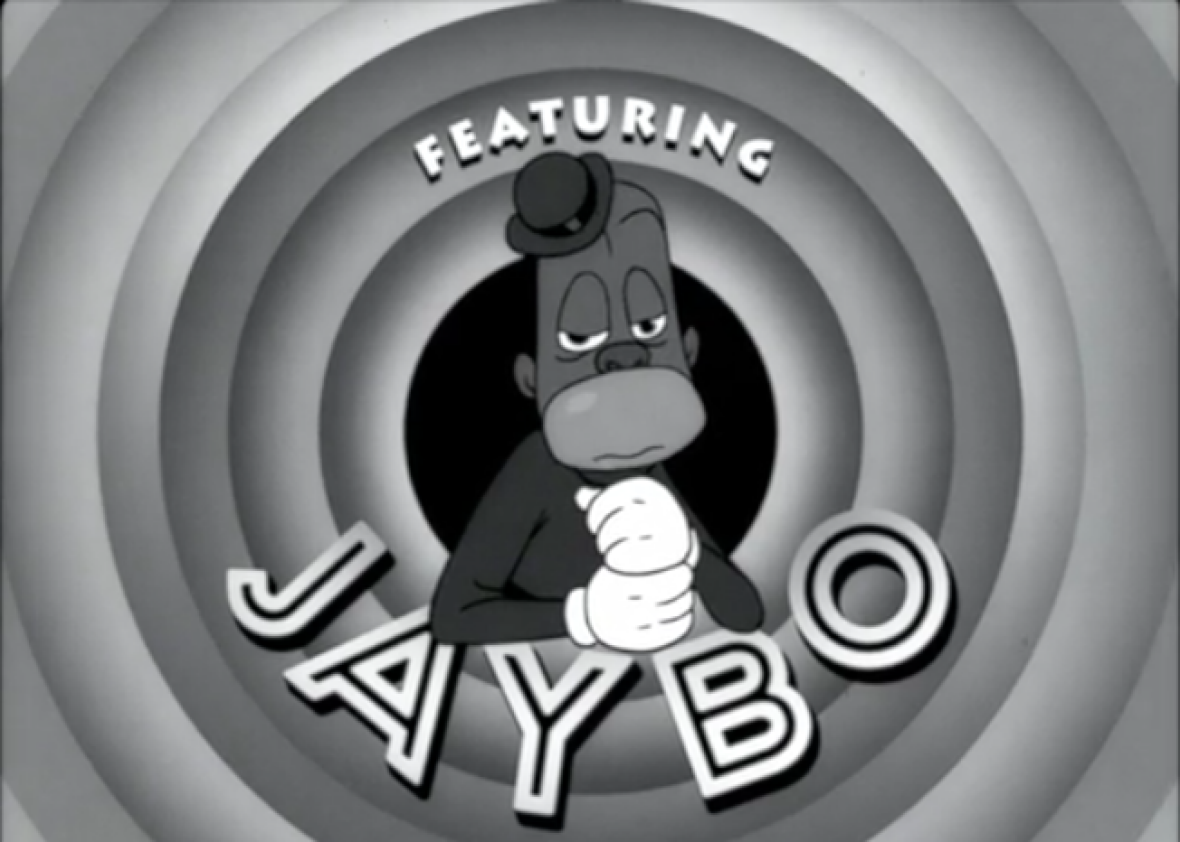 This framing informs the animated "The Story of O.J." music video—the full version of which is, for now, only available to Tidal subscribers. Update, July 7: The video is now available to all on YouTube.
The animated video plays on America's long history of racist cartoons from Fleischer Studios, Warner Bros., and Disney, among others. In the video, Jay voices the cartoon character Jaybo, whose name is a reference to both the racist Little Black Sambo books and cartoons from the early 20th century and (as the second half of the video, which features Jaybo flying by flapping his ears, makes clear) Dumbo, a Disney movie with its own set of racist caricatures.
In the four-minute video, Jaybo walks through Brooklyn and uses the lyrics of "The Story of O.J." to narrate images of such racist archetypes as mammies, pickaninnies, and Uncle Toms, which the video mashes up with more realistic imagery of slave auctions, lynchings, and burning crosses. A number of images in the video also directly echo specific old racist cartoons, such as when a rendering of Jaybo eating a watermelon closely resembles the image in Walter Lanz's Scrub Me Mama With a Boogie Beat of a caricature of a black man happily eating a thick slice of watermelon. Meanwhile, the song samples Nina Simone's own examination of black stereotypes, "Four Women."
Unfortunately, the song also engages in some stereotyping of other groups. In the second verse, Jay holds up Jewish people as an example of how to make better investments, saying, "You wanna know what's more important than throwin' away money at a strip club? Credit./ You ever wonder why Jewish people own all the property in America? This how they did it."
But in the end, the video, co-directed by Jay himself and his longtime collaborator Mark Romanek (who previously directed Jay's "99 Problems" and "Picasso Baby" videos), underlines the song's not-so-subtle message that no matter how successful a black man becomes, America will always see him as lesser. Jay contrasts with O.J. Simpson's notorious idea that—as others quoted him as saying in last year's excellent documentary O.J.: Made in America—"I'm not black. I'm O.J." As the video's pitch-black final images make clear, and as LeBron James recently said in his emotional statement after his house was reportedly spray-painted with racist graffiti, "No matter how much money you have, no matter how famous you are, no matter how many people admire you, being black in America is tough." Or as Jay's old collaborator Kanye West once put it, "Even if you in a Benz, you still a n---a in a coupe."