Watch The Rock Announce Presidential Run With Tom Hanks as His VP
Dwayne "the Rock" Johnson got his induction into the Five-Timers Club as host of the season finale of SNL. But the show has inducted so many people to the club lately that the whole ceremony involving the smoking jacket has become a bit tired. Johnson, however, added a whole new twist to it by using the opportunity to announce he was joining the 2020 presidential race. "I'm in," said Johnson, who has often teased a desire to run for the highest office in the land. "A lot of people have been telling me that I should run for president," Johnson added. "Starting tonight, I am running for the president of the United States." (For what it's worth, a recent national poll said Johnson would beat President Trump 42–37 percent).
"And I've got to tell you, I've already chosen my running mate," Johnson continued. "He's also in the Five-Timers Club, and like me, he's very well-liked. He's charming, universally adored by pretty much every human alive." At first it seemed Johnson was going to pick Alec Baldwin for VP, but the honor went to Tom Hanks. "Dwayne, I could not possibly ... turn this down!" Hanks said.
"In the past I never would've run for president, I was worried I wasn't qualified," Johnson said. "But the truth is, now, I think I'm a little too qualified." Johnson and Hanks then began to explain why they're such a great pair. "I would get the senior vote, because I fought in World War II in 10 different movies," Hanks said. Johnson then expressed confidence he would "get the minority vote" because "everyone just kind of assumes I'm, well, whatever they are."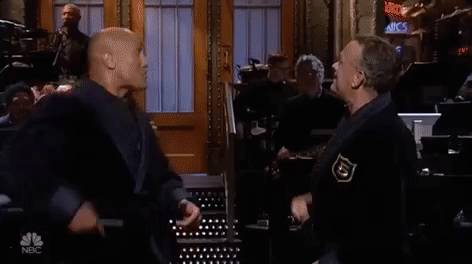 Just as everyone was getting their hopes up, Johnson dashed them by getting serious. "Listen America, don't get too excited, Tom and I are merely joking," he said. "When it comes to politics, we need more poise and less noise. Americans deserve strong, capable leaders, leaders who care about this country and care about its people." Hanks seemingly didn't accept backing out. "Uh, Dwayne, that kinda sounds like you and me," Hanks said. "I guess we gotta do it! Let's go! We're doing it!"
Johnson didn't let up and reminded viewers about the race at the end of the show: "Remember America, Johnson/Hanks in 2020!"