Louis C.K. Says Horace and Pete Left Him Millions of Dollars in Debt
"After four episodes, the whole idea was I'm not gonna have to spend my own money after that," C.K. said. He didn't promote the show, excited instead "by the idea of having a show appear from nothing." Well, the surprise launch worked, but the money-making part didn't happen as robustly as C.K. had planned.
This is not the first celebrity debt confession we've seen in 2016—let's not forget the time Kanye West tweeted about being $53 million in the hole. Celebrity debt tends to be different from the debt we laypeople interact with every day. But still, after four episodes, C.K. had to take out a line of credit. He now says he's doing a massive publicity push and that he still expects the show will pay for itself.
Slate Academy: The United States of Debt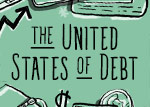 How did debt get so bad in the United States? Join personal finance columnist Helaine Olen as she takes in-depth look at the reality of debt in America. What's it like to empty out your 401(k) to help a family member? What works—and what doesn't—for people struggling to get out of debt? Find out in this series. Join us today.
"I believe that by the end of a few, like by the end of summer, the whole show will have paid itself off," C.K. said. After that happens, he said he'd consider selling it—which he has thus far resisted because he wants "to make a new avenue for making this stuff." Listen to the full segment below.