New Yorkers Have No Idea Who Chris Pratt Is in the Latest Billy On the Street Clip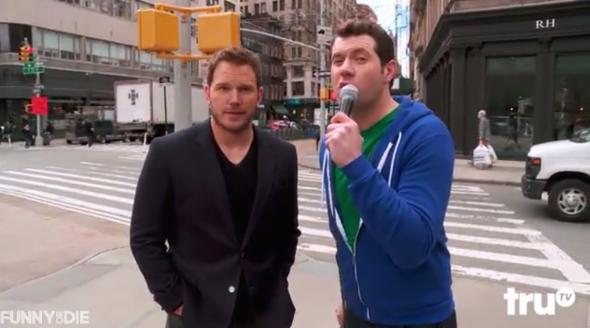 He's not Chris Hemsworth, he's not Chris Evans, and he definitely isn't Josh Duhamel. In the latest Billy on the Street expedition, an ever-excitable Billy Eichner hits the streets of New York with Jurassic World star Chris Pratt to ask a simple question: "Deadline says he's the brightest leading man to come along in years. Who is he?" But even with Eichner jumping up and down, gesticulating wildly at Pratt's strong jawline, neatly groomed scruff, and winning smile, nobody knows the answer.
"I don't watch TV," is one woman's excuse, and another woman guesses, "Chris Evans?" One guy begins promisingly with, "You're an actor..." but falls short when he ends with, "Liam?" The best part of the clip is Eichner's 25-second exchange with a foreign woman in a pink rain jacket. She doesn't know who Chris Pratt is either, but when Eichner says, "It's Josh Duhamel! It's Josh Duhamel!" she bounces so excitedly that her feet almost leave the ground.
No word yet on how the barrage of wrong answers has affected Pratt's self-esteem.