Jon Stewart's Penultimate Daily Show Featured a Wonderfully Sappy Louis C.K. Interview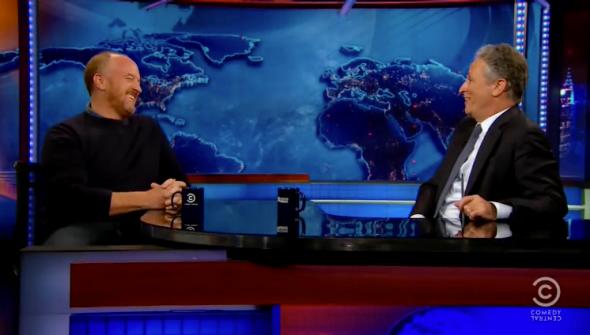 Thursday marks Jon Stewart's last night as host of The Daily Show, and his tenure will be celebrated with a super-sized, sure-to-be-star-studded episode. But Wednesday's Daily Show marked perhaps an even more poignant moment: the last time viewers got to watch Stewart, with all his usual flair, deliver 30 minutes of biting, gut-busting satire. And for his final scheduled interview, Stewart brought old friend Louis C.K. to the desk for a sentimental chat.

Stewart and C.K. go way back, and they began the conversation by reminiscing about making their bones in the Comedy Cellar—a venue at which, just last month, they performed some surprise sets together. The schmaltz didn't stop there, with C.K. calling Stewart's Daily Show one of "the great comedy accomplishments of all time" before noting that viewers were probably "throwing up" from all the sap. Only one episode left.