Watch Meryl and J.Lo Nearly Fall Out of Their Chairs for Patricia Arquette's Feminist Oscar Speech
No one was surprised when Jared Leto said Patricia Arquette's name as he announced the winner of the Oscar for Best Actress in a Supporting Role—Arquette was a lock for the award. But Arquette did something surprising in her acceptance speech when she made a very clear appeal for equal pay for equal work.
The best part of Arquette's speech, however, was surely Meryl Streep and Jennifer Lopez's reaction to her call for women's pay equity. The three-time Oscar winner and the singer/actress were inexplicably seated next to each other in the audience and both made it clear that they strongly supported Arquette's sentiment.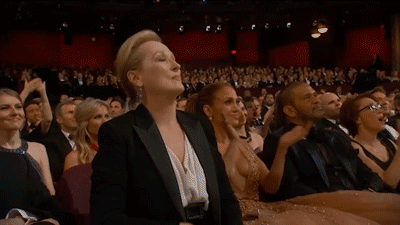 But let's not ignore Shirley MacClaine's enthusiasm: