Jim Carrey Sends Up Sia and Matthew McConaughey on SNL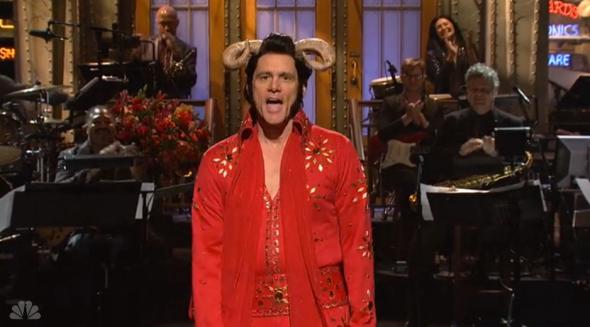 Last night's Halloween-themed SNL episode was more trick than treat: there were some sweet and funny sketches, but far too many skits were dead on arrival. Jim Carrey hosted, starting the episode with one of those old-fashioned song-and-dance bits—increasingly popular of late—that forgo coherent comedy for easy entertainment. The song's conclusion finds Carrey flanked by cast and choir, using a devil-may-care croon to sing the praises of pecan pie. So that's amusing, I suppose.
The Helvis introduction was a tad silly, but Carrey is one of the best physical comedians of our time, and the episode hit a groove when using his gift for goofy, body-based theatrics. In "Halloween Party," a send up of Sia's popular "Chandelier" video, Carrey and Kate McKinnon hilariously pranced around the studio in nude leotards.

The night's other highlight was a digital short that spoofed Matthew McConaughey's philosophical, True Detective-esque ads for Lincoln. Carrey displays an uncanny knack for the Texan's elongated drawl, which makes his nihilistic musings ("Why do I drive a Lincoln? Why does anybody do anything?") even funnier.