Seth Meyers Found a Way to Make New Yorker Cartoons Really Funny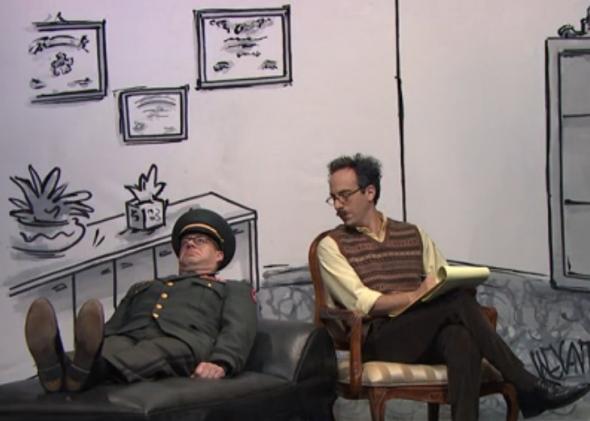 The cartoons are the worst part of The New Yorker: They're sometimes sexist, usually unfunny, and totally out-of-step with the generally dignified tenor of the magazine. But Seth Meyers has given us a reason to appreciate the cartoons by hiring actors and set designers to bring the animations to life, a gimmick that elevates and aggrandizes the stale humor of the cartoons until it actually begins to seem funny. Last night, The Late Night Players reprised the segment by performing Live New Yorker Cartoons, Part II: Too Hot to Handle, Too Droll to Hold, with introductions and commentary by Meyers and real-life New Yorker editor David Remnick.

Props should go to the actor playing General Doug, whose commitment to the role extends to lying stiffly on a psychiatrist's couch in a way that would make a chiropractor wince. But the real star of the show is straight man Remnick, who introduces and explains each cartoon with admirable comic restraint.