How a "Failed Intellectual" Became One of the Internet's Favorite Nihilists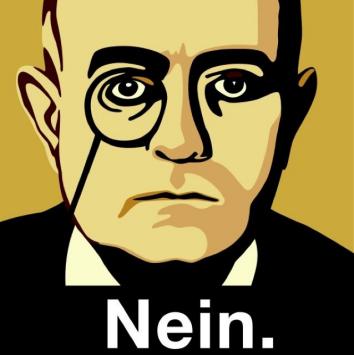 For a famous nihilist, Eric Jarosinski cuts a rather unassuming figure: He's a young-looking 42 with delicate features and a quick smile. He is exceedingly mild-mannered, and finds it unbecoming to talk and eat at the same time (as a result, the eggs he orders at the Upper West Side restaurant where we recently shared breakfast quickly grow cold). And yet for all Jarosinski's Wisconsin politeness in person, just the other day he admonished me, and 66,000 of my best friends: "Hate yourself like nobody's looking. They're not."
The one-man brain trust behind Nein Quarterly, the anti-journal that is really "just" a Twitter feed, Jarosinksi is both a study in, and a master of, pithy contradiction. He's a gentle Midwesterner who's feuded publicly with Joyce Carol Oates. He's got multiple media outlets in multiple countries interested in hiring him, but he finds the very act of writing so excruciating that he composes only on his phone. He's a self-described "#failedintellectual," but he's probably done more good for the discipline of German Studies than most of the professors he's about to leave behind.
Advertisement

His "compendium of utopian negation," whose imposing logo is a cartoon of the philosopher Theodor W. Adorno mid-scowl, began with the decidedly non-utopian negation of his soon-to-be-ex career. Last year, as his pre-tenure years as an Assistant Professor of German at the University of Pennsylvania crept to a close, Jarosinski admitted to himself that he simply couldn't stand his own academic writing—definitely not anymore, but maybe never in the first place. (Perhaps he learned that the average academic treatise has an audience of three.)
As a result, he wasn't going to finish his book in time to make tenure, if ever. "I knew what was expected of me and I didn't deliver," he tells me in a series of admirably terse follow-up emails. "I tried and failed. It's that simple." He could have allowed the case to proceed and then been rejected—which, though it happens fairly often, is every scholar's worse nightmare. Instead, he submitted this one-sentence email: "I would like to withdraw from consideration for tenure."
I follow academic "Quit Lit" religiously, but this story has got to be my favorite of the genre so far—especially given the impressive success Jarosinski has since had with single sentences. Granted, there are things about academia he will miss (in a word, teaching), but also things he will not. "The quiet desperation," he writes to me, in character as Nein but also sincerely, employing the inimitable "double perspective" that makes German humor simultaneously brilliant and obtuse. "Possibly the impotent rage. But I'm sure I'll find adequate substitutes before long."
Perhaps. At present, though, it appears that this "failed intellectual" is having actual success. Nein's following will likely hit six figures by summer, and while Jarosinski only very briefly experimented with merchandising, sales of coffee mugs and T-shirts were surprisingly good. What is the appeal of Nein? "Nein is a misanthrope," Jarosinski explains, "but a sometimes lovable misanthrope. Nein believes in nothing, but a nothing that represents some rather utopian ideals." Jarosinski describes the persona as "someone who is deeply invested in an intellectual project, but who loses sight of most everything else along the way. His voice," he explains, "is both authoritative and ridiculous." And although Nein is a character, he's closely connected to Jarosinski's own life. "For whatever reason, I've needed a mask in order to be more authentic."
Nein's genius comes exactly in that authoritative-ridiculous tension, evident as he explains the hidden gems of Deutsch:
"Tja" is German for "We're all going to die. All of us. Eventually. We're all going to die. Seriously."

-- Nein. (@NeinQuarterly) August 11, 2013
"Eben" is German for "I congratulate you on being nearly as intelligent as I am, at least in this one particular instance."

-- Nein. (@NeinQuarterly) August 11, 2013
And when he distills difficult philosophical concepts into triumphs of pith:
Nietzsche said there'd be eternal recurrences like this.

-- Nein. (@NeinQuarterly) March 26, 2014
And when he actually, finally, mercifully wins the War on Christmas:
The Tickle Me Werner Herzog I got for Christmas only laughs when I tell him the universe isn't utterly indifferent to our pain.

-- Nein. (@NeinQuarterly) January 14, 2013
In a truly meta twist to the tale, Jarosinski has become Big in Germany, where they express whatever passes over there for "delight" at this foreigner, so adept at simultaneously evoking and mocking their culture. He now thumb-types cultural criticism for the Frankfurter Allgemeine, the Tageszeitung, and Die Zeit, and this week sold his first nonacademic book—Nein. A Manifesto.—in both Germany and the Netherlands. In the English-speaking world? For now, we'll "have to wait. In darkness. For nothing."
As for re-inventing himself, or at any rate overcoming his identity as a professor (which, as some less successful nihilists have written, can be downright wrenching)? "It's been hard work, but a lot of fun. I've been lucky, and many folks have helped me along the way." And then, as Nein, but also as himself: "When you feel like you have nothing to lose, you have a world to win. Then lose."
TODAY IN SLATE
Politics
The Irritating Confidante
John Dickerson on Ben Bradlee's fascinating relationship with John F. Kennedy.