How the Music of Ancient Greece Actually Sounded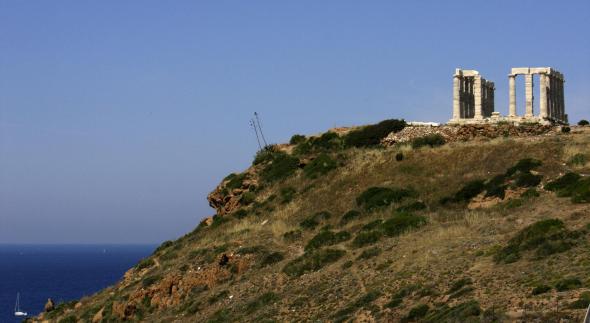 Thanks to a classicist's research, the sounds of ancient Greek music can be heard again. Scholars have long been familiar with the instruments used during the era, and, of course, with the texts by Homer, Sophocles, Euripedes, and other authors that were intended as musical compositions. But it has not been clear how, exactly, they were meant to sound. Armand D'Angour of Oxford University is working to restore and recreate those sounds in light of discoveries about the way ancient Greeks composed music.
These revelations, D'Angour explains in BBC News, come from "a few dozen ancient documents inscribed with a vocal notation devised around 450 B.C., consisting of alphabetic letters and signs placed above the vowels of the Greek words." Using new information about the documents collected in recent years, the scholar has tried to reconstitute the music as it would have originally been played.
Advertisement

According to D'Angour, the music hews closely to Indian and Middle Eastern sounds, with melodies that at times mimic ancient Greek vocal patterns (varied pitch on different syllables). You can listen to Dr. David Creese of the University of Newcastle perform a song discovered on stone inscriptions:
TODAY IN SLATE
Politics
Talking White
Black people's disdain for "proper English" and academic achievement is a myth.
Operation Backbone
How White Boy Rick, a legendary Detroit cocaine dealer, helped the FBI uncover brazen police corruption.