How to Make The Simpsons Relevant Again: The Characters Should Start Getting Older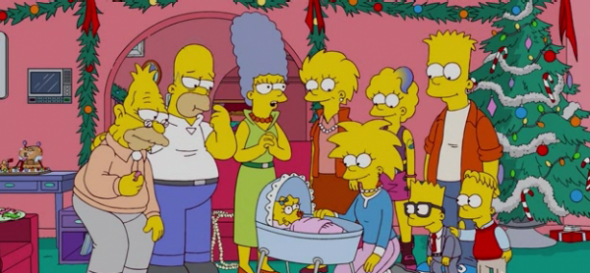 The 25th season of The Simpsons began a couple weeks ago. The show has already been picked up for a 26th. People have now been debating the precise moment the show began to decline for longer than even the most successful TV series tend to stay on air. And the producers know this, of course: Executive producer Al Jean has recently promised new reasons to watch the next two seasons—including the death of an "iconic" character, which he said he hopes will garner Breaking Bad-like ratings. (He was apparently joking about the ratings.)
The death of that character, whoever he or she is, may make viewers pay attention to the show again, for a bit. But it's a move we've seen before (most notably, Maude Flanders died in Season 11). And it's just a temporary fix: It will not restore the show's reputation as innovative or groundbreaking. To reclaim that type of territory, and reestablish its hold on the American zeitgeist, The Simpsons needs to think much bigger. So here is what I'm proposing: The Simpsons should break free from its static biological present. The characters need to age. Yes, a cartoon, a 2-D world where the laws of nature are constructed in a writers' room, should suddenly be forced to carry, like Homer chained to the "Stone of Shame," the same burden all humans are forced to carry: growing older.
Over 25 seasons, the characters on The Simpsons have grown in complexity, but they still mostly grapple with issues appropriate to their respective ages. The possible narratives are dwindling. And our few glimpses of the Simpsons at more advanced ages have been tantalizing. Four episodes over 25 years have flash-forwarded in time and braved the family's future, showing us Lisa, Bart, and Maggie as teenagers, college students, adults. Out of those four episodes, three were nominated for a Primetime Emmy Award for Outstanding Animated Program. (In all fairness, Entertainment Weekly called "Bart to the Future" the worst episode in the series' entire, gigantic catalogue. But hey: high risk, high reward.)
If the Simpsons aged, the audience could at last watch their favorite characters struggle with the challenges of growth and maturity. We could see how serious change affects one of pop culture's most indelible modern families. I love the couch gags, the one-liners, and the brilliant "Treehouse of Horror" episodes, but the heart of the show is still a family that loves and cares for one another in a touching if dysfunctional way. It's the story of contemporary normalcy with a twist. At its best, the show holds a mirror up to ourselves.
Consider one of the best flash forwards, "Holidays of Future Passed" (Season 23, Episode 9). Bart is divorced and living in "The Lofts at Springfield Elementary," grinding coffee in a pencil sharpener. His children hate him. Lisa is trying to balance her time between work and her daughter (who literally plugs into the Internet); she wonders if marrying Milhouse was a catastrophic decision. Homer has mellowed and become an exceptional grandfather who has given up drinking to build spaceships in bottles. Maggie is, of course, a rock star. And Marge, well, Marge is still not fully appreciated.
Imagine a whole season of Bart trying to find redemption for a wasteful life and his heedless, petty rebellion. Imagine Lisa struggling to balance family with work and self. Imagine all the opportunities for the writers to satirize our culture, to show us who we really are. The ability to freeze characters in time is one of the great advantages of animation. (I'm sure the producers of Modern Family would love to keep the children adorable and the world of that show static forever, too.) But it can become a straitjacket. And The Simpsons is well past that point.
How would the audience react if Homer suddenly started to get older? If The Simpsons gave us cartoons who, like us, aged? Possibly not well: Aging is filled with complications, and it's comforting to drop in on The Simpsons whenever you want and return to discover they are still the same. But that also makes the show easy to ignore. And bringing biological reality to the series would change that. If the Simpsons began to grow older, each episode would—for the first time in a long time—hold the promise of something new.