Kanye West Is Right: Jimmy Kimmel's Sketch Was Ignorant and Stupid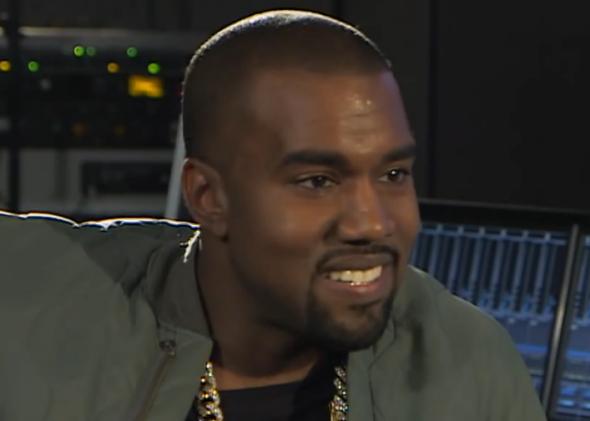 Kanye West went off on Jimmy Kimmel on Twitter tonight, launching several trending topics and prompting many of West's 9 million Twitter followers to scratch their heads. Though relatively few people saw the video that started all this before tonight—thus the head-scratching—the rant was in response to a segment that aired on Jimmy Kimmel Live! earlier this week. In it, Kimmel mocks Kanye at length, and then brings in two young children to reenact West's recent interview with the BBC:
Kimmel's bit is lame and unfunny, and depends only on ignorance for laughs. But if you can bear it, it's worth breaking down piece by piece, because it exemplifies a particularly lazy and pervasive line of thinking about Kanye West.

Kimmel begins by relating how "he [Kanye] said he's the No. 1 rock star on the planet, whatever planet he's on." He's referring to this passage from the interview:
Rap is the new rock and roll. … We the rock stars, and I'm the biggest of all of them.
Advertisement

If Kimmel finds this funny, it's only out of ignorance. Rap is the new rock and roll—or rather, it's considerably bigger and more influential now than rock is. And so rappers are the new rock stars—as host and influential music figure Zane Lowe correctly acknowledges in the interview, "it's been like that for a minute" (or, to be more precise, at least since the early 2000s). And Kanye is, by general consensus, the biggest of all of them; even Drake, who's likely to score the No. 1 album in the country this week, just said so only a few nights ago. In other words, the planet Kanye's on when he says that is Earth. The real question is what planet Kimmel is on.

Next Kimmel says, "Does Kanye West know you're not supposed to be your own hype man?" The answer, of course, is that in 2013, you are supposed to be your own hype man. Even the concept of the hype man, at least outside of live hip-hop, is fairly outdated. In the era of solo rap megastars—when the rappers that dominate the charts have names like Kanye West, Drake, Eminem, Nicki Minaj, and Jay Z—it's precisely the job of the rapper to be his own hype man or woman. We're a long way from Public Enemy.

The next clip Kimmel plays shows West claiming that he brought the idea for leather jogging pants to Fendi. The punch line is supposed to come when Kanye says, "How many motherfuckers you done seen with a leather jogging pant?" Kimmel responds, "I don't know, none? Is that really a thing?" The short answer to that question is yes, they are. In fact, in hip-hop and R&B, they're a pretty big thing, worn by names like Rihanna, Beyoncé, and yes, Kim Kardashian and Kanye West. If Kanye really did come up with that idea and no one listened, it's understandable that he would be upset about it.

The next part is important. Kimmel adds, "That seems impractical to me, but I don't know fashion. And to be honest I don't follow a lot of what Kanye West has to say." This is the point at which Kimmel, instead of assuming everything West has to say is laughable on its face, should at least have tried. After all, I didn't know what Kanye meant by "leather jogging pants" either, but I did know that Kanye is an extremely intelligent person. All I had to do was Google it.

But instead of trying to understand, Kimmel does the opposite: He revels in his lack of comprehension, and puts Kanye's words in the mouth of a child, in order to infantilize him. The point of the joke is clear: I don't understand these remarks, so clearly they are the nonsense talk of a small child.

I'm not going to defend everything Kanye West has ever said. I'm not even going to defend everything Kanye West said in his angry response. But the real problem here isn't Kanye, it's Kimmel. If you don't know the fashion world, then you shouldn't try to tell Kanye West, who's rubbed elbows with many of the biggest fashion designers in the world, about fashion. More importantly, if you're a 45-year-old white dude who apparently doesn't understand a thing about pop music, you shouldn't try to tell one of the biggest hip-hop artists in the world about hip-hop.

Previously
The Best Quotes From Kanye West's BBC Interview, Part 1
The Best Quotes From Kanye West's BBC Interview, Part 2



TODAY IN SLATE
Don't Expect Adrian Peterson to Go to Prison
In much of America, beating your kids is perfectly legal.